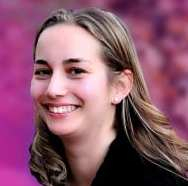 Latest posts by Julie Thompson
(see all)
If you want to invest for the future but are unfamiliar with all the lingo, a Robo-advisor is a great choice for keeping your investments profitable while learning a thing or two about your savings. Robo-advisors are great if you are not ready for a face-to-face commitment. The software provides an online portal that shows your investments in real-time could be the difference between early retirement and squandering away your nest egg.
Betterment and Personal Capital are Robo-advisors that can analyze your existing investments. The detailed results not only cover your linked investment portfolios but can offer tax saving strategies and basic financial planning. Both companies oversee billions in AUM (assets under management).
Check out our comparison of the two companies, and see which one (or maybe if taking advantage of both) is a wise choice for your financial goals.
Main Differences Between Betterment vs Personal Capital
The main differences between Betterment vs Personal are:
Betterment has a cheaper annual fee for comprehensive financial management, whereas Personal Capital has a higher annual fee.
Betterment is for individuals and small to medium-sized businesses, whereas Personal Capital is for larger businesses and companies.
Betterment was founded in 2008, whereas Personal Capital was founded in 2009.
What is Betterment?
Betterment is an online investment company that specializes in investments. Betterment is a registered investment advisor and a broker-dealer. It is based in New York City and registered with the SEC (Securities and Exchange Commission).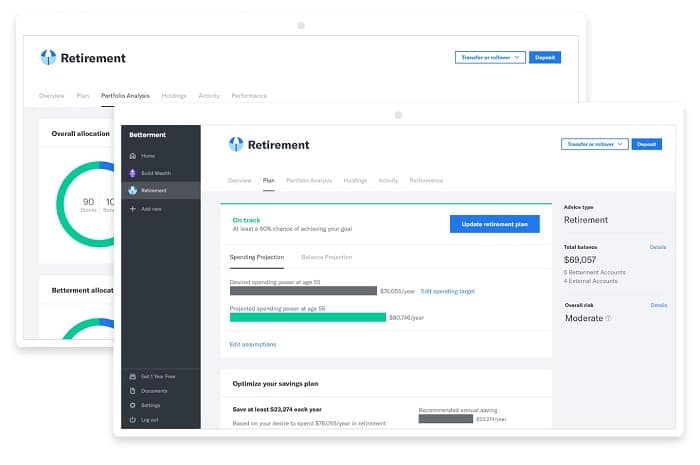 History of Betterment
Betterment launched in 2010. Created by entrepreneur, Jon Stein, Betterment's mission is to help people live better. Stein created the software to improve people's investment decisions and then do it for them, making investing more accessible to everyone.
Betterment now serves over 175,000 customers and is currently the largest independent Robo-advisor.
What is Personal Capital?
Personal Capital provides free investment software through its online and mobile app platform to help the everyday investor make wise money decisions.
While their basic services are free, Personal Capital makes money from the mass affluent by offering customized services to its top tier investors.
Since Personal Capital makes money from users who can afford an advisory fee, you won't see a lot of upselling or ads constantly trying to get you to buy services from them.
You can still use Personal Capital as a free investment management tool no matter how much you invest. It can also help you with your spending habits and can link your bank accounts and credit cards. It is very easy to link your financial accounts, just have your separate log-ins ready so you can save time.
History of Personal Capital
Originally named SafeCorp Financial Corp., Personal Capital was created in 2009 by Bill Harris, Rob Foregger, Louie Gasparini and Paul Bergholm.
Personal Capital is registered with the SEC as an investment advisor. It currently has over 2 million registered users taking advantage of its free app.
Affluent app users who make investments in the hundreds of thousands of dollars are eligible for advanced financial advisor services. These additional services are fee-based. This is how Personal Capital makes the majority of its user funds.
Features Betterment vs Personal Capital
The following features are benefits that both apps, Betterment, and Personal Capital, provide for free to their users.
Access to a CFP (certified financial planner) with a minimum investment of $100,000 (Betterment) and $200,000 (Personal Capital)
Passive investing and ETFs (exchange-traded fund). Passive investing and ETFs are popular with Robo-advisors since the fees are low, which helps give you keep more of the profits.
Set financial goals. Both platforms give you short and long-term goal tools to promote financial growth and provide retirement based planning.
Portfolio rebalancing and review. Both companies will rebalance and review your investments when requested. This is beneficial for getting rid of low performing investments and re-investing that money into better performing investments so you can make more money over the long-term.
Variety of investment options. From stocks to bonds to complex investments, both companies offer a wide variety to choose from.
Multiple account types. Betterment and Personal Capital offer services for multiple types of investing and accounts for those with a few thousand dollars to millions plus.
Investment Options
While both platforms have a diversified portfolio of investment options, Personal Capital Advisor users can invest in individual stocks and can ask their financial advisor to look over investment options.
Personal Capital
Individual + joint investment accounts
Roth
traditional
SEP + rollover IRAs
Trusts
Betterment
Single + joint taxable brokerage
Roth
traditional
rollover + SEP IRA
Trust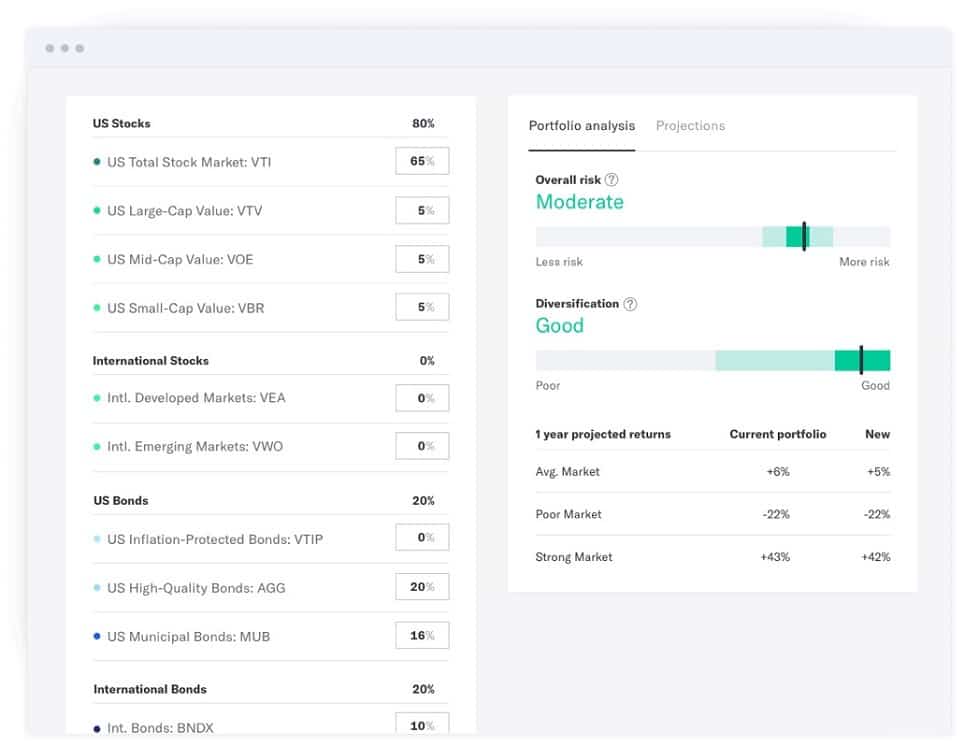 The Main Differences Between Betterment and Personal Capital
Betterment
Tax-loss harvesting at no additional charge
Unlimited access to a personal CFP with $100K investment
Tracks your synced retirement accounts for high fees
Texting or in-person meetings (with Premium)
Customizable goals-based investing
Free investment reviews
Diverse investment options including smart-beta and socially responsible investing
A la carte financial planning packages
Set fee financial planning meetings

Betterment EveryDay
Betterment is taking steps to be an all-in-one financial platform. They are in the process of offering high-yield savings accounts and no-fee checking.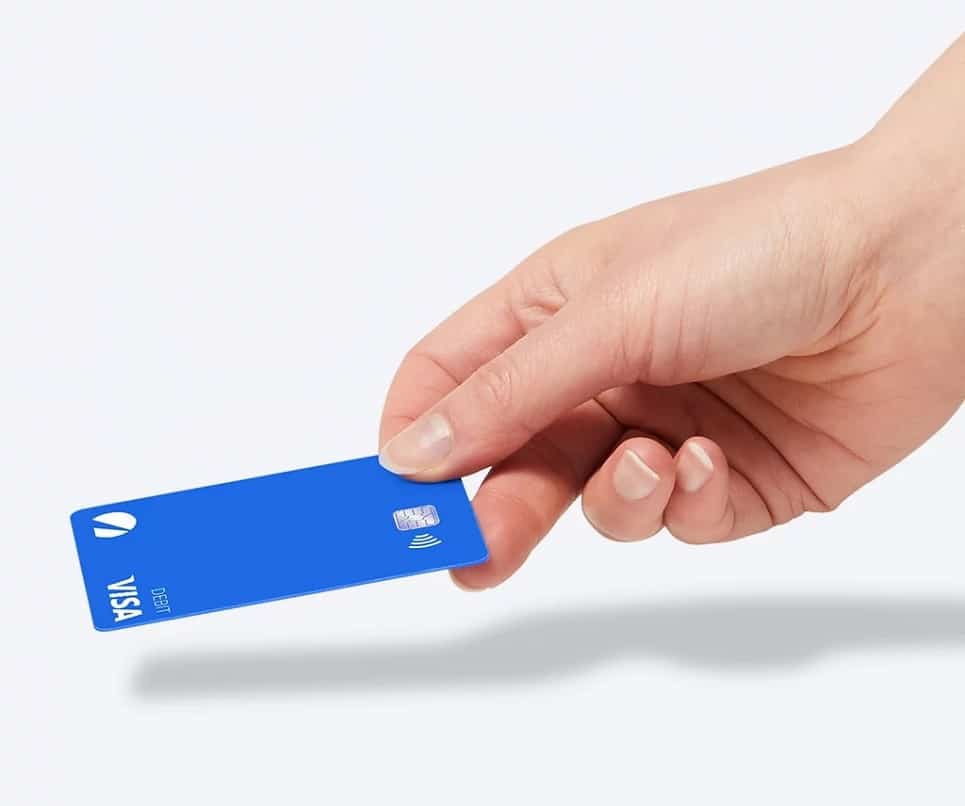 Betterment savings
High yield, insured (up to $1,000,000) savings account
No fees or minimum balance required
Unlimited withdrawals – no cap like most savings accounts
Betterment checking (coming soon)
ATM fees reimbursed worldwide
No account or overdraft fees
No minimum balance requirement
FDIC-insured up to $250,000
a la Carte Financial Programs
5 Packages
Getting Started (for newbies)
Cost: $149
Financial Checkup
Cost: $199
College Planning
Cost: $199
Marriage Planning
Cost: $299
Retirement Planning
Cost: $399
Personal Capital
Unlimited access to a personal CFP with $1M investment
Better for complex investment portfolios
The free plan includes retirement planner, education planner, trust funds, fee analyzer
Services geared for affluent
Personalized investment advice
Can invest in individual stocks, funds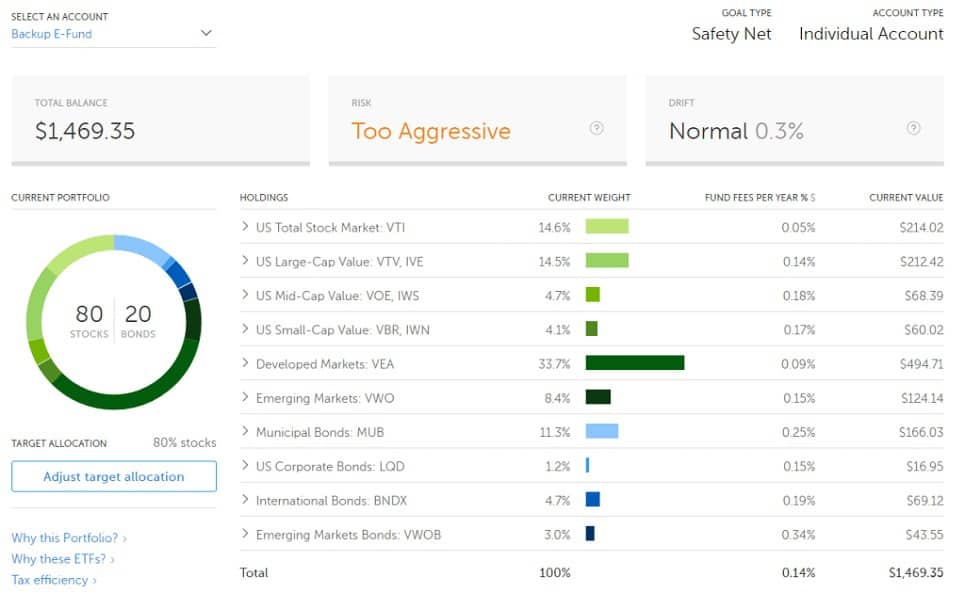 What are the Fees?
Betterment
0.25% for digital service up to $2 million, or 0.15% AUM for accounts over this amount. (annual asset)
0.40% for premium edition (annual asset) –includes unlimited CFP access, 0.40% AUM for accounts valued up to $2 million, or 0.30% for accounts over that amount. ($100,000 minimum)
No transaction fees for buying or selling securities, depositing money, or withdrawing funds.
Free automatic portfolio rebalancing (based on your financial situation and risk profile).
Clients can also purchase a la carte financial planning sessions with professionals through Betterment at a rate of $150-$500 depending on the need.
Personal Capital
0.49% – 0.89% based on investment size
You can expect to be charged 0.89% on the first million you invest and won't see the 0.49% until you break the 2 million mark.
However, once you reach the 1 million thresholds with Personal Capital, you will get access to a CFP and a CPA (certified public accountant). Plus, you can take advantage of private banking services and management of advanced investments like hedge funds.
See how Personal Capital compares to others:
Security
Both companies regard security as one of their top priorities. They provide bank-level security with advanced options like two-factor authentication and fraud protection.
Betterment
Data security. All of their data on servers is stored in a secure facility. Betterment uses powerful browser encryption, which takes the fear out of investing online. They have specific processes that are consistently regulated to ensure your data is safe.
Fraud protection. If you notice unauthorized activity on your account, Betterment has a fraud department that will help get to the bottom of it.
Privacy. Betterment does not sell your information and will notify you first if you are eligible for a third party offering.
Two-Factor Authentication. This advanced log-in helps keep your data safer by asking for more than just an ID and password when using an unrecognized device. Betterment also provides App Passwords for logging into third-party applications while in the Betterment software.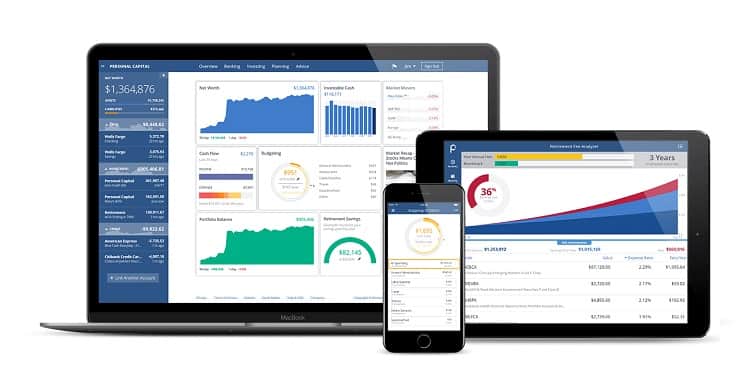 Personal Capital
Login credentials. Your financial login credentials are never stored at Personal Capital. They are stored by a third party called Envestnet Yodlee, which stores data for similar financial companies. This keeps your data safe from any possibility of internal hacking since no one at Personal Capital has access to your login information.
Two-factor authorization. If you are logging in from a new device, you will be required to confirm your identity through phone or email that was chosen when you signed up for Personal Capital's service. This is a tool used by most corporations to prevent fraud caused by hackers.
US government encryption. Personal Capital does not mess around with its data encryption. It uses AES-256 (Advanced Encryption Standard). It is the same encryption used by the US government.
Communication encryption. Anytime you contact Personal Capital, the conversation is encrypted. This keeps the discussions about your investments undecipherable to any prying eyes.
Daily transaction monitor. Personal Capital has a practical feature that can save you time logging into several banking and credit accounts. You can opt to sign up for their daily transaction statement, which will email you a list of all of your transactions that day. Use the email to skim your transactions and for catching unauthorized charges quicker than viewing a monthly statement.
Customer Service
Betterment offers both phone and email support seven days a week. They are available during the following hours: Monday-Friday: 9:00 AM-6:00 PM ET (Phone & Email), Saturday-Sunday:
11:00 AM-6:00 PM ET (Email Only).
They also offer a customer satisfaction guarantee. If you are not satisfied with the services that Betterment provides, they will make it right, including waiving their management fees for 90 days.
Personal Capital is available by phone during normal business hours (M-F 6am-6pm PT). You can also email them 24/7.
Their tech support is available through desktop and mobile apps. From your desktop, click on the help icon at the bottom right corner of the screen. If the initial documentation is not helpful, there is a contact us button for advanced support.
If using the app, look for the "Support Center' in the menu. If your answer can not be easily found, click "Submit a Request" to generate a support ticket. Help time varies depending on the ask, but Personal Capital strives to answer each request promptly.
Betterment vs Personal Capital Pros and Cons
Pros
Betterment

High returns and low fees
Investments that minimize taxes
Socially responsible portfolio
Retirement savings calculator
Betterment every day Savings and Checking (coming soon)
A perfect starting point for young investors

Personal Capital

Easily view net worth, expenses, investments, etc. with one click
Retirement and retirement fee analyzer
You Index
Simple to set up and use
US government level security
Cons
Betterment

No tax advice
Not easy to navigate for newbies
No external asset-allocation
Limited asset classes

Personal Capital

Investment checkup is based on past data
Reporting data only lists the last two years
Why Should You Seek Out a CFP (certified financial planner)?
A CFP is highly respected among his peers. Usually, these professionals won't sell you trendy funds or products because "everyone is doing it." A CFP's fee is based on a percentage of the funds you are investing with them, and they only make a profit when you do.
Alternatives
According to RoboAdvisorPros.com, there are other Robo-advisors, with access to personal financial advisors with lower fees.
Wealthsimple charges .40 to .50%
Betterment Premium charges o.40% and includes financial advisor access.
Vanguard Personal Advisors requires a $50,000 minimum investment, offers advisors, and charges a 0.30% AUM fee.
FAQs About Betterment vs Personal Capital
Does Betterment has an app?
Yes,there is a Betterment app on Playstore that supports iOs and Android devices. You can check your finances any time you want, you can even talk to an expert about making investments or if you have questions.
Is Betterment a good place to invest?
Yes. Betterment is a leader among robo-advisors and it's a great place to start even with the smallest balance. They have reduced their fees to 0.15% on balances over $100.000 and there are additional droppings on accounts with 2 millions.
Is my Personal Capital account safe from hacking?
Yes, it is. None of your information can be hacked, as the credentials from your account are being kept safe with Yodle who are operating under the most secured standards.
Is Personal Capital really free?
Yes, indeed. Personal Capital is a free to use platform that can track how much you are paying in fees and figure out if you are on track with your goals. They have, however, a paid version as well, which offers more features than the free version.
Conclusion
Both Betterment and Personal Capital are at the top of their game when it comes to Robo-advisors. These companies are the future of investing and should be considered when taking an interest in your investments, even if you already subscribe to a human advisor.
Robo-advisors can give you real-time account details, help you learn how to invest on your own, and even maximize your tax breaks.
If you are new to investing, Betterment will help you aggregate your investments and give you the advice you need to diversify your portfolio without manual management.
It can grow with you. If you are the type of person that likes to stick with one company and get comfortable, Betterment might be the best choice for you. Betterment also speaks to younger investors with new all-in-one offerings such as investing ala cart programs and everyday banking options.
If you have experience with investing and generally enjoy the details, Personal Capital can take you to that next level. Even though Personal Capital will cost you a little more in fees, they offer more customized options and can handle complex investing situations.