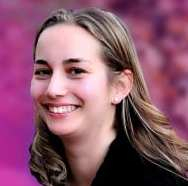 Latest posts by Julie Thompson
(see all)
Are you searching for a low-cost brokerage firm? Firstrade and Robinhood are both wise options for their no-fee trades and $0 account minimums.
Beginner traders will appreciate Firstrade's wide variety of financial education resources and the ability to trade mutual funds. Experienced traders may lean toward Robinhood due to the lack of fees for active trading and the ability to trade cryptocurrency.
If you are still on the fence of which brokerage to go with, check out our in-depth Firstrade vs. Robinhood comparison. You might be surprised by which one has the best options for you.
The Main Differences Between Firstrade and Robinhood
The main differences between Firstrade and Robinhood are:
Firstrade provides retirement accounts, whereas Robinhood does not.
Firstrade features mutual funds, whereas Robinhood does not.
Firstrade provides customer service via online chat, whereas Robinhood does not.
Firstrade has a Dividend Reinvestment Program (DRIP), whereas Robinhood does not.
Firstrade does not offer fractional shares, whereas Robinhood does
Firstrade is available internationally, whereas Robinhood is not even available in all 50 states
Firstrade does not have cryptocurrency trading, whereas Robinhood does.
Firstrade does not have Two-Factor security measures, whereas Robinhood does
Who is Firstrade For?
Firstrade is best for both beginner investors ($0 account minimum) and experienced investors due to low trading costs on stocks, options, and mutual funds. Firstrade also caters to native Chinese investors by making their trading platforms available in both traditional and simplified Chinese.
Firstrade has three trading platforms with useful tools such as a drag and drop dashboard, options trading strategies, and heat mapping trends. You will also have access to research from Morningstar, Briefing.com, Benzinga, and Zacks.
Firstrade Navigator
With Firstrade Navigator, you can easily customize the dashboard with a drag and drop collection of widgets. Arrange the sections to your liking, including a compact or full experience option, and change with only a click. Widgets include the following actions:
Place and manage orders
View positions and balances
Track the market
No need to refresh your account data, see it in real-time
Advanced charting helps you analyze and predict stock movement
Pie graphs for quick account management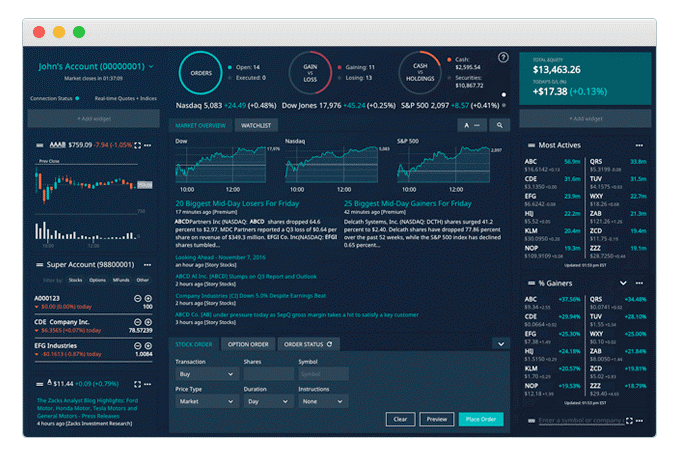 Is Firstrade Safe?
Firstrade uses advanced firewalls and secure sockets layer (SSL) technology to prevent online fraud. Digital certificate services protect information that is transferred between the platform and customers.
In the event of unauthorized activity within your online account, Firstrade will cover 100% of any losses connected to said activity through their Firstrade Online Protection Guarantee.
Customer Support
Firstrade customer support center can be contacted via online chat (24/7), telephone (Mon – Fri, 8:00 am – 6:00 pm ET), email, fax, and mail. They provide a toll-free number for both the US (1.800.869.8800) and International calls (1.718.961.6600).
An extensive FAQ section is available on their website and includes answers regarding accounts, trading, and taxes.
Referral Program
When you refer a new investor to Firstrade, they will give both you and your referral a free stock. Referral stocks are chosen at random based on an algorithm. The value of the share can vary between $3 and $200 based on market movements. The stocks are chosen from the most popular companies on Firstrade. The most popular companies are determined according to trading volume in the previous quarter.
To further incentivize their referral program, one out of every 100 free referral stocks will be a free stock in Apple, Facebook, Bank of America, or Advanced Micro Devices.
To get credit for your referral, you must use your referral link that is located within your account (Customer Service, Free Stocks).
There is a maximum of $500 in free referral stock. However, your friends will still receive a free stock after you have reached your limit. Any gains or losses on free referral stocks are taxable.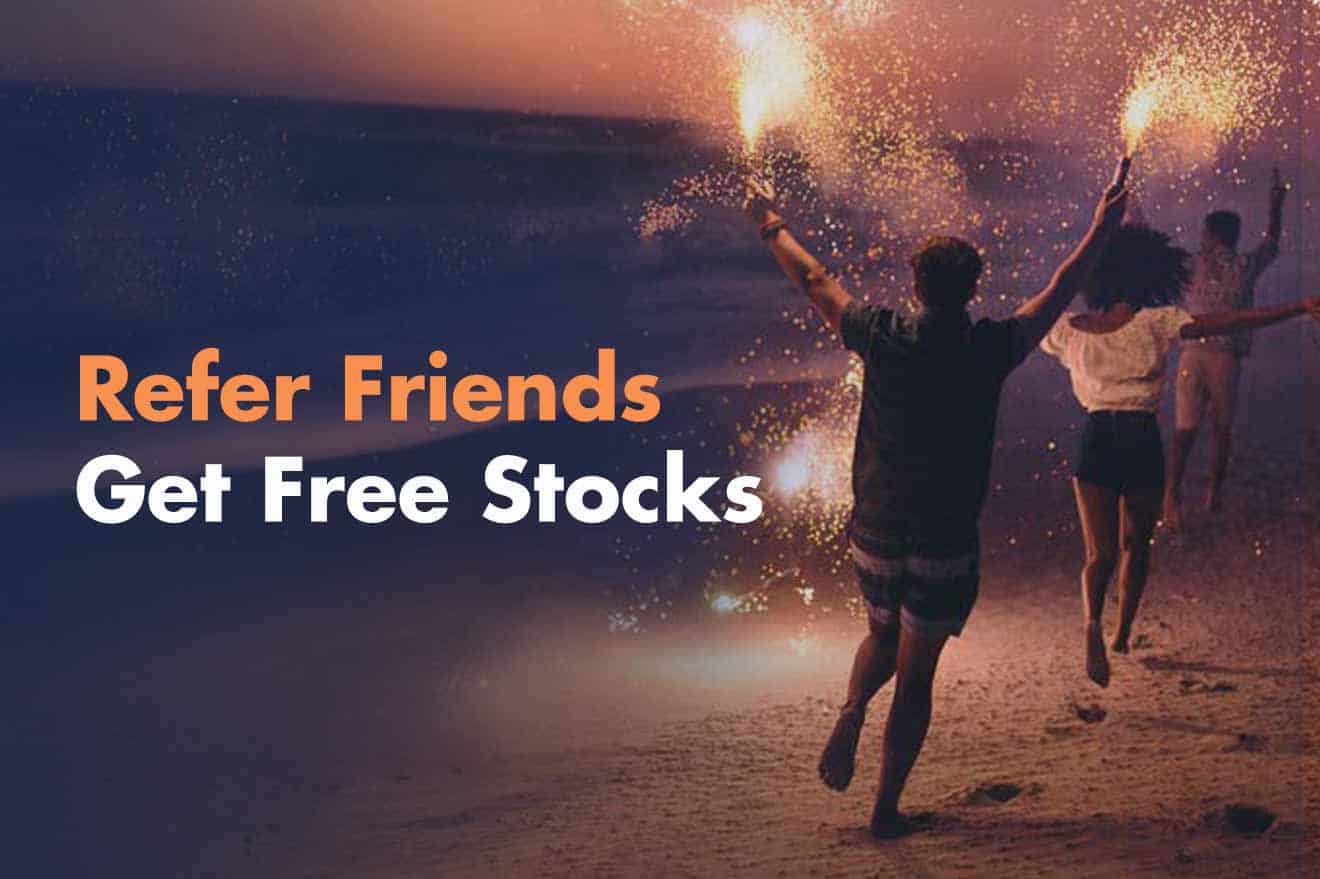 Who is Robinhood For?
Robinhood changed the investment world when they offered $0 commission fees with a $0 minimum account balance. With its quick popularity stemming from including the everyday worker and student, established brokerages are one by one following suit, reducing fees and minimums across the board.
With Robinhood, you can complete all of your trades through the mobile app. Current trade availability includes stocks, options, ETFs, and cryptocurrency.
For as little as a dollar, you can invest in the fractional shares of thousands of stocks. You can also join the waitlist (as of April 2020) for Robinhood's cash management product. Earn 0.30% APY through your brokerage account.
Get advanced account capabilities by joining Robinhood Gold. For 5 dollars a month, add trade on margin, larger instant deposits, and access to professional research reports. Plus, enjoy commission-free crypto trading.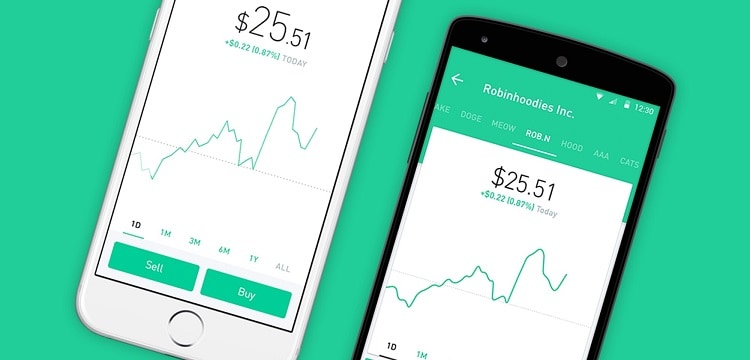 Robinhood Gold
Advanced traders will appreciate the "VIP" features of the paid versions of Robinhood. Robinhood Gold is currently $5 per month and adds the following features:
Invest on margin ($2,000 account minimum (required by Federal regulation)
Early and late trading (trade 30 minutes before the market opens and two hours after it closes)
Instant ACH transfers or reinvestments. (larger amounts)
Access to professional research reports
Robinhood Crypto
If you are new to crypto, you will appreciate Robinhood's easy access to several types of virtual coins. You can purchase crypto shares in two ways: adding funds directly to your account and assets from stock, ETF, and option trades.
Robinhood Crypto is available in 46 states and Washington D.C. (as of 4th quarter 2019).
The following cryptocurrency options are available
Bitcoin (BTC)
Bitcoin Cash (BCH)
Bitcoin SV (BSV)
Dogecoin (DOGE)
Ethereum (ETH)
Ethereum Classic (ETC)
Litecoin (LTC
Use caution when investing in crypto. Cryptocurrency is not supported by FINRA or SIPC.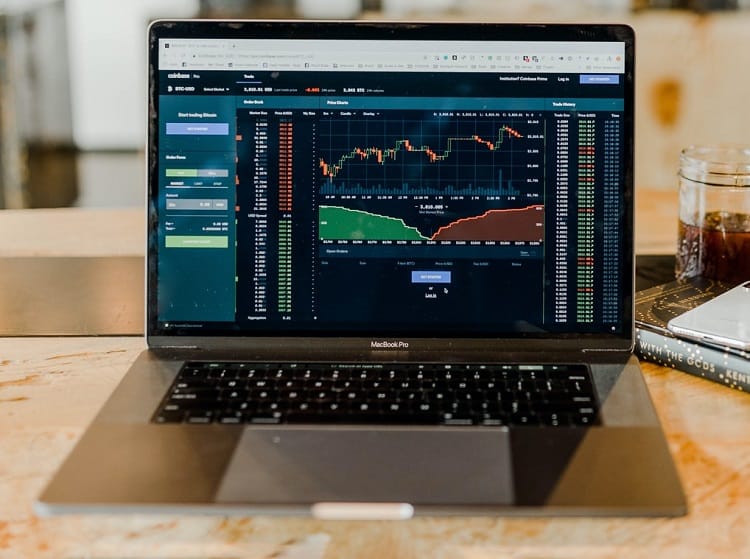 Is Robinhood Safe?
As a Robo-investment platform, Robinhood takes your online safety seriously. The following security measures are taken for all accounts:
Sensitive information is encrypted before storage
Banking information is not stored (only accessed for verification)
Mobile app access using TouchID, FaceID, or custom pin code.
Two-factor authentication via an external authenticator app or SMS.
Customer Support
Robinhood can be contacted via phone and email, but we found their response time to be less than stellar. Check out their support page for frequently asked questions.
Need 24/7 customer support? Investment brokerages such as E*TRADE, Ally Invest, and Fidelity all have this feature.
Referral Program
There is no minimum amount to open an account. When you sign up one of your contacts, you and your contact will both get one free stock from Robinhood's inventory of settled shares.
The share is valued at between $2.50 and $200 (randomly chosen). Just like Firstrade, there is a limit of $500 in free referral stocks per calendar year. (Your contacts will still receive a free stock after your limit is reached.)
You can refer contacts from within the Robinhood app.
Tap the account (person) icon in the bottom right corner
Tap the "Invite friends, get a free stock card."
Tap "Invite Contacts"
Tap "Invite" next to desired contacts
Shared Features
$0 commission stocks, ETFs, options
No account minimum
No physical branches
No demo account
No 24/7 customer service
Used by both new and advanced investors
Trade on margin
Mobile app
Referral program (free stock)
Cash management
What are the Fees?
Firstrade and Robinhood have commission-free stocks, ETFs, and options trading. Please see below for broker specific fees.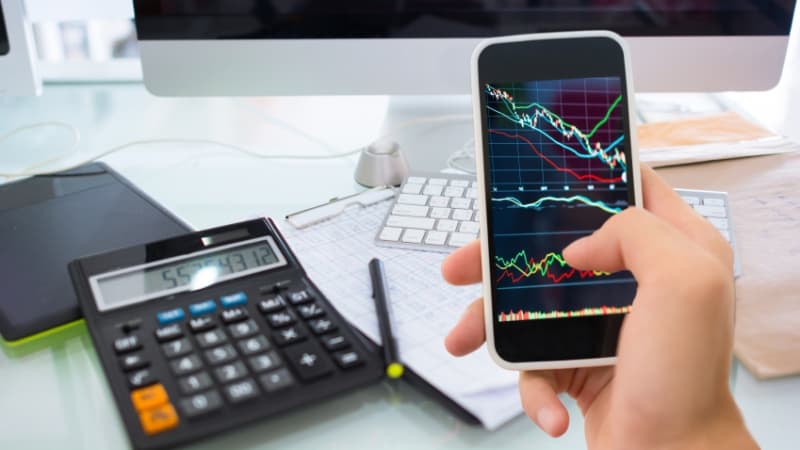 Firstrade
Commission-free trades for stocks, ETFs, options, and over 11,000 mutual funds
No account minimum
No withdrawal fee using ACH
$30 charge for a wire transfer ($50 for a foreign wire transfer)
Robinhood
Commission-free trades for stocks, ETFs, options, crypto (multiple types)
No inactivity or maintenance fees
No account minimum
Robinhood Gold – trade on margin for a $5 a month subscription
Pros
Firstrade
No account minimum
Stocks, options, ETFs, and mutual funds are commission-free
Heatmaps
Market research from Morningstar, Benzinga, Zacks, and Briefing.com
Open to international investors from Japan, South Korea, China, Hong Kong, Macau, Taiwan, Singapore, New Zealand, and Mexico.
The platform is available in traditional and simplified Chinese
Referral program
Retirement accounts
Online chat, toll-free phone customer service
Dividend Reinvestment Program (DRIP)
Robinhood
$0 account minimum
Commission-free stocks, ETFs, and options
Trade support for cryptocurrencies (Bitcoin)
Fast and reliable mobile app
Cons
Firstrade
No 24/7 customer support
No physical branches
No forex, futures or futures options trading
High margin rates
High bond fees
Slow account opening (up to 3 days)
No credit/debit or electronic transfer available
Mobile platform does not support mutual funds
Robinhood
Needs more financial education tools (on the free plan)
Not available in all states
No mutual funds
No IRAs
No 24/7 customer support
FAQ
Is Firstrade a good broker?
Yes. Firstrade is top-rated among beginner investors as well as advanced traders. Beginners appreciate the $0 account minimum, while experienced users flock to Firstrade for $0 stock and options trading, no commission mutual funds, and no contract fee for options traders.
Can you day trade on Firstrade?
You can trade on margin with Firstrade. If you are a Pattern Day Trader (making 3 Day Trades in 5 business days), you are required to maintain $25,000 in assets in your account to keep day trading. You are also subject to The New York Stock Exchange (NYSE) Day Trading Rules.
What is the cheapest way to buy stocks?
If you are willing to do the majority of the research yourself, the cheapest way to buy stocks is to go through a discount broker. If you are new to stock trading or prefer a little more hand-holding, a full-service broker might be worth the extra fees.
Is Forex easier than stocks?
Forex is harder to trade than stocks. The Forex market is more volatile than stocks making it a more difficult game to play. However, Forex has better returns, and it is easier to beat the market consistently once you get the hang of it.
Alternatives
Webull
Webull features $0 commission stock and ETF trading. Advanced tools like the trading simulator and stock screener help you increase your gains potential.

Pros:
$0 commission stock and ETF trades
24-hour account verification
No account minimum
Cons:
No mutual funds
No 24/7 customer support
Funds must be added electronically through the mobile app
Fidelity
Fidelity is a trusted brand (of over 70 years) that brings 24/7 customer support, physical branches, and an abundance of financial education to its users.

Pros:
$0 commission stocks, options, and ETFs
CDs, corporate bonds, and treasury bonds
Bill payment
Cons:
High margin rates
High broker-assist fees
$4.95 per trade fee
E-Trade
Easy to use interface for beginners with in-depth research for advanced users. Three trading platforms offer a wide variety of options.

Pros:
$0 Commission on stocks, options, and ETF
Research for new to advanced traders
Three trading platforms (E-Trade Web, Power E-Trade and E-Trade Pro)
Well-rounded mutual fund selection
Cons:
Website needs updating
$500 deposit to open an account
Requires ten trades per month to use its desktop software
Conclusion
While Firstrade and Robinhood are similar in standard features, the key differences between the platforms should make it easier to choose which one is best for you.
Firstrade has better customer service, offers thousands of mutual funds, and financial education that is helpful even for advanced investors. Plus, it is international-friendly and offers retirement accounts for a one-stop-shop. We recommend Firstrade if you are serious about investing and want an intuitive platform that will scale with your income and long-term savings goals.
Robinhood is best for frequent traders that need a no-fees platform, especially if you are interested in cryptocurrencies. What it lacks in customer service and account options, it makes up for in fractional shares and a sleek mobile app.
We recommend using Robinhood if you have already set up a 401K or retirement account that you regularly contribute to. Since Robinhood doesn't offer additional brokerage services, you will need to seek out an additional investment platform for saving in the long-term.