Latest posts by John Hughes
(see all)
Many people today are struggling with their personal finances. According to Wealthy Nickel, one in four Americans do not pay their bills on time. Only 55% of Americans give themselves a grade A or B on their personal finance knowledge. It is easy to make spending and saving plans, but for the huge majority of the population, implementing these plans becomes hard once the money hits their accounts.
Today, we have a myriad of personal finance tools that help you to monitor your finances actively. Out of the lot, we are going to look at Personal Capital, and You Need A Budget (YNAB) and see what they have to offer you.
Main Differences Between Personal Capital vs YNAB
The main differences between Personal Capital vs YNAB are:
Personal Capital is good for long-term financial planning, whereas YNAB is ideal for short term budgeting
Personal Capital offers free and premium versions, whereas YNAB only offers a paid version
Personal Capital works on a cash-flow approach, whereas YNAB works on a zero-based approach for financial stability
Overview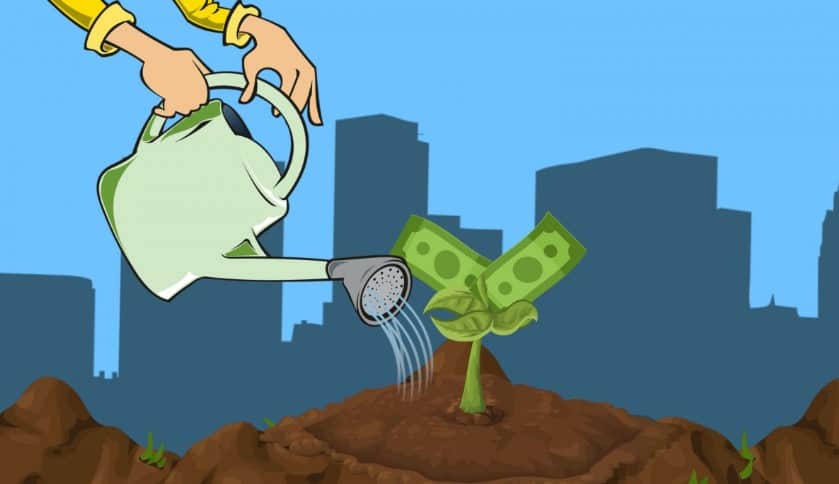 Personal Capital and YNAB are very popular, and this goes down to the features they offer. In the financial planning tools space, they are probably the two names that you will come across first, alongside Mint. They do a great job of helping you to manage your finances, albeit differently.
Personal Capital
Personal Capital was founded in 2009, and it has over 2 million users. It offers two distinct services that are differentiated by the free and paid versions. We will dwell a lot on the free version here, as the premium one is a Robo-advisor service for clients with over $100,000 in assets. The paid version has over 18,000 clients who own more than $8 billion in assets. Most clients start with the free version and then upgrade to the paid version once they accumulate a considerable asset base.
The goal of Personal Capital is to give you a clear picture of your financial status, monitor your investments proactively and prepare for retirement. (Here, check more about how Personal Capital compares with Wealthfront, Betterment, and Mint, before deciding!)
YNAB
YNAB was started back in 2003 by CPA Jesse Mecham. The idea behind it was to help him and his wife to develop and maintain a realistic budget. It worked so effectively that he decided to market it to the public, giving rise to YNAB as we know it. Budgeters save an average of $600 in their first two months and over $6,000 in the first year on YNAB.
The goal of YNAB is to give you control over your money and how you spend it.
How Do They Work?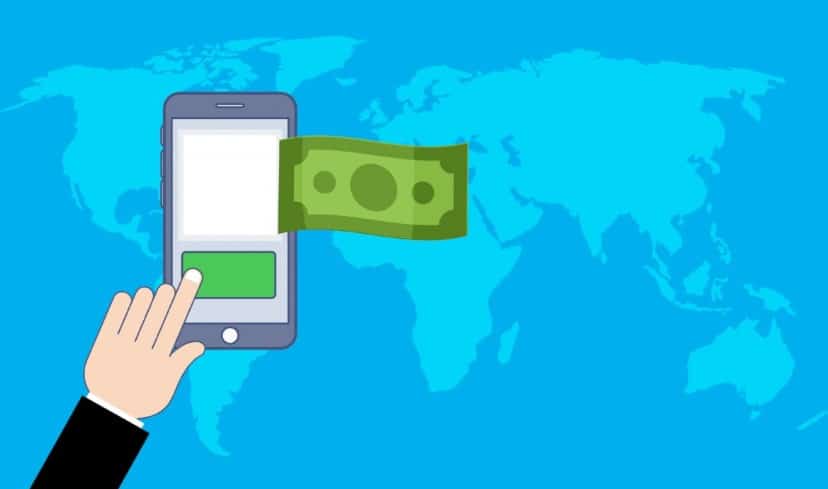 Personal Capital and YNAB both employ different approaches to financial management.
Personal Capital
The free version of Personal Capital is a financial software. It lets you consolidate your financial life in a single application. This includes bank accounts, retirement plans, loans, credit cards and investment accounts. Once you assemble all these, you can develop a budget, set goals, and strategies to help you achieve them. Notable tools include:
Fee assessor – This tool shows you all the fees you pay on your accounts. It identifies all the hidden fees that are not visible to the naked eye and make recommendations on how to reduce them.
Net worth Tracker – Your net worth is the difference between your assets and liabilities. Your financial life is probably full of many numbers that make it hard to know your net worth. This tool tracks your net worth and lets you compare to the median U.S households within your age bracket.
Investment Checker – This tool tracks your investments and gives recommendations to improve their performance.
Retirement Planner – This tool lets you track how far you are from attaining your retirement goals. It gives you recommendations on changes you can make to change what you are doing to correct the situation if you are off track.
The application allows you to set a payment plan for covering huge expenses such as mortgages. The downside is that it does not let you reconcile your transactions and accounts.
For the Wealth Management side of it, things are a bit different. It functions like a robot-advisor, but it is essentially an automated investment platform that tries to match up with what human investment advisors do. This is because it offers most services provided by a full-fledged investment management firm such as financial planning.
The top tier of services offered by Personal Capital is called Private Client. This is for investment assets worth over $1 million. Here, you get two dedicated financial advisors and in-depth specialist support training.
See how Personal Capital compares to others:
YNAB
YNAB approaches budgeting using four rules that give you more control over your finances. They are:
Give Every Dollar a Job
This rule encourages you to spend your money, albeit wisely. You should decide what your money should do before you get the next pay. In a nutshell, it encourages you to plan for money and follow this plan religiously to avoid running short of cash.
Embrace Your Expenses
The idea here is to get you in control even when hit by large unplanned expenses. It achieves this by encouraging you to break down all those huge sporadic expenses into small manageable bills. This way, you will have the money to fund it when it comes without having to strain other parts of your budget.
Roll with The Punches
This rule allows you to make any adjustments in your spending plans positively. Your financial life cannot be accurately predetermined, and situations that force you to overspend will come. If you overspend in one category, free up some money from a different category to make up for this. Do not be rigid and dwell on failed plans, as you can always recover.
Age Your Money
The aim here is to spend old money. When you spend money earned last month, you will have more room to maneuver with your budget. You can do this by being prudent with your spending, spending less than you earn, and see the money age gracefully.
YNAB believes that following these rules lets you attain your financial goals and keeps you away from the paycheck to paycheck life that many people struggle with.
Some of the top features and tools provided by YNAB include:
Goal Tracker- This feature lets you set goals, and gives you ideas to achieve them. You can choose any option that suits you, for instance, monthly funding goals that let you break down long term goals into manageable payments.
Debt Paydown – YNAB provides education and tools needed to get out of debt and stay out of it. You can adjust your budget to pay off a certain debt by a specific date or do it gradually until it is cleared.
Supplementary Classes – YNAB has a plethora of classes to help you gain control of your finances. They cover topics like how to set up a budget, avoid credit card overspending, reach your savings goals and create a debt payment plan, among others.
See how YNAB compares to others:
How Much Does It Cost to Use These Tools?
Personal Capital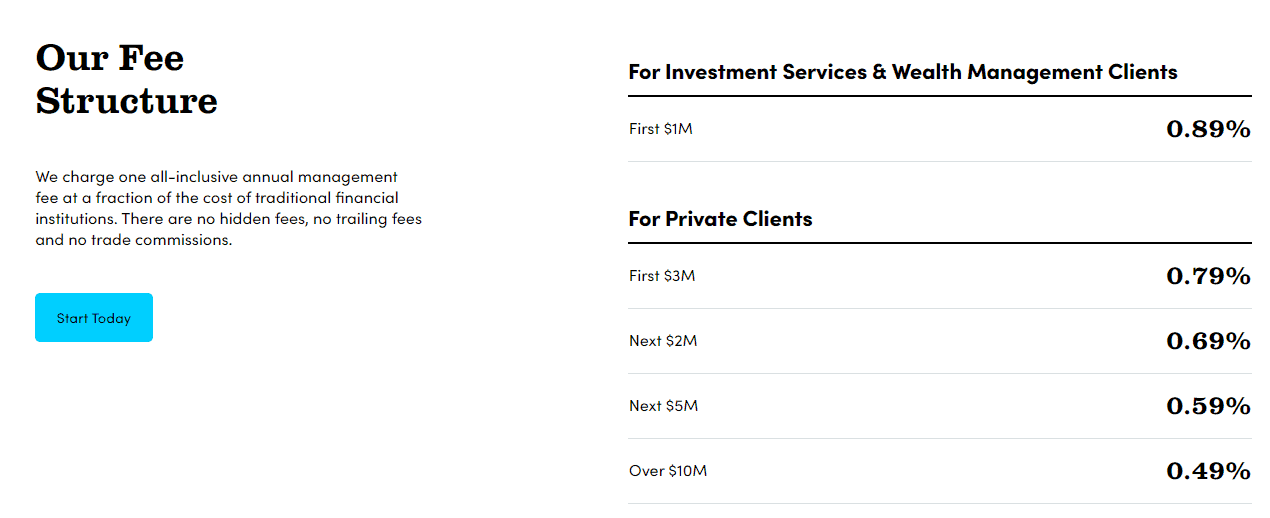 Personal Capital has categorized its services in three, and they cost differently. For the budgeting and financial management services, you do not have to pay anything as they are free. The premium version is called Wealth Management. Here, you pay an annual management fee of 0.89% of the assets, which could drop up to 0.49% for accounts with high-value assets.
You can include a job-sponsored retirement plan on the platform and get advice for the same, but no fee will be charged since Personal Capital does not manage it. Here is a table illustrating the fee structure for the Wealth Management services;
YNAB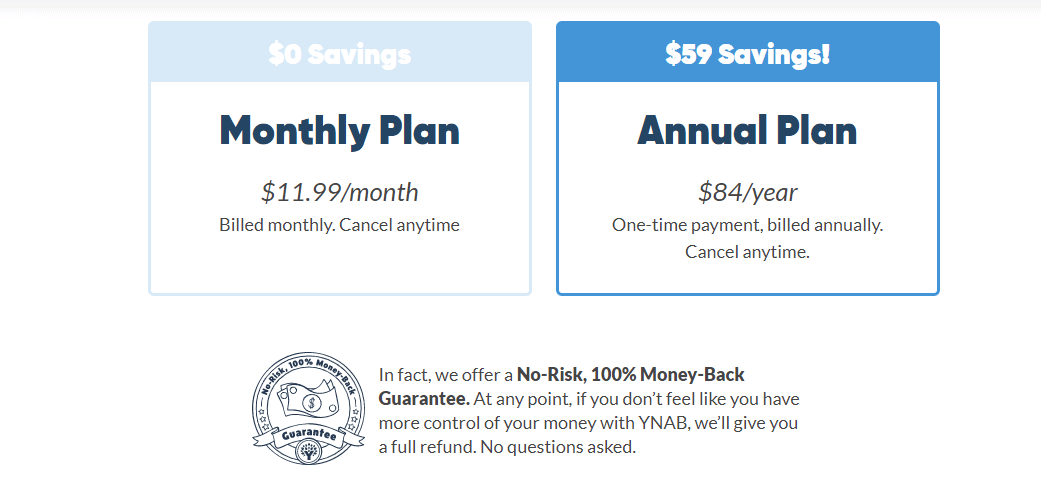 YNAB has a fixed pricing model where it charges $11.99 per month. However, you can save a lot if you decide to pay for the whole year at $84. However, YNAB offers you a 34-day free trial before you are required to pay for the tool. Note that you are not required to enter your billing information when signing up for the free trial as it is with most online services.
What is their Customer Support Like?
Personal Capital
Customer service representatives here are available 24/7 by phone and email. You can also find some of the most common issues customers have on their FAQ page, specifically for those who have signed up for wealth management services.
YNAB
YNAB customer support leaves a lot to be desired. There is no phone or email contact, and the best help you can get is through a live chat that can get a response within 24 hours. However, YNAB has a large bank of guides and help documents that answer most of your questions.
How Do You Connect the Tool to Your Financial Accounts?
Personal Capital
This tool allows you to link all your online financial accounts. The portal will give you a list of the top used accounts and all you have to do is to provide the username and password for each account.
You can always add the accounts that are not available on the platform, and they will be synchronized to populate your portal with relevant financial data. The upside of using Personal Capital is that it imports up to three months' date from each account. However, it does not support the synchronization of any account outside the United States.
YNAB
YNAB allows you to synchronize your account with over 12,000 banks. You can download these accounts using the YNAB Direct Import tool using the name or URL. Once you have a specific account, you will need to key in the login credentials before saving to complete the process. YNAB will import the current balance of the account and nothing more. Past transactions won't be included.
For those that do not reside in the U.S., the File-Based import feature will be particularly useful. Here, you can import your financial data in the form of a .csv,. ofx or .qfx file. Note that you will need to download your bank's financial data first, before importing it to your portal.
What Platforms are these Tools Available On?
| | | |
| --- | --- | --- |
| Platform | Personal  Capital | YNAB |
| Web-version | Available | Available |
| iOS app | Available | Available |
| Android app | Available | Available |
Pros and Cons
Personal Capital Pros
The free version has a plethora of tools for normal users seeking to gain control of their long-term finances
Has both budgeting and investment tools
Support is available 24/7 on both free and premium versions
No advertisements on their app and web platform
Personal Capital Cons
The wealth of tools might overwhelm people who are only interested in budgeting functionalities
The fees charged for wealth management services are a bit high
There is a high minimum required to access wealth management services
YNAB Pros
Works on simple principles that help you to take control of your finances
Installation is simple and quick
You can import bank data from a file if you are not based in the United States
Perfect for individuals using a budgeting app for the first time
Has an extensive bank of information that makes up for lack of live support
YNAB Cons
No free version
Does not import previous transactions from your accounts
FAQs About Personal Capital and YNAB
Is Personal Capital Legitimate?
Personal Capital is one of the top companies in the financial technology niche. It offers free financial tools that consolidate all your account data into one portal and give you a clear picture of your financial situation.
Is Personal Capital Good For Budgeting?
Personal Capital offers various tools that let you budget better, but they are not as efficient as those offered by YNAB. Personal Capital is focused on long term financial stability which is more of planning as opposed to budgeting. If you are looking for an efficient budgeting tool, choose YNAB.
Is It Safe To Link Your Bank Accounts to These Tools?
Personal Capital and YNAB are designed with top-level security features. This way, your bank account information will always be safe. Note that these tools are only allowed to read the information on your bank accounts and do nothing else. This way, their privileges are very minimal in regards to how they access your financial accounts.
Final Thoughts
Personal Capital and YNAB are great budgeting tools, but they run on different principles, and the best one depends on what you prefer. To help you determine this, we will look at the two in regards to budgeting and planning as these are what constitute financial freedom.
Budgeting
Personal Capital relies on a cash-flow budgeting approach. Here, you can set different budgeting categories where you can see the cash coming in and going out. The incoming cash mostly consists of income, dividends, and interest while the outgoing cash consists of expenditure and savings.
The tool will alert you when you overspend or underspend in a specific category. This approach is not a disciplined one, and it suits people who are cautious of having a financial deficit at any point. Notwithstanding that, it is a bit flexible, and if you are not strict with your budget, it might not work for you.
YNAB, on the other hand, works on a zero-based budgeting approach. This method is a disciplined one in that; you need to account for every dollar that comes into your account. You allocate the money to all your budgeting categories until there is nothing left.
The approach is heavily guided, and it works for people who are not strict with their spending. It is good since it makes you focus on savings and debt payments rather than waiting to see how much you have left at the end of your payment period and then using this balance to pay off debts.
Planning
The aspect of planning is more long term with regard to these two tools. Here, Personal Capital is the clear winner since it offers tools that help you achieve long term goals.
It allows you to include investment accounts, help you manage the associated fees, and even has a retirement planner. Once your asset base hits the $100k mark, you can sign up for the premium version and get personalized wealth management services.
YNAB is not very good at planning. It does not have the tools to allow you to do this. The simple logic behind the way it works aims to give you control over your finances for the short term but offers very little for the long run.
In a nutshell, these tools focus on different essential financial issues. If you are looking to consolidate your long-term financial situation, Personal Capital is the perfect tool for you. On the other hand, if you want to start small and take control of how you spend your monthly payments and build up from this, go for YNAB.