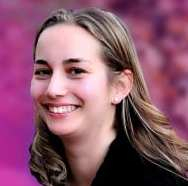 Latest posts by Julie Thompson
(see all)
If you are looking for a platform to invest and overwhelmed by all the choices, you have come to the right place. We are comparing Robinhood vs Fidelity to give you an in-depth look at their standout features and shortcomings so you can make an informed decision.
These brokerages are staying competitive by lowering their fees and offering services beyond investing such as cash management, smart apps, fractional shares, and cryptocurrency trades.
Will you choose the more established brokerage or the startup?
Main Differences Between Robinhood vs Fidelity
The main differences between Robinhood vs Fidelity are:
Robinhood offers cryptocurrency trading, whereas Fidelity does not.
Robinhood features a free stock for signing up, whereas Fidelity does not.
Robinhood does not offer cash management and fractional shares, whereas Fidelity does.
Robinhood offers phone and email support, whereas Fidelity offers 24/7 support.
Shared Features
$0 account minimum
Commission-free stocks, options, and ETFs
Mobile app
Who is Robinhood For?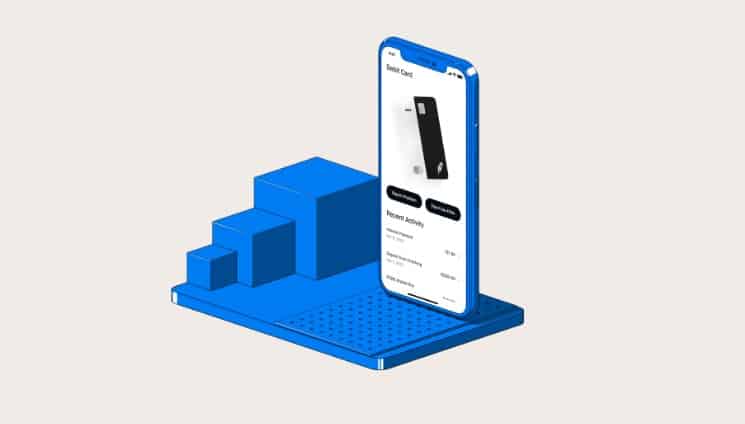 Robinhood was created for beginner investors. With no account minimum, any investor can trade $0 commission stock, ETF, and options. What Robinhood lacks in financial education and customer service, it makes up in security and cryptocurrency options.
How Do I Get a Robinhood Account?
To open a Robinhood account in the US, you must be
18 or older
Valid social security number
Can provide a legal US residential address
US citizen, US permanent resident, or valid US visa
The identity will need to be verified with one of the following: driver's license, passport, or valid identity card.
Robinhood Gold
While Robinhood is good for new investors, advanced investors will appreciate Robinhood Gold. For only $5 a month, you can receive the following upgrades to your core Robinhood account.
Benefits of Robinhood Gold:
Invest on margin ($2,000 account minimum (required by Federal regulation)
Early and late trading (trade 30 minutes before the market opens and two hours after it closes)
No waiting for ACH transfers or reinvestments. Get instant access to your money so you can trade faster and more efficiently.
Robinhood Crypto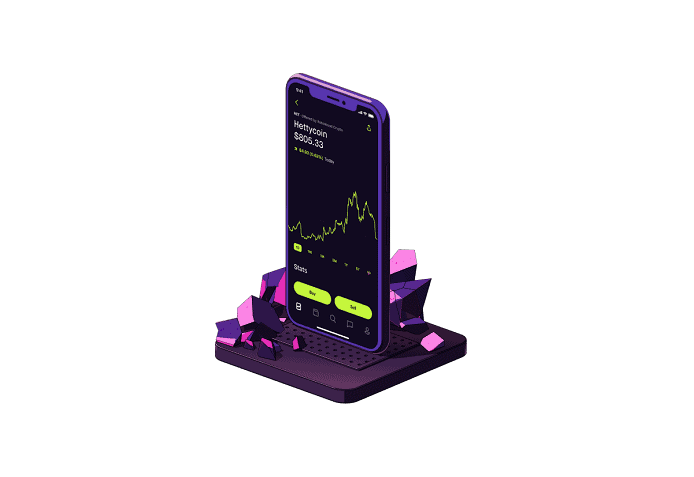 Robinhood is a leader in free crypto-currency trading. Buy crypto by loading funds into your investing account or using the balance from sold shares.
Robinhood Crypto is available in 46 states and Washington D.C. (as of 4th quarter 2019)
The following cryptocurrency options are available:
Bitcoin (BTC)
Bitcoin Cash (BCH)
Bitcoin SV (BSV)
Dogecoin (DOGE)
Ethereum (ETH)
Ethereum Classic (ETC)
Litecoin (LTC
Please note that cryptocurrency is not supported via FINRA or SIPC. You should weigh the pros and cons before investing in crypto.
Cash Management
Robinhood has been teasing a cash management account to its product line with a 0.30% APY, a debit card, and a free ATM withdrawal network of over 75,000 ATMs. Robinhood also promises no account minimums, no transfer fees, and no foreign transaction fees.
The cash management option is also FDIC insured. If you are interested, head over to Robinhood's website to join the waitlist.
Robinhood Snacks
If you are interested in keeping up with which companies or sectors are profiting and which ones are failing, Robinhood Snacks is a newsletter that provides a 3-minute read to keep you in the know. You can even subscribe to the daily/weekly newsletter without investing with Robinhood.
Too many emails? Try streaming the daily podcast called "Snacks Daily". The podcast has received over 10 million downloads and the 3-minute version consistently ranks in Spotify's top 10 podcasts.
Security
Robinhood encrypts your account password (never stored in plaintext), your social security number, and other sensitive information before they are stored. Once banking credentials are verified, they are never accessed again.
Bonus security features include two-factor authentication, mobile app access using TouchID, FaceID, or custom pin code.
Customer Support
Unfortunately, Robinhood doesn't have the best track record with customer service. Account-holders can reach Robinhood support through phone or email but there are several complaints online about Robinhood's slow response time.
If customer service is important to you, consider choosing a brokerage such as Fidelity, E*TRADE, or Ally Invest.
Who is Fidelity For?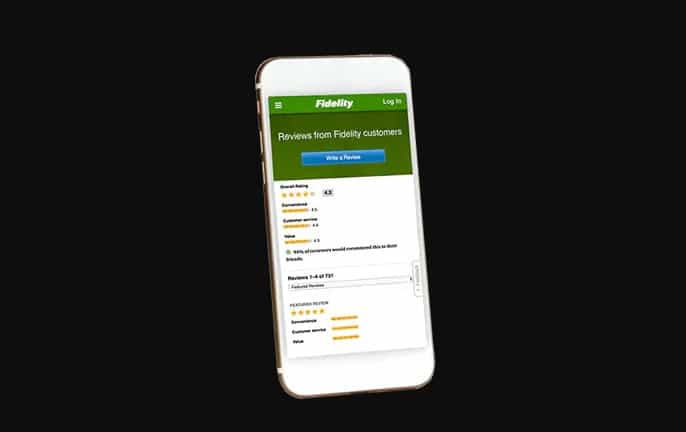 For over 70 years, Fidelity has been providing exceptional broker services. Recently with the pushback of fintech and competitors in the financial sector, Fidelity has lowered its fees and instituted a $0 account minimum. They offer 24/7 support, a versatile mobile app, and industry-leading financial education.
While you can gain the most from Fidelity if you are an advanced trader, the generous amount of support Fidelity provides both in its customer service and in-person learning makes it a viable option for a newbie investor.
How Do I Get a Fidelity Account?
You can easily open an account with Fidelity in just a few minutes. Choose from retirement accounts (IRA), brokerage, cash management, 529 accounts, and managed accounts such as advisory services.
You will enter your personal information to verify your identity, set up your account preferences, review terms and conditions, and finally decide whether or not you will fund your account upon setup.
Fidelity App
Fidelity's mobile app is titled "Fidelity Spire". The free app is a central way to track your investments and achieve your financial goals. You can either choose your goal or use Fidelity's decision tool to help you visually see which goal makes the most sense for your current financial situation.
The app features mobile check deposits, virtual assistants, and live chat. Plus, link the Fidelity Visa Signature Card to instantly lock or unlock your card and take advantage of Apple Pay, Google Pay, and Samsung Pay for contactless transactions.
Apple TV
Use your TV to keep tabs on the markets, with updated investing news 24/7 via Bloomberg TV. Real-time quotes are available for the Dow Jones Industrial Average (DJIA), S&P 500 Index, and NASDAQ exchange-traded funds (ETFs).
Use your Apple TV remote to get more details on the following categories: U.S. Markets, Most Active, World Markets, Top Gainers, Bull & Bear of the Day, and Top Losers. A smart screen overlay can display equity quotes for those mentioned during a live Bloomberg TV episode.
Apple Watch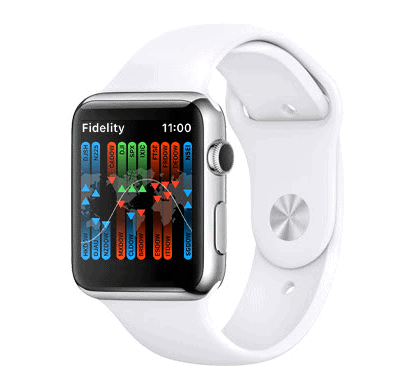 Perfect for active traders, the Fidelity App for Apple Watch provides push alerts for Fidelity orders and price triggers. Place a trade directly from your Apple Watch or sync information to your iPhone.
iPhone / iPad / Android
Using the app on your phone or tablet provides additional features not available on a TV, watch, or smart home device.
Customize your feed, tax forms, heat mapping, and VoiceOver experience for ADA compatibility. Plus, you can stream podcasts regarding relevant personal finance topics.
Amazon
View summarized smartphone features on your Kindle Fire. If you already use Alexa for everyday tasks, you will appreciate the Fidelity integration. Amazon Echo provides the real-time price of a stock you're following, major indices status, market movers, and more.
Fractional Shares
Stocks by the Slice is Fidelity's fractional shares program to help you build a diverse portfolio. Participate in only 3 easy steps.
1. Choose your budget and the stock you want to invest in.
2. Tap Transact, then Trade in the Fidelity mobile app.
3. Select Dollars, and type in the dollar amount you want to trade.
Cash management
While Robinhood has yet to complete its cash management program, Fidelity has partnered banks and VISA to provide you with greater accessibility to access your cash. Fidelity has made it a no-brainer for creating a cash management account. You will receive the following benefits:
Cash balance is held with a partner bank for easy access
Free ATM/debit card
All ATM fees in the US are reimbursed
Free check writing
Free bill pay
Integrated with Fidelity investing accounts and app
Customer Support
Fidelity offers 24/7 customer support via 800 numbers, online chat, and email. They even offer international phone numbers if you are traveling abroad and need investment help or just have a question regarding your account.
They also provide a resource center for up to date information on global events, market volatility, investing support, and a learning center that includes helpful articles, videos, and webinars.
Several "how-to" links help you complete a financial task without contacting customer service. Topics include transferring money, contributing to an IRA, and rolling over an old 401(K).
Security
Fidelity takes your security seriously by offering advanced security technologies. Features include 2-factor authentication, to prevent log-in fraud. To use this feature, you will need to verify your account when you log-in with either a code via text or an automated call with code.
Instant money transfer lockdown. No more worrying about unauthorized transfers, you are in control. If any suspicious activity does take place, you will receive a security text alert so you can take action right away.
If you frequently call for trade support or customer service, consider using Fidelity MyVoice, a voice recognition technology that will only verify your account if it recognizes your voice.
What are the Fees?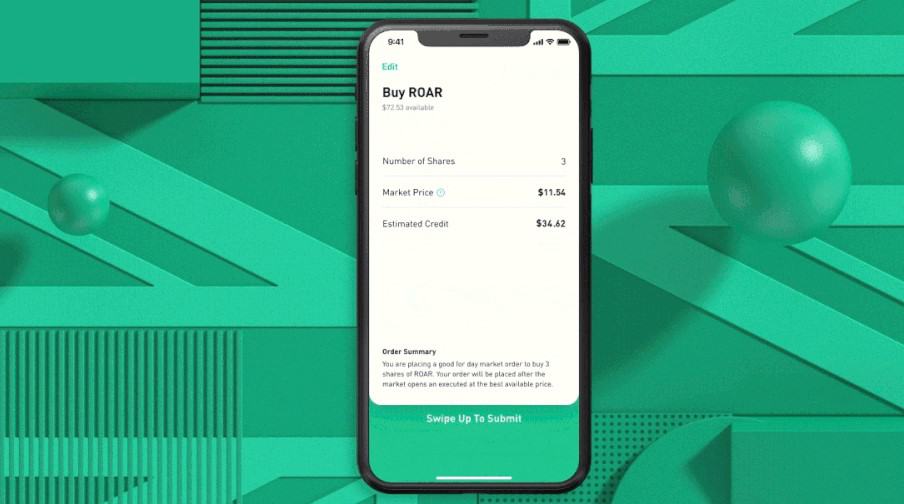 Robinhood and Fidelity have commission-free stocks, options, and ETFs trading. Both platforms also offer a $0 account minimum. Robinhood provides free cryptocurrency trades. Fidelity offers 3,500+ no-transaction-fee mutual funds.
Pros
Robinhood
$0 account minimum
Commission-free stocks, ETFs, and options
Free cryptocurrency trading including bitcoin
Powerful mobile app
Novice trader friendly
Fidelity
$0 account minimum
Commission-free stocks, ETFs, and options
Access to both foreign and domestic markets
The mobile app works seamlessly with the desktop platform
Free financial education
Well trained customer service
180+ physical branches
24/7 support by phone, online chat
3,500 no transaction fee mutual funds (Fidelity branded)
Apple TV and Apple Watch free app available
Cash management
Fractional shares
Cons
Robinhood
Foreign security trading costs $50 per transaction
No automatic investing or robo-advisor
Limited customer service
No retirement accounts
No mutual fund trading available
Fidelity
High broker assist fee
No future trading
High fees on mutual funds that aren't Fidelity branded (up to $49.99 per transaction)
High margin rates
0.35% charge (of assets annually) for robo-advisor service
No futures
No forex
No crypto-currencies
FAQs About Robinhood vs Fidelity
Is Robinhood better than Fidelity?
While Robinhood offers free cryptocurrency trading, its other features are on par with Fidelity. Fidelity features better customer service than Robinhood, mutual funds, and retirement options. If you are looking for a full-service brokerage, Fidelity is a better choice.
Is Fidelity good for beginners?
Yes. Fidelity offers a zero account minimum and no commission trades on stocks, ETFs, and options. Plus, Fidelity features over 3,500+ no-transaction-fee mutual funds.
Is Robinhood investing legit?
Investing in Robinhood is safe. They are registered with the United States Securities and Exchange Commission (SEC). Please be aware that investing can cause you to lose or gain money regardless of the platform. Always research your broker before investing.
Alternatives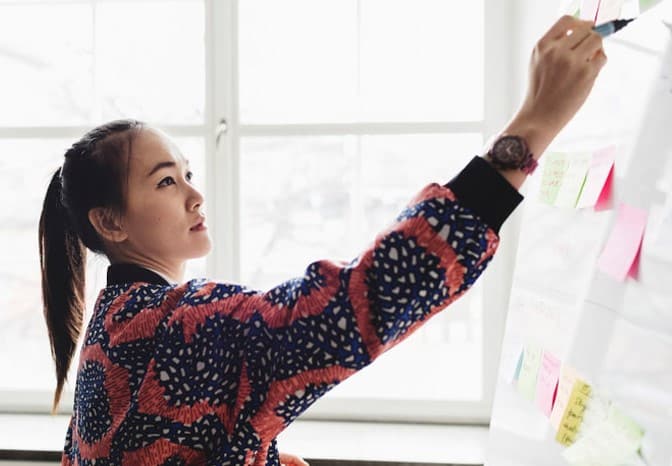 E*TRADE accommodates beginner traders and can also scale to challenge active traders. The platform that includes a mobile app provides a plethora of investor news and updates. Customer service is available 24/7 via online chat, phone, or email.
Pros
User-friendly mobile app
$0 commission stocks, options, and ETFs
24/7 Customer support (phone, e-mail, and chat)
30 physical branches
Futures trading
Retirement accounts (no annual fees or account minimums on IRAs)
Savings, Checking, and Max-Rate Checking (with an interest rate, $5,000 minimum to waive $15 monthly fee)
Cons
Must be an active trader (10 trades per month) to use desktop software
IRA fees when making an early withdrawal or recharacterization
High margin interest rates
Read More About Fidelity vs E*trade here and decide which is better!
Vanguard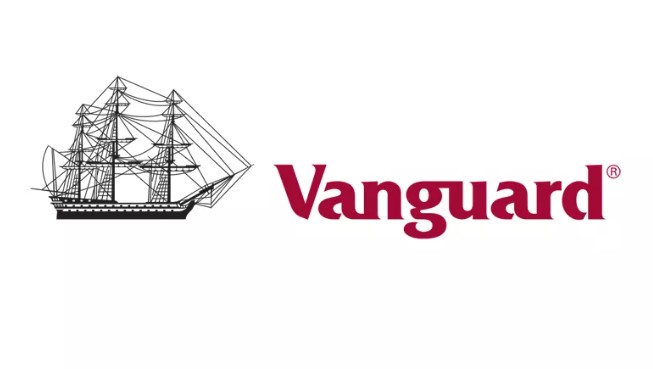 Vanguard offers branded funds to keep trading costs low. The platform is designed for investors who plan on investing for long-term goals such as retirement. There are no-fee trades on stocks, ETFs and Vanguard branded mutual funds.
Pros
Industry-leading number of mutual fund options
Lower fees on Vanguard branded funds
Human advisors available
Cons
No trading platform
Less investment education tools compared to its competitors
Funds outside of Vanguard's house funds can be expensive to trade
Read More About Vanguard vs Robinhood Compared, find their history and much more here! 
Charles Schwab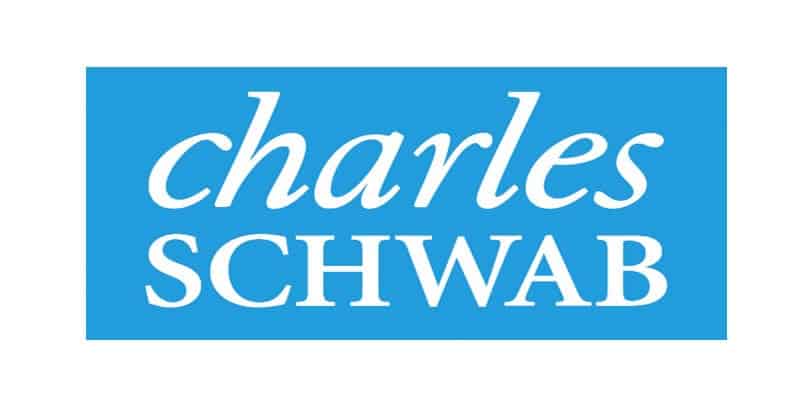 Charles Schwab provides $0 commission trades on stock, options, and ETF trades. They feature 24/7 phone and online chat support. Plus, they have over 300 branches nationwide for help with complex trades and general questions.
Pros
24/7 customer service, 365 days per year
Free portfolio management for accounts of $5,000+
One mobile app for banking and investing
Over 4,000 no-transaction-fee mutual funds
Cons
Up to $49.95 for funds with transaction fees
High margin rates
No Forex
Take a look at a deep comparison between Charles Schwab vs Vanguard, their main differences etc. and find out which one will work for you.
Final Thoughts
If you are looking for a no strings attached approach, download the Robinhood app, and start trading. The startup provides an instant way to get your feet wet in the market. Especially if you are interested in trading cryptocurrency, Robinhood is a great way to learn more about several virtual currency options.
Plus, Robinhood offers a free stock just for signing up. One in 500 will score a high-value stock that you can sell or keep.
For long-term traders, we recommend going with Fidelity. Just like Robinhood, Fidelity offers a $0 account minimum and commission-free stocks, ETFs, and options. However, Fidelity also provides investors with retirement options, 529 accounts, cash management, and fractional shares.
If you have any questions, you can contact Fidelity's highly trained customer support 24/7. Take advantage of their powerful app that is accessible through smartphones, tablets, and devices.
Always choose a brokerage that you trust. Decide how much you are willing to invest and ask questions if you need help with your account along the way. A quality brokerage will be able to provide answers and recommend products and services that meet your needs.