Latest posts by Crystal Schwanke
(see all)
When you look at Ynab vs Mint compared side-by-side, you'll see that there are some key differences between the two. Either of them will help you manage your money, yes, but their goals and what they have to offer you are slightly different.
Which one is best for you: Ynab or Mint?
Main Differences Between Ynab vs Mint
The main differences between Ynab vs Mint are:
Ynab charges $11.99 per month and has a 34 days free trial, whereas Mint charges $16.99 and has a free trial as well.
Ynab is a great tool for budgeting and handling finances, whereas Mint is more for personal use and money handling.
Ynab allows importing transactions from a bank account and linking these two accounts together, whereas Mint does not allow any importing.
How to Use Ynab to Manage Your Money
Ynab claims to help you stop living paycheck to paycheck and gives you a 34-day free trial to see if it'll work for you.
If you get a guilt-trip at the end of the month about spending too much money in an area that wasn't exactly necessary, that's not helpful. If you get out ahead of the problem and curtail your spending in real-time (not after the shock factor of "I spent HOW much on fast food and frou-frou coffees?!?!"), that is where change can occur.
Ynab is the budgeting app for the mindfulness movement. You think about all your priorities before you spend, not after.
First Impression
When you first sign up, you choose to link an account or just enter expenses on your own. Linking your account will make things easier, and you'll still have to do it to progress with your trial anyway. The "Unlinked" option will just have you start with the current balance in your account, and you'll enter information manually.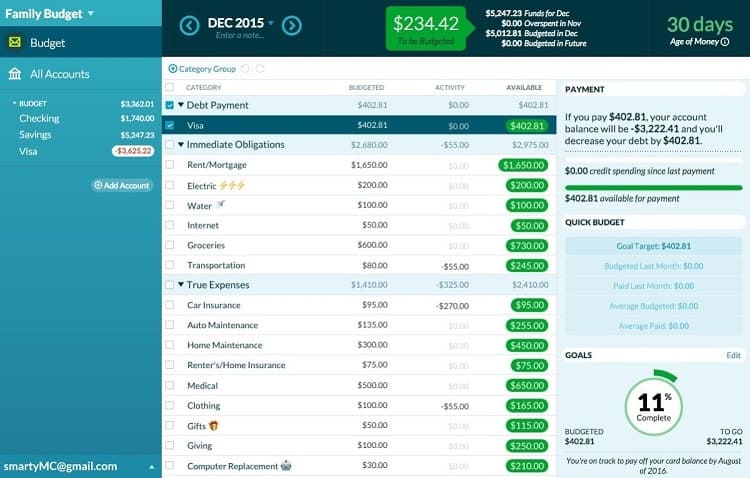 Ynab Overview
In the Budget section, you'll select which bills you have to pay and how much they are. This will include things like a mortgage, electric, water, internet, groceries, etc.
If you enter something you don't have the money for, you'll get an alert that tells you to click "To Be Budgeted" and then you can proceed.
In addition to these Immediate Obligations, you'll see sections for:
True Expenses (automobile maintenance, clothing, home insurance, medical bills, gifts, donations/charity, etc.)
Debt Payments (student loans, car loans)
Quality of Life (fitness, travel, education)
Fun (going out with friends, hobbies, entertainment, etc.)
There's also a Reports tab that allows you to look at your spending, income vs spending, and your net worth. Here, you can track trends over time, inspect spending in certain categories or time of year, and look at all your accounts at one time or choose a specific one.
You're not just tossed into the app to figure it out alone.  There are 20-minute workshops, emails, and a support forum to keep you educated and on track. I have never seen a more thorough email sequence after signing up for any website or app. They really want to help you manage your budget.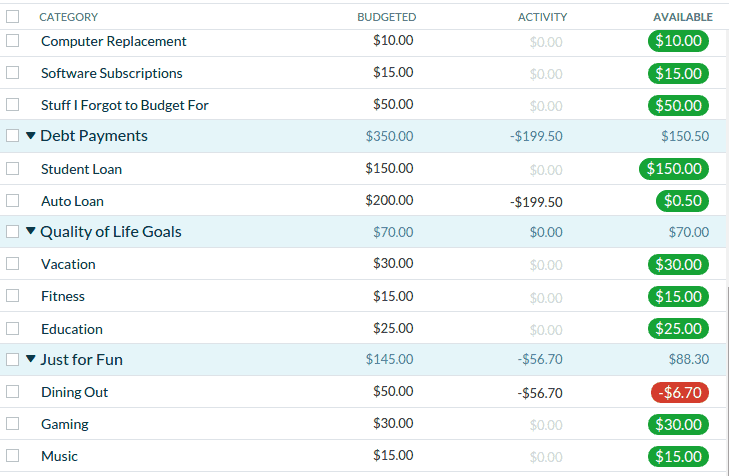 Ynab Pros
The pros for the Ynab site and app seem pretty endless.
It wants to give you control, not be an automatic system that sneakily saves money for you while you don't really learn to change your habits.
You're encouraged to think through decisions as the month goes on, not just get a jolt at the end of the month when a report shows up in your inbox.
The trial that extends over a month, so you can really get a feel for its effectiveness.
Your partner can access it too, so you're always on the same page.
It's user-friendly from the get-go.
No credit card is required for the trial.
It's free for students.
There are a desktop version and a mobile app that lets you track things on the go.
Tons of support.
Updates are right at the top of the screen. You'll know how much money you have.
You can start fresh from any day, using the same budget you set up without the old transactions. It'll save the information in case you need it later, but those numbers won't factor into your budget going forward unless you go in and fetch them.
Ynab Cons
There are a few Ynab cons, though:
It's not free forever. You'll either have to pay at the end of the 34 days or when you graduate from school. It's $6.99/month, billed $83.99 yearly. They'll give you a refund if you want to cancel before your year is up, though.
Adding income was tricky at first, but you just go to Transaction (in the phone app) and enter payments you've received there. Label the income and mark it To Be Budgeted.
You can't manually add transactions. You'll have to connect your account.
See how YNAB compares to others:
Using Mint to Budget
Mint will also get the job done, but it's a little different from Ynab.
First Impression
The setup here is nice right away. Once you've entered your name and password, you're invited to link up specific accounts (your bank, Capital One, Chase, American Express, Verizon, etc.). You can even enter Paypal and Venmo accounts.
It may feel a bit weird to enter your accounts' login details through the site, though. That gave me pause. You can't get very far in the trial without adding those accounts, and if you don't remember your login information and just want to look around to see if you like Mint's interface at all, that's discouraging. You can somewhat get around this if you use the phone app.
Mint has credit card offers right there in the app for you. This struck me as odd for a budgeting app, though in some situations a credit card may make sense. You can set up a savings account inside the app, too. It will show you several options to choose from.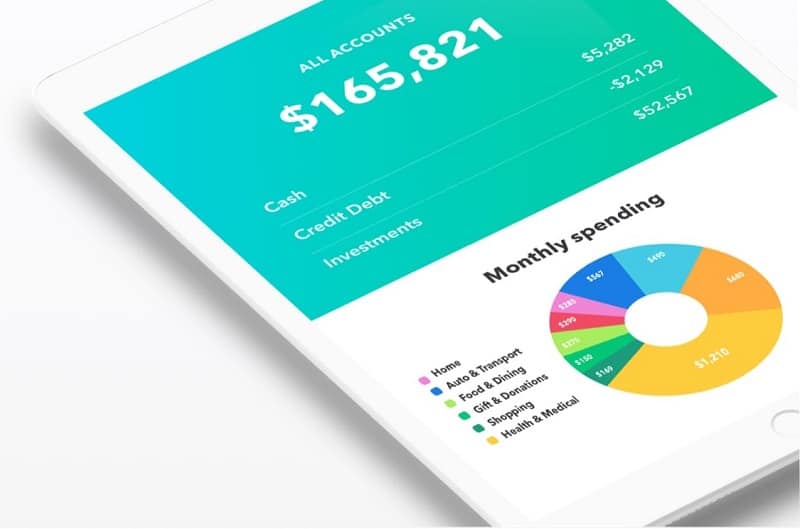 Mint App Overview
When you log in, you'll see a summary called All Accounts. This shows your cash, credit card balance, and investments. Swipe several times, and you'll get to different screens, including:
Transactions: Your total seven-day spend
Budgets: How the current month's budget is looking as of that day, how much you. have left in your accounts, the breakdown of bills paid, and the option to click to see all budgets
Spending: You've spent $_____ so far this month (and how much more or less you spent last month). Here, you'll also see a list of what you've spent money on.
Savings
Cash flow: How much you've spent vs how much you've earned, complete with bar graphs
Bills: Any bills you need to expect for the month
Boost your credit score: Free credit score check, tips for raising your score, and the percentage of how much you tend to use your credit card
You're all caught up: Option to leave feedback
The app is incredibly easy to use. Once I added accounts, I was able to set up my budget (they have several different categories for you to choose from) and track spending. It can pull your spending from the accounts you have linked, or you can add your own transactions.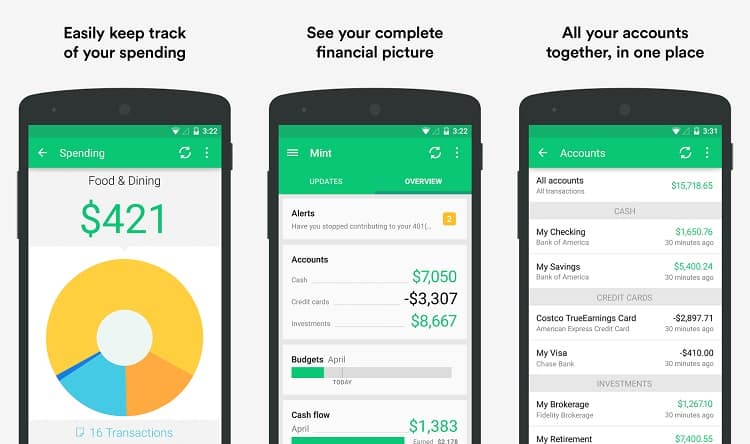 Mint Pros
You can keep track of your credit score.
You can pull in all kinds of accounts, even Paypal and Venmo, so it's easier to keep track of all of your money automatically rather than entering it yourself when you receive payments.
You see your transactions in real-time, and it's easier to keep track of your spending when you're not using a cash-only system.
You get monthly emails with money tips inside.
It's fun to use. Mint put a lot of thought into the user experience, from swiping to get to new sections, the colors, and the overview cards at the top of different sections, followed by the corresponding breakdown below that.
You can get push notifications or emails that will remind you to pay your bills on time. You can even sync those reminders to the calendar on your phone.
You get weekly summary emails to keep you up to date on your account.
Mint Cons
The credit card offers you can apply for within the app don't sit well with me.
I'd like to be able to explore Mint without linking accounts up right away.
You can't have more than one user on the app. You can add email addresses, however, so your partner or roommate can get notifications.
Ynab vs Mint, Compared: Which Is the Best Budget App?
There's not a huge difference when you're comparing Ynab vs. Mint, honestly.
Ynab and Mint Engagement
I like that Ynab sends so much helpful information in an email sequence right off the bat to keep you engaged. Mint sends you a monthly tips email, so you still get help, just less frequently.
Layout and Vibe
However, I like the layout and general vibe of Mint a little bit more. It's more exciting to look at and therefore might increase the likelihood that I actually will sign in and look at long-term. Ynab isn't that much different. The colors are more muted, and instead of swiping, there are buttons at the bottom.
There's nothing extra there to distract you with Ynab (unlike the special offers Mint has). I like that Mint has the overview at the top of the screen and the details directly underneath that. It feels slightly more user-friendly.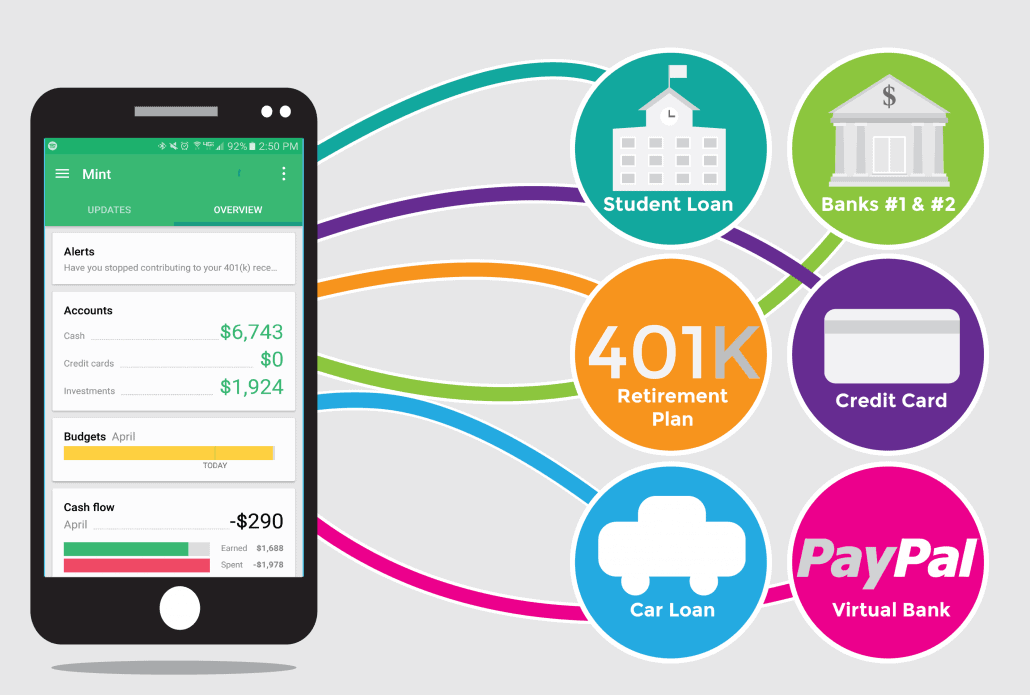 Do you remember the commercials that used to compare PCs to Macs? Obviously, those were meant to make Macs look superior, but really, each machine is good for a certain group of people (right-brained vs. left-brained, perhaps?) and has its place. When comparing Ynab vs. Mint, I'm tempted to put Ynab in the PC column and Mint in the Mac column.
Effectiveness at Curbing Spending
When you log in, Ynab hits you with reality right away—here's your budget, immediate obligations, and how much money you have left (plus any announcements they have).
Mint, on the other hand, shows how much you have in all accounts, your credit score, the cash you have on hand, credit card balance, and investments. You can swipe to see your seven-day spending history, the status of your monthly budget, spending for the month, cash flow, and bills.
Depending on the state of your finances and your personality, the "jolt" might be a good or bad thing. It could definitely quell the urge to spend money if you've created the habit of logging in before buying anything.
Ynab and Mint Comparison
Either app will get the job done without too many headaches for the user. Ynab seems to cater more toward the logical crowd, while Mint may be more appealing to creatives. Because you can try them for free, I recommend getting both to compare. See which one excites you to log in and makes you feel more comfortable setting up and adhering to a budget.
| | | |
| --- | --- | --- |
|   | Ynab | Mint |
| Price | $6.99/month billed $83.99 yearly (free for students) | Free |
| Format | App and web | App and web |
| Strengths | You get a pretty complete picture of your finances as soon as you open the app, the emails are motivating and educational, it really aims to retrain your brain when it comes to budgeting, long free trial, user-friendly, can share an account | Fun to use, nice to look at, free, you get monthly tips via email, you get an overview of your accounts as soon as you open the app |
| Weaknesses | You have to pay for it, some people may find it boring to look at, it could be easy to feel overwhelmed and glaze over the emails even though they contain valuable information because they are so frequent at first, doesn't automatically help you save the way some apps do (sometimes this is a strength, though). | You have to swipe to get all the information about the state of your budget, credit card offers may be off-putting to some, lack of ongoing emails could put this app—and your budget—into the "out of sight, out of mind" category and fail to help you create new spending and saving habits, doesn't automatically help you save like some apps do (sometimes this is a strength, though), can't have two users under one account |
Budgeting Goals and Tips
Why budget? What are your goals, and what do you want these apps to help you accomplish? How do you get there?
Get Honest with Yourself
First goal: Lay it all out there. Your debt, your bills, what you make, etc. No more hiding or avoiding looking at those credit card statements. You can pay your debt down with a plan, but to make a plan, you'll need to know what the real numbers are.
Snowball and Give Yourself Small Wins
In a lot of cases, debt is the reason people want to grab the reins and make a new (or first) budget. People who have a debt to pay down may make that the primary focus.
Snowballing is one way out. What that means is, you pay the smallest debt off first (while paying the minimum on all other loans), then put that money toward your next largest debt (plus the minimum amount you were already paying). Once that's out of the way, you go on to the next one.
As painful as it may feel about paying the minimum on all other loans, it keeps you focused and allows you to achieve small, motivating wins along the way.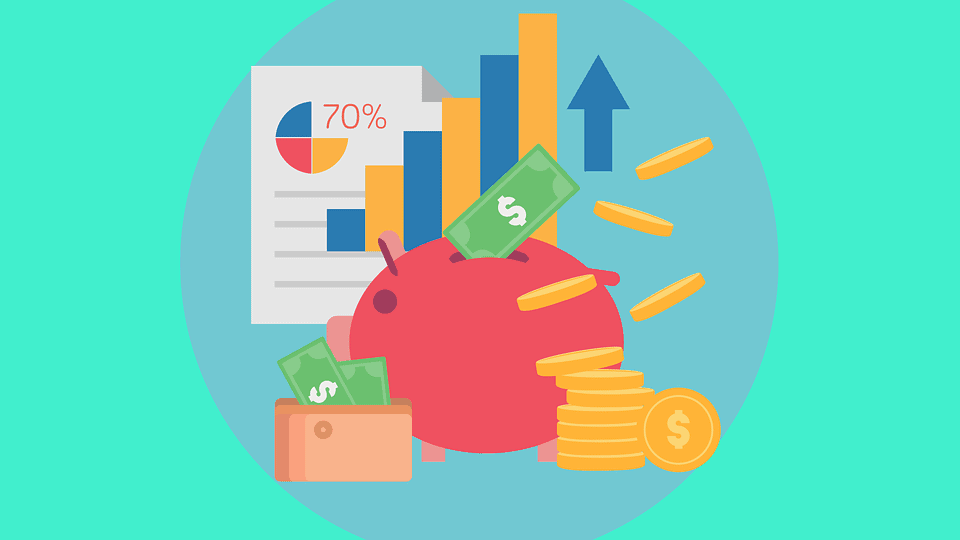 Don't Skip Saving
Don't skip saving if you have debt. Something will always come up, and if you have no savings to use, you'll keep falling back into the debt trap. You may not be able to save a lot right now, but determine what you can save and stick to it.
Ideally, you should be saving 20 percent of your income. If that's not reasonable for you yet, do what you can to make it a habit (and make sure you set this money aside first, or you're at risk of it being chipped away at by other little things throughout the month).
Don't Add to the Debt
Make a deal with yourself: You will do whatever it takes not to add more debt to your life. No more spending more than you earn.
Every Dollar Needs a Job
Give every dollar a job. Even if that dollar's job is, "Fun," it needs to be accounted for. Either of these apps can help you with this.
Budget Basics Come First
Once you've gotten the hang of how your budget works, automate what you can to avoid late fees and free up some brain space. Once you've really gotten a handle on it, that's when you can start to consider investing. Get the budgeting basics down, then go from there. That way, you won't get overwhelmed and fall into old habits.
Frequently Asked Questions
If you still have questions before you make your decision between Mint and Ynab? Maybe these will help.
Which is better, Mint or Ynab?
Either one will get the job done, and they both even allow you to connect to your accounts for easy tracking. Ynab is better than Mint when it comes to user-friendliness and education. Mint is still surprisingly thorough for a free app, though, so if it's not in the budget to spend anything on an app, Mint is an excellent choice.
Which is better, Mint or EveryDollar?
Mint is better than EveryDollar in some ways because it's free and easy to use. For someone who needs to manage their money better but doesn't have a lot of debt hanging over their head, Mint will most likely be the perfect solution.

However, if you want a lot of education to really change your thinking around budgeting and come up with a solid plan for getting out of debt, EveryDollar is superior to Mint.
Which is better, Ynab or EveryDollar?
Each one has its strengths. They're both extremely educational and can help you wrap your mind around how and why to budget so you correct old habits and manage your money better.
Is Ynab worth the cost?
Yes and no. It's probably going to be a more effective option than Mint for a lot of people because of the education factor and the layout. However, if you truly don't have the money to spend on it, a free option like Mint will work almost as well. Don't avoid getting a budgeting app at all just because you can't afford Ynab.

You can always earmark part of the money you save each month in a free option to pay for Ynab (rather than straining the current budget you're trying to get under control), then upgrade to Ynab once you've saved the money if you feel Ynab could expedite your success.
Is there a free version of Ynab?
Unfortunately, there's not a free version of Ynab unless you're a student. That said, they do offer a generous 34-day free trial (and they don't hold back any features), so you can thoroughly check it out and decide if it's right for you.
Is the Mint app safe?
Yes. They use secure encryption and multi-factor authentication. They also use VeriSign to help keep an eye on things. This keeps the information as protected as possible on your end and theirs. There's a risk any time you share account information anywhere, of course, but Mint has pretty robust security measures in place.
Is Ynab Safe?
Ynab uses "bank-grade or better encryption." They use "good" hackers to test their systems periodically, just like Google and Amazon and undergo security audits with regularity. Unless you ask them to, no one from Ynab will have regular access to your budgeting information, and there's a process surrounding it to ensure that your information stays safe and secure.

Ynab has placed restrictions and guidelines to make sure you can't choose a password that's too easy to guess, and even then, those passwords are encrypted. Once you cancel your account, the information is destroyed forever; it doesn't sit around on a server.


How does the Mint app make money?
Mint makes money from the offers inside the app. When users sign up for one of the advertised credit cards, loans, or investment options, Mint makes money. That means there's no need for a premium option with more features. All of Mint's features are free to anyone who wants to use the app.
Other Personal Budgeting Options to Consider
You may have heard of Ynab and Mint and wondered how they compared to one another, but there are others you may not have considered.
Wave
This one's great for personal or business budgeting. It will do all the basic things Ynab and Mint do, but it lets you send invoices and receive payments, too. If you're a small business owner or freelancer, you may find this one more useful than the others.
However, if you're worried about overspending and like the charts that break things down for you, so you'll be reminded not to spend, this one is less motivating. You'll see a graph of your income and expenses, what's payable, what you owe, and a breakdown of expenses, though.
It's free, so you can take a look without risking anything. You can use it pretty extensively without connecting a bank account, too.
Acorns
You can't even try this one out without linking your bank, so that's a little off-putting. One of the cool things about it is how it rounds your purchases up to the next dollar and sets that extra amount aside for investing (minimal risk, nothing crazy). It won't train you in self-control, but hey, at least you're saving something.
You can also get cashback when you shop at certain stores, so there's more money in your account. That comes with the Acorn Spend account (the $3.00/month option). This is one of the nice things about Acorns that the others don't have.
However, if you like another option, you can always sign up for something like Ebates–but you'll need to remember to go through Ebates before you shop and then save or invest those cash-back amounts yourself.
Having to pay for it is another downside when some other options are free. It's not a lot ($1.00 to $3.00 per month), but it's something to consider if you're really trying to save every penny possible. For college students, account management is free.
One dollar per month will get you the basics: invested spare change, recurring investment, free withdrawals, help investing money in the right places.
For $2.00/month, you'll be able to add a retirement account to the basics you get for $1.00.
If you're looking for help with your spending (which you probably are since you're comparing budgeting apps), you'll want the $3.00 option that comes with a checking account and debit card (and no annoying fees for having a low balance, overdraft, or using an ATM) in addition to the other features.
This one forces you to save, but it's not going to encourage you to stop before you make a purchase. It won't retrain your brain so you can change your spending habits, either, though there is some educational information inside the app that could help you manage your money. It's simple, though, so it may be perfect for you if that's what you're looking for in an app.
Choosing the Best Budget App for You
There are a few differences between Ynab and Mint. Compare their pricing, features, support, and the interface you prefer. Either one will get the job done as long as you stay engaged with the app.
From a psychological standpoint, paying for Ynab may make you more likely to open it and use it, which could give you better results. If that doesn't affect you in the slightest or you just don't have the money to spend, Mint could be best.
Ynab vs Mint: The Winner
For me, it's extremely close when I compare Ynab vs Mint, but the winner is Ynab. I think this is the one that will have the best long-term results.
I like that you get a reality check as soon as you open the app, and I think the ongoing tips in your email will help keep you engaged as you learn your way around your new budget. It will be harder to make a spontaneous purchase or five with this one. With Mint, it's easier to take a quick glance at your account overview, skip the swipes for the full picture, stick your head in the sand, and make the wrong decision.
Ynab definitely tries to earn that $6.99/month.
As far as Mint goes, I find the interface more intuitive and fun to use, and I like that it's free (even if it means credit card offers are in the app). I think it's a fabulous alternative to Ynab for people who need the spark of a cool-looking app to keep opening it back up or those who just need the extra $7.00 in their bank account each month (or $84.00 that one-month Ynab charges you).
Recommended Reads