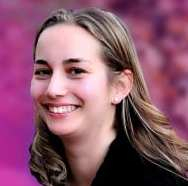 Latest posts by Julie Thompson
(see all)
There is little middle ground when you bring up the word "budget". Some people enjoy excel spreadsheets, cash envelopes, and endless mathematical calculations. Others would rather go to the dentist than try to budget their finances.
Unfortunately, when we choose to ignore our financial lifestyle, we can get behind on our bills, spend more than we make, or rack up a significant amount of credit card debt. To reach our financial goals, we must respect the money we take in and out and ultimately take responsibility for our day-to-day financial choices
Luckily, financial apps are automating the financial process with little effort and time taken from our schedule. One of these apps is PocketSmith, a powerful budgeting app that will help you take care of your finances now and well into your financial future.[
What is PocketSmith?
PocketSmith was created to help you understand and organize your finances. If you have ever paid a late fee even though you had money to pay the bill or you have mismanaged your money and want to improve your financial skills, the PocketSmith app can become your personal financial assistant so you can accomplish your monetary savings goals.
PocketSmith also offers a forecasting feature that can help you weigh a larger financial decision such as buying a house or cashflow reporting to help support your early retirement goals.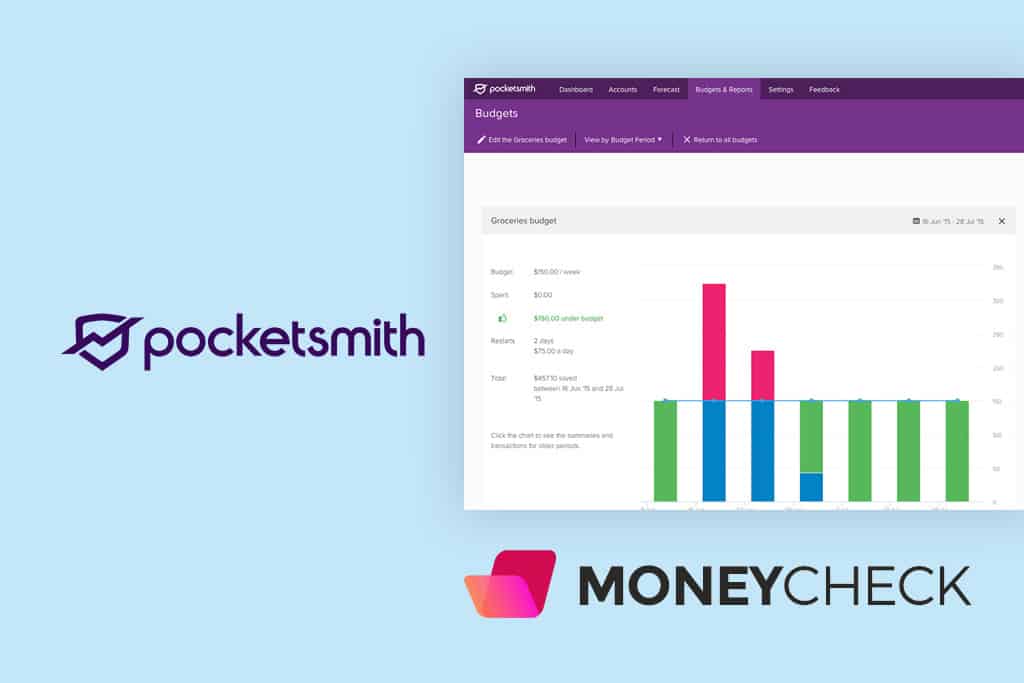 Brief History
PocketSmith was created in 2008 with the simple goal to build a calendar that would help plan for upcoming income and expenses. The first version was built in just four weeks.
The software has continued to grow and includes customized features so that no matter what budgeting scenario you need to achieve, PocketSmith will help you get there.
Unique to PocketSmith, the global team based in New Zealand, doesn't just include a bunch of financial gurus. They employ thespians, gamers, musicians, tinkerers, writers, photographers, pet owners, a geologist, a philosopher and a mezzotint artist who exhibits internationally.
Features
Live Bank Feed
PocketSmith app connects to over 12,000 financial institutions in 49 countries (for best connectivity, all major banks in the US, Canada, UK, New Zealand, and Australia are supported). Not only does the app support integrating basic accounts like checking and savings account but you can also connect your credit cards and loan accounts.
Budget Calendar
The platform is very intuitive with drag and drops schedule changes and easy to add and edit income and expenses. Quickly see your daily account balance (based on your income and expenses) in real-time.
Unlike other similar platforms, you can use PocketSmith to create daily, weekly or monthly budgets. Pick your custom start date and your budget goal.
Plus, take advantage of the forecasting that PocketSmith provides. By using your entered info., the app will be able to alert you of cashflow problems so you don't overspend.
Multi-Currency
Do you have international accounts? Are you transitioning from one country's currency to another? PocketSmith can convert your accounts and net worth to the currency of your choice.
Easily see instant currency conversions by hovering the mouse over each transaction.
Need current exchange rate information? PocketSmith supports non-flat rates for Bitcoin (BTC), gold (XAU, troy ounces) and silver (XAG, troy ounces) and more.
Cash Flow Forecasts
Stop using Excel and let PocketSmith provide you with past, present, and future reports. Quickly see the whole picture so you can learn how much and when to spend and save.
Transactions
Import transactions by Live Bank Feed, upload, or manual entry. Need to find a specific transaction? Use the powerful search engine within PocketSmith to identify it by using specific dates, amounts, accounts, labels, or even word exclusions.
Fix duplicate transactions within the ledger and set rules and filters so your transactions import correctly.
Net Worth
Your net worth is constantly changing as you take on more debt and as the value of your assets continues to grow. Use PocketSmith to calculate your net worth across all imported accounts, assets, and liabilities. Plus, you can link your liabilities to assets for more accurate net worth.
Mobile App
The mobile app provides a one-stop-shop for all of your transactions and the account balance. You no longer have to clutter your phone with multiple banking apps. Simple import all of your financial account into PocketSmith and easily see each account with a click.
Customize your dashboard so you can instantly view what is important to you. You may be focusing on improving your net worth or tracking your everyday spending. With PocketSmith, you choose what you want to focus on financially.
Desktop App
PocketSmith is currently testing a desktop app for users who prefer device options when reviewing their finances. Features are still being added, but Windows, Mac, and Linux beta versions are available to download directly from their website.
Memories
While your bank account and credit cards exist solely for convenience, PocketSmith takes your transactions to the next level. You can use PocketSmith to journal important transactions by adding photos, attachments, and text.
Use the journal PocketSmith feature while on vacation or business so you can remind yourself about key locations. You can even attach a picture of a restaurant menu, attraction map, or business card so you are never left guessing.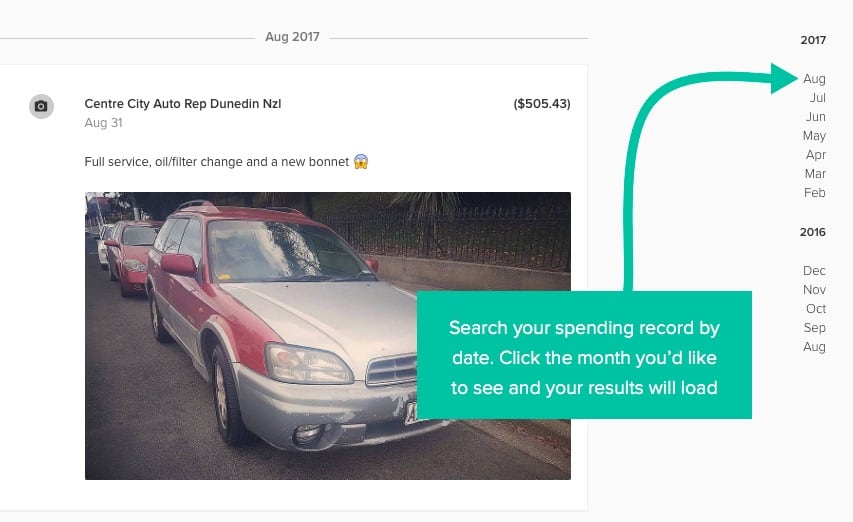 Since transaction history is tagged within the app, you can easily find the information you are looking for. Even if you can't remember the name, search by date or location to narrow down transactions.
How to Use PocketSmith
Sign Up in Under a Minute
When you sign up with PocketSmith you will have the opportunity to manually add your bank and transaction information or import financial information from another app such as Mint or Quicken. You are completely in charge of what information is viewable and not viewable within the app.
We recommend starting with the free plan to see if you like the interface and features. If you prefer PocketSmith over your current free personal finance app, consider upgrading to a paid plan and paying annually for maximum savings.
Your Dashboard View
Once you link a financial account or manually upload transactions, you will be able to access your dashboard. The dashboard provides a customized view of your budget and forecasting.
If you have the free version, you can manually add bank transactions. If you want your bank transactions to automatically show up in your bank feed, you'll need to upgrade to one of the paid plans.
Once your transactions are visible, you can create personalized categories and labels to suit your needs and help you find individual transactions at a later date. Take advantage of this unique PocketSmith unique feature of adding text, pictures, and attachments to individual transactions.
PocketSmith Pros
App dashboard is customizable
Automatic categorization of transactions (saves time from entering manually)
No ads
Import financial data from your bank and third-party apps
No long-term contracts, pay for one month at a time
Cash flow forecast
Retirement planning
A color-coded calendar that tracks recurring bills
PocketSmith Cons
No bill-pay
Doesn't include credit score monitoring
No tax reporting
The free version lacks features
A learning curve for first-time users
How Much Does PocketSmith Cost?
There are three tiers of PocketSmith with a free Basic plan, a $9.95 per month Premium plan, and a $19.95 Super plan. There is a more than 20% off discount when paying for the paid plans annually. Payment can be made by Visa or Mastercard. They do not currently accept American Express, PayPal or invoice at this time.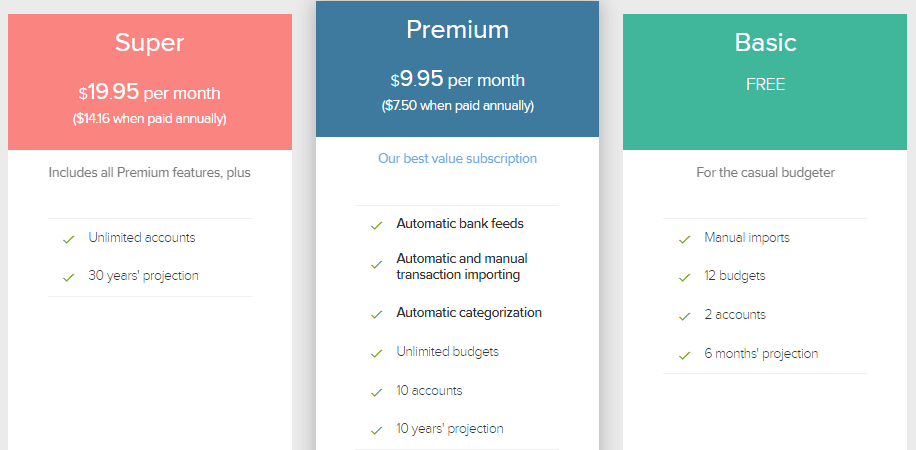 You can change your plan at any time by clicking on the "My Subscription" tab in the upper right of the app. There are no contracts. However, they do not prorate for partial months (i.e. if you cancel in the middle of a billing period).
Although competitors of PocketSmith (i.e. Mint.com and Personal Capital) have a superior free plan, they both contain ads. PocketSmith's app is ad-free.
The free plan includes:
Manual imports
12 budgets
2 accounts
6 months' projection
We only recommend the free plan for those who prefer not to pay for this type of service. The Premium plan is affordable (under $8 if paid annually) and includes automatic transaction and categorization capabilities. This alone is worth the monthly cost of $8 to $10.
Premium plan includes ($9.95 per month):
Automatic bank feed
Manual and automatic transaction importing
Automatic categorization
Unlimited budgets
10 accounts
10 years' projection
The Premium plan is the best value and the most popular choice for the average to advanced user. Unlimited budgets can help you save for small savings goals and a 10-year projection for larger ones. You will also benefit from automatic importing that is lacking in the free plan features.
The super plan includes ($19.95 per month):
All Premium plan features plus
Unlimited accounts
30 years' projection
We recommend the super plan for those who choose PocketSmith as their favorite financial app. The investment will run you just shy of $170 per year so you will have to decide if this makes financial sense for you or if a more comprehensive solution that includes investments, tax help, etc. is a better choice.
Customer Service
While PocketSmith takes user suggestions and often modifies the app to cater to its users, it currently does not offer phone support. You can contact them through the website directly and expect to receive a response within one business day. Keep in mind the company is based in New Zealand so there is also a significant time difference if you are based in the US or Canada.
Who is PocketSmith For?
PocketSmith is for people who value where their money goes and are interested in improving their net worth or managing their money more responsibly. You can also track multiple income streams (i.e. day job and side hustle) or from multiple family members (i.e. spouse or significant other).
If you appreciate an intuitive interface that is available on both mobile and desktop and is interested in the forecasting feature, PocketSmith is definitely worth the download.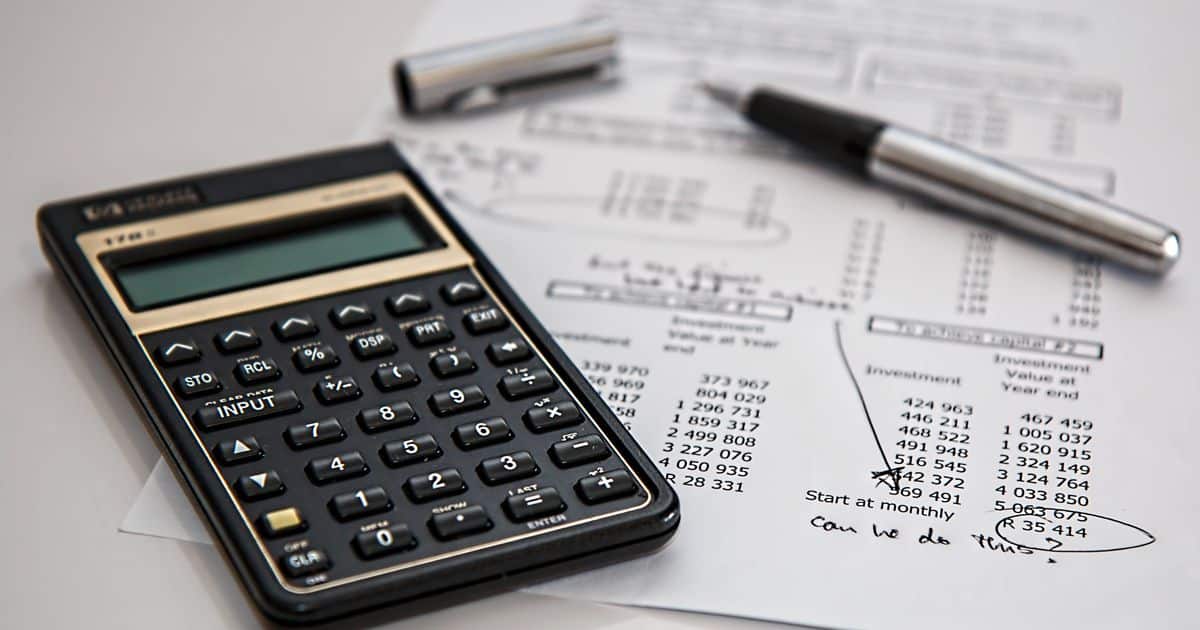 FAQ
Is PocketSmith Safe?
Yes. Even when using PocketSmith on a public WiFi network, the connection is always encrypted. To maintain the best secure connection to PocketSmith, it is important to use an updated device.

All financial data within the application is encrypted on PocketSmith servers. Even if someone was able to access the server, the data would not be readable. Passwords are also encrypted for an added layer of protection.

PocketSmith also utilizes Payment Express, a third-party credit card data security company, two-factor authentication, login history, and authorized apps. Plus, data center staff is always present on-site for 24/7 monitoring.
Is PocketSmith Free?
Yes. PocketSmith provides users with a free account option. The free version offers the following benefits: manual imports, 12 budgets, 2 accounts, and a 6 months' projection. Two paid plans are also available if you need more features.
Can I Upgrade My Account?
Yes. PocketSmith allows you to upgrade to a paid plan from the free plan whenever you choose. Once you choose a paid plan (Premium or Super), you will be charged the next day for the proceeding month. When upgrading from Premium to Super, you will see the price increase on your next billing cycle. This information can also be viewed in the Subscription & upgrade section under "Settings".

Keep in mind there are no partial month refunds if you decide to downgrade your plan. In order not to incur a charge from a paid plan, you must cancel before you are billed (either the next day for Premium or before your billing cycle ends for accounts switching from Premium to Super).
Who is PocketSmith Not For?
PocketSmith is not for people who are interested in investments and bill pay. The app also won't help you automatically save (i.e. Acorns) but does provide a clean interface for monitoring day-to-day transactions, budgets, and net worth.

It is also not for people who are looking for a free financial app. The free version requires manual entry of transactions and categorization.
Alternatives
Personal Capital
The management fees are overpriced but the financial and planning tools are worth looking into if you meet the account minimum ($100,000). All clients have access to a team of financial advisors. Increased perks are available once you hit $200,000 in investments.
Pros
Free financial and planning tools
Human financial advisors
Individual securities
Cons
$100,000 minimum
Overpriced management fee (0.49% – 0.89%)
Spendee
Spendee started as a humble expense-tracking app. Now with increased features, it offers comprehensive global financial management tools. Connect to over 2,000 international banks while improving your financial skills in saving and investing.
Pros
Multiple currencies
Dedicated support team
Free plan
Cons
Lacks detailed statistics
Paid account required for transaction management
Mvelopes
Read a few financial help articles and you will come across the envelope system. A simple way to divide your cash into different envelopes so you don't overspend on groceries, gifts, or entertainment. Although this system has worked for many, most of us enjoy the convenience of apps and credit cards. Mvelopes is the digital version of cash envelopes and can help you budget for short and long term goals.
Pros
Helps you budget for vacations, holiday gifts, an emergency fund
Mobile app
Intuitive interface
Cons
Doesn't have a free plan
No investment monitoring
No bill pay
Acorns
If you are looking to start investing while simultaneously saving for the future, Acorns is a financial tool you should consider. Acorns charges a flat monthly fee for all accounts ($1-$3 per month). However, there is no account minimum to start and college students get a reprieve from fees for four years.
Pros
No fees for college students (up to 4 years)
Cashback (select retailers)
Free financial tools
Auto invests spare change from transactions
Cons
Limited investment options
Overpriced flat fee for small accounts
Your Personal Finance Should Be More Than Transactions
If you are in the market for a financial app that will help you track multiple streams of income and forecast your cashflow for early retirement, PocketSmith is an intuitive app that has a dedicated team for powerful updates.
You can even ask PocketSmith to help you complete complex financial tasks like saving for a home while paying off a high-interest student loan. The app provides real-time transaction data (paid plan) while keeping an eye on your net worth.
We also really like the journaling feature. How many times have we purchased a product with an extended warranty or daydream about a restaurant we visited several years ago? With PocketSmith you can easily tag your transactions so you never miss out on extra cash or that dessert that makes you mouth water just thinking about it.