Latest posts by Crystal Schwanke
(see all)
EveryDollar vs YNAB, compared, may leave you feeling like there's not that much of a difference between the two. They both seem to have similar goals—help you budget, pay off debt, and educate you while they do it, so you don't give up or slip into old habits. Some noteworthy differences could make one better for you than the other, however.
These two have more commonalities than differences because they're both trying to help you long-term. Some apps aren't as interested in helping you learn why you're doing what you're doing and instead merely track for you.
Main Differences Between EveryDollar vs YNAB
The main differences between EveryDollar vs YNAB are:
EveryDollar has a free version, whereas YNAB doesn't have a free version unless you're a student.
EveryDollar's trial version doesn't allow you to link accounts at all unless you upgrade, whereas YNAB's trial allows you to link accounts
EveryDollar seems to be more aimed at families or a slightly older demographic hat is more established in their career, whereas YNAB might be best for students, young singles, or younger married couples without kids.
EveryDollar is part of Dave Ramsey's brand, you'll follow his proven baby steps to get out of debt, whereas YNAB uses a Four Rules method that starts with giving every dollar a job but allows for overspending in some categories (it'll remind you to adjust your budget to cover the expenses if you do overspend).
EveryDollar is the less flexible, whereas YNAB is more flexible which could be good or bad depending on your ability to adhere your budget to cover the expenses if you do overspend 
EveryDollar is more focused on saving and paying off debt rapidly, whereas YNAB's ultimate goal is to have you spending last month's money, this month, so you're always ahead. YNAB will also encourage you to pay down debt and save, but not with the ferocity of EveryDollar (though you could still choose to go that route with your budget).
EveryDollar vs YNAB Compared: Commonalities
Before we get into the use of these budgeting tools, pros, cons, and which one's better, let's look at what they have in common:
Education! The major thing that both of these have going for them is the education you get along with it. It's not just tracking or saving on the sly. That's what a lot of other apps do. That's what a lot of apps do for free, and why either one of these is worth paying for.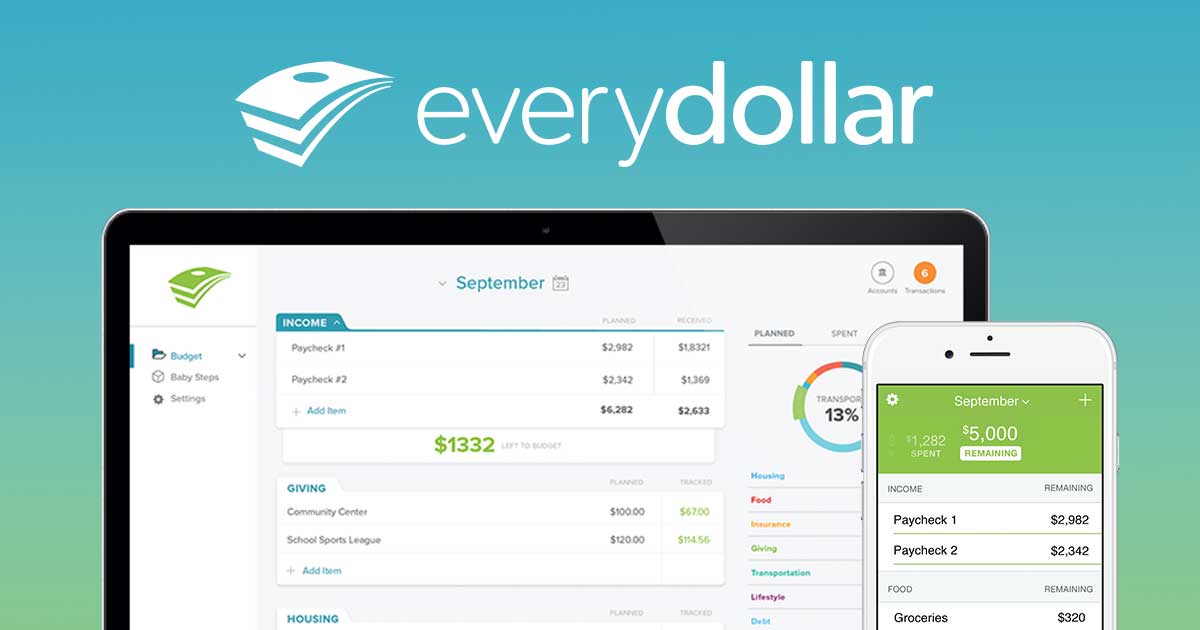 Using EveryDollar for Budgeting
When you first sign up (it's free!), you will be asked to select your goals. For example, the app wants to know if you're:
Saving for a house
Savings for kids' college
Saving for retirement
Paying off debt
Wanting to stop living paycheck to paycheck
Wanting to travel
Then EveryDollar asks about you:
Do you own or rent?
Married?
Kids or no kids?
Pets or no pets?
Do you have a car?
From there, it asks about your income, necessary expenses, how much you give, and how much debt you're trying to pay off.
The expenses section reminds me of the one in YNAB. It's pretty thorough, but not quite as exhaustive as YNAB's is by default. You can add items, though, and make it as comprehensive as you'd like it to be.
Expenses in EveryDollar
EveryDollar separates your expenses into categories so you can look at them separately.
Car payment, gas, and maintenance costs make up one section.
Another section is for food (groceries and restaurants are separated, and you can add items here).
Personal Expenses is another category, and I love that this one has sections for things like subscriptions, fun money, hair/cosmetics, and a few other things. These purchases can sometimes slip through the cracks when you're budgeting. A lipstick here, a subscription box there… Not everyone will think to include those in a budget.
The Giving category is split between church and charity, but you can add your own items if you give differently.
Then it gets into the debt section, where it breaks down credit cards, car payments, student loans, medical bills, personal loans, etc.
Once everything is set up, you'll get an overview of your account on the main screen of the app. This shows your monthly income and what's left to budget at the top, followed by a list of all the information you just put in about your income, giving habits, debt, etc. You can click between Planned, Spent, and Remaining tabs, too, to get a more in-depth look into the state of your accounts.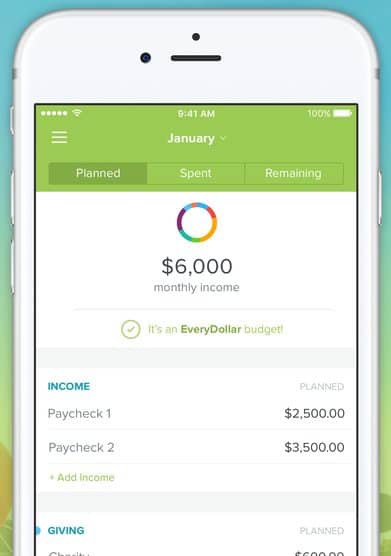 EveryDollar Pros
I'd consider this budgeting option one of the top few I've tried. Here are some EveryDollar pros:
The free version is, well, free. If you sign up for a free trial of Plus (the paid version), you also get a 15-day trial of Financial Peace, which has a pretty good track record of helping people get out of debt.
The web version is great and very clear, easy to understand, and intuitive. You can easily track transactions there. The phone app is a bit clunkier to use, and I found it less intuitive to navigate, but it's still easy enough to use once you get the hang of it.
If you're planning to use the web version of EveryDollar, it's much easier to use and has a few extra things in it that you'll love as you learn to set up a budget and carefully track your spending. You can also learn Dave Ramsey's seven baby steps and track your progress there.
EveryDollar Cons
No app's perfect. Here are some EveryDollar cons:
You can't link accounts to the app without the Plus version, so you'll have to remember to enter your transactions that aren't already budgeted for manually. That sounds like a recipe for disaster for a person who's trying to start a new budget tracking habit, but if you know you'll remember to do it, there's no harm in using the free EveryDollar app.
The app is not as intuitive to use as it looks, and it's a lot different from the web version. I found it confusing to try to add transactions on the app at first (an important feature to have when you're on the go and can't link your accounts with the app) but not the website.
I also had trouble finding out how to tweak the budget when I needed to (from the app). Turns out, you have to be careful about where you tap the line you want to change. "Near" the dollar amount but not directly on it will take you a different screen, not open the amount up for editing. It can be confusing (or at least frustrating).

It's expensive compared to other apps. However, since you get Dave Ramsey's Financial Peace, the payment could be worth it if you're interested in learning from that course. Once you're done with that, it could be hard to justify the $129.99/year price of the app upgrade. If you want EveryDollar just for the course, you could purchase that separately or see if your church offers the course.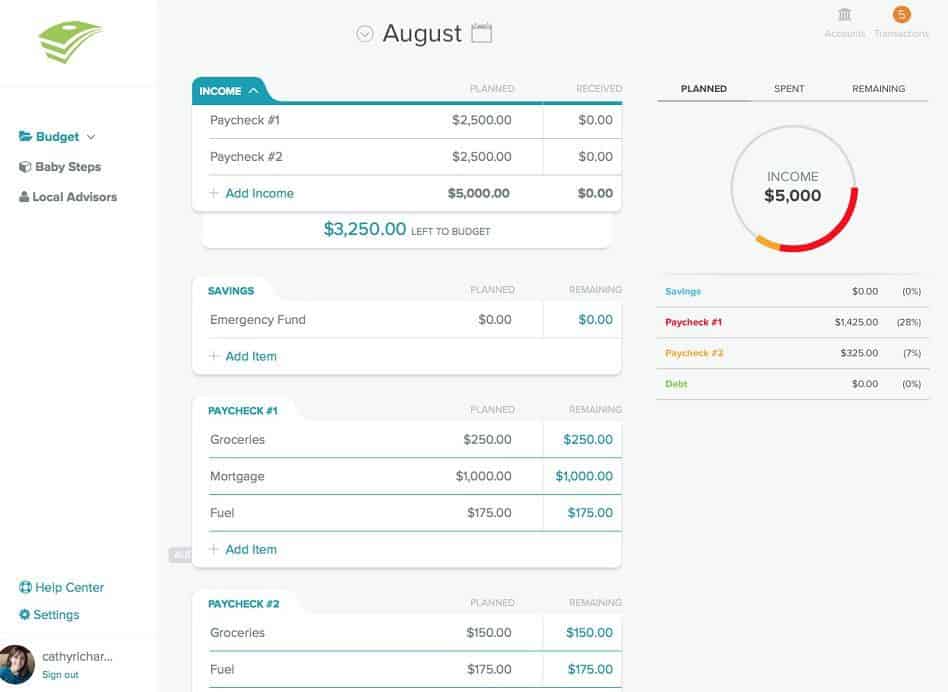 Is EveryDollar Plus Worth It?
Shortly after you finish setting up your account, you'll be asked if you want to try EveryDollar Plus, their paid version of the app. Don't worry; they don't hound you with obnoxious ads; they seem to want to make sure you know it's an option.
You can sign up for a 14-day trial and pay $129.99 for the year if you like it. This is even more expensive than YNAB, and it gives you information on transactions from your bank, the ability to monitor account balances, and access to priority support.
One thing that might persuade you to go with it anyway is Dave Ramsey's well-known Financial Peace course that comes with a yearly membership. I didn't see that advertised on the screen that pops up after you get your free account set up. For that, you'll have to click on "Try Plus" in the top right corner of the screen.
If linking accounts is the only upgrade that's really important to you—unless you love the layout of EveryDollar and all of the features you can get for free—I recommend going with a different app.
YNAB and Mint allow you to link your accounts to the apps (Mint does it for free). It didn't even occur to me that this would be a significant part of the upgrade since others don't charge extra for that specifically (though the extra customer support may be nice, I can't imagine needing it for a budgeting app).
The problem with this is, without upgrading to EveryDollar Plus, the app is of minimal use. It starts out so promising with the clean interface, questions to get to know your situation and the first impression that it's a user-friendly, intuitive app.
I wanted to love EveryDollar more than I did. If you feel the same way and think you would benefit from the Financial Peace course that comes along with Plus, it's worth it.
EveryDollar Overall Verdict
Some things can't be summarized in a list of pros and cons, but I did have some additional thoughts on EveryDollar (free version) that I wanted to share.
I think my biggest hang-up with the EveryDollar app was that I wished the Remaining tab on the main screen showed first instead of Planned. If I'm logging in to see if a purchase is okay to make, I would like to know how much is left in a category, not how much I budgeted at the beginning of the month. To be fair, there's a thin progress bar after each category that implies how much you have left, but it would be nice to see numbers.
Even though I can see the potential for this to be incredibly effective, it left me frustrated more often than the other options did. Still, it's usable, and I can see how some people would prefer this one over others.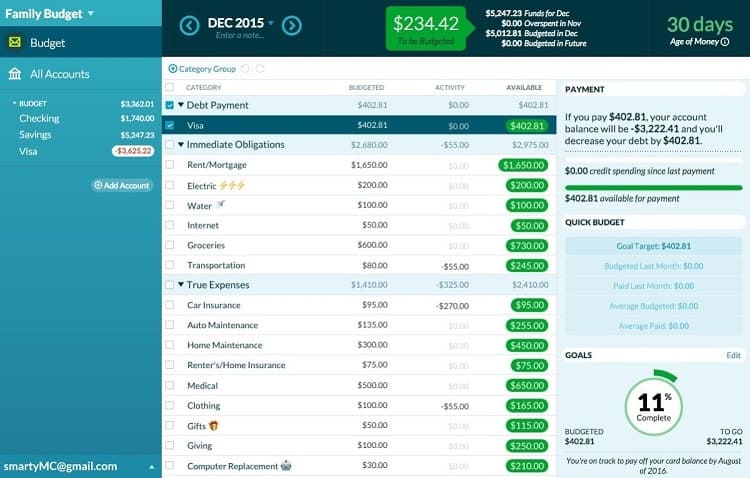 Budgeting with YNAB
YNAB (short for You Need a Budget) is another paid option that gives you a (generous) free trial.
One of my favorite things about this one is how easy it is to transition from the computer to the phone while using it. I also love that you can add accounts during the trial to get a feel for it. They don't hold back on features just because you're giving it a whirl before you commit.
When you first sign up, you'll set up your budget. You can either link to an account (hint: you'll want to eventually) or enter transactions manually. Adding an account will give you the reality check you need when you log in, but it's nice not to have to do it right away if you're just getting a feel for how it all works.
From there, you'll add the things you need to budget for each month, like housing expenses, food, and utilities.
Once those are in place, you can budget for things like insurance, medical bills, clothing, auto maintenance.
You'll also figure out how much you need to dedicate to debt, student loans, and your car payment.
There are also sections for making your life enjoyable, like going out with friends, dining out, traveling, gym memberships, and hobbies.
From there, you can either keep up with things by having accounts linked or adding transactions on the go in the app.
As you can see, it's pretty thorough.
You'll get a series of emails that truly educate you on why and how you should budget for your life and goals. There are workshops and recordings, too. YNAB does a good job of making their users feel supported.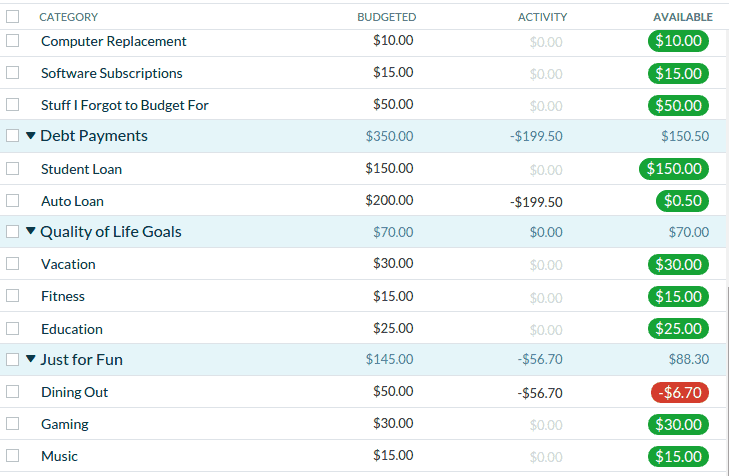 YNAB Pros
With a comparison between EveryDollar and YNAB, this one has a few more obvious pros right off the bat:
A 34-day free trial
A ton of helpful emails to keep you engaged and educated—for free
The app and website don't look that much different, so it's pretty seamless to go back and forth between them
You can link your accounts and have things update in real-time.
It's user-friendly.
YNAB Cons
It's not perfect, though, especially if you don't have a lot of wiggle room in your budget:
No free option at all after the trial ends unless you're a student
Kind of boring to look at, but it still gets the job done
It's less expensive than EveryDollar, but it's still $6.99/month. They bill yearly, so you'll be paying $83.99 at one time.
See how YNAB compares to others:
EveryDollar and YNAB Comparison
So at their core, how do EveryDollar and YNAB compare?
Here's a side-by-side comparison of what you can expect from EveryDollar and YNAB. They're both good, but one may be better for you than the other.
| | | |
| --- | --- | --- |
|   | EveryDollar | YNAB |
| Price | Free for the basic version or $129.99/year for Plus | $83.99/year |
| Free option? | Yes, with limited features | For students. Everyone else can try it free for 34 days without entering any debit or credit card information (so no surprise charges) |
| Link Accounts | Only in Plus | Yes, even during the trial |
| Focus | Paying off debt quickly and saving for three-to-six months of expenses and retirement | General budgeting (you'll save and pay down debt, too) with the goal of using the money you earned 30 days ago instead of living paycheck-to-paycheck |
| Education | Dave Ramsey's tips for getting out of debt, from articles and the occasional email to the Financial Peace course (Plus), as well as priority support (Plus) | Workshops, videos, emails (lots of them at first), blog posts, and the ability to send messages via chat on their site |
| Budgeting Method Used | Dave Ramsey's Baby Steps ($1000 emergency fund, pay off all debt, save 3-6 months of expenses, save 15% for retirement, college fund for kids, pay off your house, build wealth and give to other people and causes) | The Four Rules (every dollar gets a job, get realistic about what you'll need to spend money on in the future and set up a monthly savings category for that, learn to be flexible without completely blowing the budget, and get so far ahead that you're spending last month's paycheck this month) |
FAQ
Do you still have questions? No problem. Maybe these will help:
Is EveryDollar or YNAB better?
That depends on what you're looking for and what you want your focus to be. YNAB is a more short-term solution and great for younger people who may not be as well-established in careers or have families yet.

EveryDollar can be useful to anyone, but it's an especially good option for those who are already looking to save for retirement, pay off a house, pay down significant debt, and save for their kids' college.
Is there a free version of YNAB?
Only for students. There's a long, free trial of 34 days, though, and you don't have to give up your credit or debit card information to sign up. There are no strings attached. You just sign up at the end if you like it.
How much does YNAB cost per month?
It's $83.99/year, so that breaks down to about. $7.00 per month.
Can you pay for YNAB monthly?
No, you pay for the whole year at once.
Is the EveryDollar app free?
Yes, but the free version has limited features and fewer educational resources. You can upgrade to Plus and get access to everything, though.
How much does EveryDollar Plus cost?
EveryDollar Plus is $129.99 for the year.
Which is better, Mint or EveryDollar?
For long-term goals and savings, definitely EveryDollar. For short-term budgeting and just tracking your spending, you could get by with Mint—and it's free even when you want to link your accounts to it (something you can't do without the Plus version of EveryDollar).
What is the EveryDollar budget?
It encourages you to follow Dave Ramsey's Baby Steps, but you have control over how you set your budget up in the app.
Is YNAB worth paying for?
If it matches your goals and lifestyle, yes, the education and encouragement you get in addition to the ability to easily track your spending and saving are worth paying for.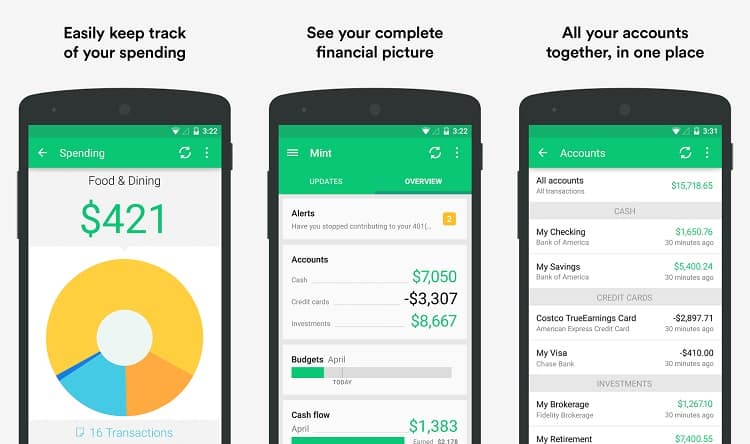 Other Options to Consider
There are other budgeting apps out there that are worth a look.
Mint
Mint is totally free, and you can link accounts to it. As far as usability goes, it's somewhere between YNAB and EveryDollar. You get less education, but if you're just looking for a convenient, free tracker that pulls in information from all your accounts, try this one.
Acorns
Acorns cost a few bucks per month and do link up with your accounts. Its main purpose is to help you save and take the pain out of doing so. It'll round up to the next dollar on your purchases and hide the difference away in your savings account so you can invest it later.
Excel
Yes, you have to set it up yourself and track everything manually, but it's probably already on your computer. If you're a fan of old school methods of doing things, you might find this to be perfect. Store it in the cloud, and you'll be able to access it from anywhere.
You won't get any extra education here, though, so still, check out the free resources YNAB and EveryDollar offer on their sites.
Similar alternatives: Google Sheets or Apple Numbers. It's worth noting that if you're going to do it this way, you may still enjoy EveryDollar's free version.
Buxfer
Buxfer is a robust system for tracking transactions, investments, and more. You'll get to see where your money goes, track spending in real-time by syncing your accounts, manually enter transactions, receive reminders to pay your bills, and even get alerts when you're close to going over budget.
Pricing ranges from free to $9.99/month, depending on the features you want and need. You can get the automatic bank sync feature at just $1.99/month.
Fudget
Fudget is a user-friendly budgeting app with a fabulous walkthrough. You can toggle between your balance and what's been paid or switch back and forth between income and expenses. It's easy to add income and expenses.
You can even email for help right through the app if you run into problems.
The basic version of this is free, but you can pay $3.99 for the Pro version to get a calculator, themes, Dropbox saves and restore, sorting, no ads, and more. You can even try any Pro feature for a day without paying (you'll just have to complete a task, like watch a video ad).
Does EveryDollar or YNAB Win?
Each one has its own pros and cons, but YNAB wins based on cost and ease of use. If you think you'd greatly benefit from Financial Peace, at least sign up for the free trial of EveryDollar and see if it's the one for you. You can try YNAB free for 34 days, so you'll be able to make an informed decision no matter which way you go.
Further Research