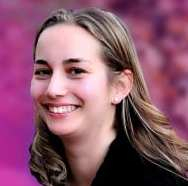 Latest posts by Julie Thompson
(see all)
Are you new to investing or looking to lower your active trader fees? Robinhood and E*TRADE both have investment platforms that have an advanced mobile app and commission-free trades.
As larger brokerages continue to follow fintech by lowering their fees, brokerages are offering unique services like linked bank accounts and crypto options to stand out from the crowd.
Does Robinhood or E*TRADE come out on top? Check out my in-depth review of both platforms to see which one is the better overall value for your specific needs.
The Main Differences Between Robinhood vs E*TRADE
The main differences between Robinhood vs E*TRADE are:
Robinhood has fractional shares available, whereas E*TRADE only trades in full shares
Robinhood has cryptocurrency trade support, whereas E*TRADE does not
Robinhood is online only, whereas E*TRADE has physical branches
Robinhood does not offer mutual funds, whereas E*TRADE has no-transaction-fee mutual funds
Robinhood does not offer futures trading, whereas E*TRADE does
Robinhood has limited support by phone or e-mail, whereas E*TRADE has 24/7 customer service (phone, e-mail, and chat)
Robinhood does not have a retirement account option, whereas E*TRADE features retirement accounts (no annual fees or account minimums on IRAs)
Robinhood focuses on investments, whereas E*TRADE offers full integrated banking features: Savings, Checking, and Max-Rate Checking
Who is Robinhood For?
Robinhood is great for beginner traders who are looking to get their feet wet in the market. With $0 commission stock, ETF, and options trades and a $0 account minimum, even students can start investing with a few dollars. While Robinhood lacks sufficient investor education and customer service, young investors will appreciate the ability to trade crypto for free.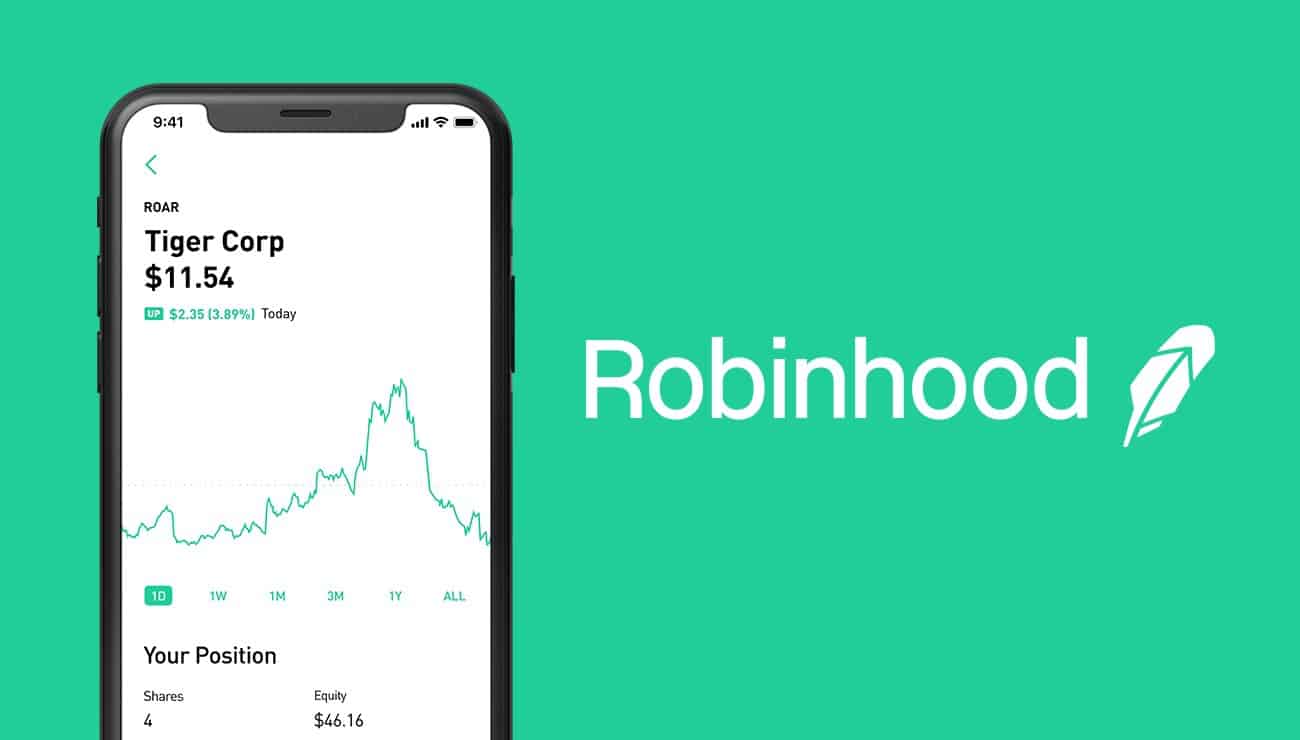 Robinhood Account Requirements
To open a Robinhood account in the US, you must be
18 or older
Valid social security number
Can provide a legal US residential address
US citizen, US permanent resident, or valid US visa
You will also need to provide personal information and verify your identity with one of the following: driver's license, passport, or valid identity card.
Current Promotion
Robinhood is currently offering one free stock when you join. While the popular stocks advertised are Apple, Ford, and Sprint, Robinhood states that stock is chosen randomly from their inventory of settled shares. The value of that share can vary greatly from $2.50 to $200.
Sign up through the promotional page to qualify and you can keep the stock or sell it (after a short waiting period).
Robinhood Gold
Robinhood Gold is the premium version of Robinhood. While the core version is free, upgrading to Robinhood Gold is $5 per month.
Benefits of Robinhood Gold:
Invest on margin ($2,000 account minimum (required by Federal regulation)
Early and late trading (trade 30 minutes before the market opens and two hours after it closes)
No waiting for ACH transfers or reinvestments. Get instant access to your money so you can trade faster and more efficiently.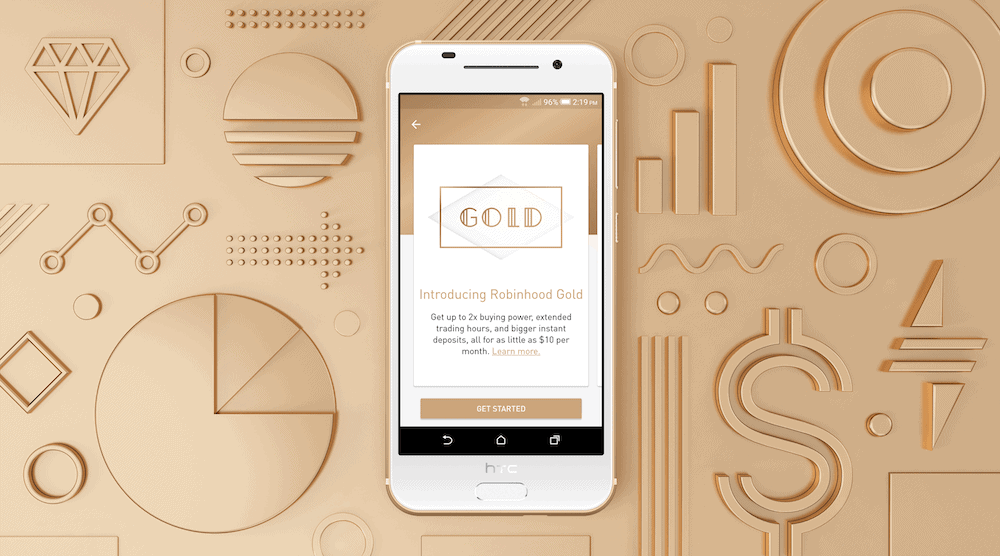 Robinhood Crypto
Robinhood is a pioneer in crypto trading. Buy crypto by loading funds into your investing account or using the balance from sold shares.
Robinhood Crypto is available in 46 states and Washington D.C. (as of 4th quarter 2019)
The following cryptocurrency options are available
Bitcoin (BTC)
Bitcoin Cash (BCH)
Dogecoin (DOGE)
Bitcoin SV (BSV)
Ethereum (ETH)
Ethereum Classic (ETC)
Litecoin (LTC
Please note that cryptocurrency is not supported via FINRA or SIPC. You should weigh the pros and cons before investing in crypto.
Cash Management
Currently waitlist only, Robinhood has added a cash management account to its product line with a 1.80% APY, a debit card, and a free ATM withdrawal network of over 75,000 ATMs. The cash management option is also FDIC insured.
Security
Robinhood encrypts your account password (never stored in plaintext), your social security number, and other sensitive information before they are stored. Once banking credentials are verified, they are never accessed again.
Bonus security features include mobile app access using TouchID, FaceID, or custom pin code. Plus, two-factor authentication via an external authenticator app or SMS.
Customer Support
While Robinhood does provide email and phone support, getting quick advice on a trade is not available. If your bank account refuses to link to your Robinhood account, it could take several days to resolve and start trading. Choose a brokerage such as E*TRADE, Ally Invest, or Fidelity if 24/7 customer service is a must-have on your list.
Robinhood Snacks
Robinhood Snacks provides daily and weekly financial trends newsletters. The 3-minute e-mail newsletter will keep you updated even if you do not think of yourself as financially savvy. You can even get the newsletter delivered to your inbox without signing up for Robinhood.
Not into emails? Try the daily podcast called "Snacks Daily". The podcast has received over 10 million downloads and the 3-minute version consistently ranks in Spotify's top 10 podcasts.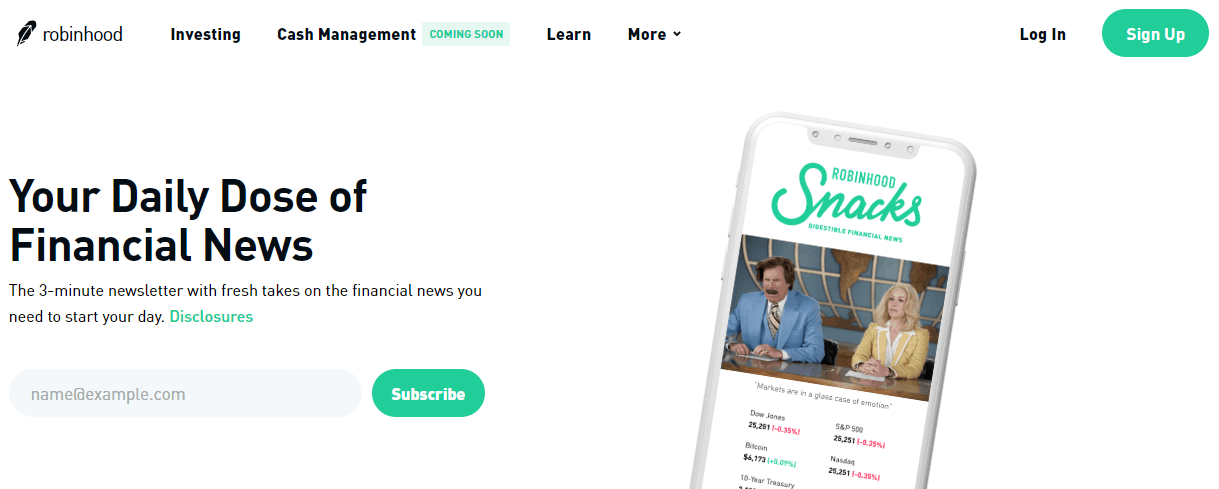 Who is E*TRADE For?
E*TRADE is built with robust tools and is easy to navigate. While E*TRADE can be used by beginners, you will get the most out of the platform if you are an active trader with more than $100,000 in assets in the market. The platform also ranks high in investor education, customer service, research, and mobile app.
E*TRADE Account Requirements
To open an account on E*TRADE you will need to choose your account type:
Brokerage: Individual, Joint, Custodial | Retirement: Rollover IRA, Traditional IRA, Roth IRA, SEP IRA
Enter personal information such as name, US address, and email
Verify your identity (social security number)
You will also need to create your ID and decide how you will fund your account (electronic transfer, check, wire transfer, or funds transferred from another brokerage).
Current Promotion
Cash credit is given based on deposits of new funds or securities within 60 days of the account open. Once your deposits hit a benchmark, you should see the credit reflected in your account within 7 days. At the end of the initial 60 days, your account will receive an aggregate credit for new deposited or transferred funds.
You will receive the aggregate credit within 1 week. (i,e, If you have an initial deposit of $5,000, you will receive a $100 credit in 7 days. If your account reaches $25K at the end of the 60 days, you will receive an additional $100 credit.)
Credit is not available to employees of E*TRADE and traders residing outside the U.S.
$100 cash credit $5,000–$24,999 deposit or transfer
$200 cash credit $25,000–$99,999 deposit or transfer
$300 cash credit $100,000–$249,999 deposit or transfer
$600 cash credit $250,000–$499,999 deposit or transfer
$1,200 cash credit $500,000–$999,999 deposit or transfer
$2,500 cash credit $1,000,000+ deposit or transfer
E*TRADE Web
The original E*TRADE platform. Best for beginners, E*TRADE Web gives you access to videos, classes, and articles that can take you from novice to advanced. You can attend monthly webinars and live events to learn specific investing skills.
Get real-time quotes, news, and charts and free independent investing research. Take advantage of professional-grade screeners, analyzers, optimizers, and back testers. Complimentary guidance for larger financial goals such as retirement.
Power E*TRADE
Trade stock, EFT, options, and futures on a single trade ticket. Use the interactive charts to spot potential trades and market trends. Take advantage of over 100 technical studies and more than 30 drawing tools. Demo trading allows you to hone your craft without committing real money.
Both E*TRADE Web and Power E*TRADE are available in both desktop and app. (iOS and Android)
Customer Support
E*TRADE's website offers convenient access to customer service. You can speak with a representative 24/7 via online chat, phone, or email. Visit one of their 30+ branches to speak with a Financial Consultant one-on-one. Check out their extensive organized FAQ section for answers to common questions.
E*TRADE offers different phone numbers based on your specific questions. Whether you need assistance with E*TRADE Securities, E*TRADE Bank, Stock plans, or Designated Brokerage, you can get your questions answers quickly and professionally.
Please note: Stock plans and Designated Brokerage numbers are only available Monday through Friday.
Security
E*TRADE provides advanced security measures to prevent fraud and keep your personal information private. The trading platform will not sell your personal information to third parties or marketers. They provide layered encryption, two-factor authentication, and instant transaction alerts.
Shared Features
$0 account minimum
$0 commission-free stocks, ETFs, and options
Advanced mobile apps
Extensive online security measures
What are the Fees?
Robinhood and E*TRADE have commission-free stocks, options, and ETFs trading. Both platforms also offer a $0 account minimum.
Pros
Robinhood
$0 account minimum
Commission-free stocks, ETFs, and options
Trade a variety of crypto including Bitcoin
Easy to use mobile app
Recommended brokerage for first-time traders
E*TRADE
A wide variety of investments
Industry-leading research
User-friendly mobile app
$0 commission stocks, options, and ETFs
24/7 Customer support (phone, e-mail, and chat)
30 physical branches
Active Trader Discount
More no-transaction-fee mutual funds than the number offered by Fidelity, Schwab, TD Ameritrade, and Merrill Edge
Futures trading
Retirement accounts (no annual fees or account minimums on IRAs)
Savings, Checking, and Max-Rate Checking (with interest rate, $5,000 minimum to waive $15 monthly fee)
Cons
Robinhood
Foreign security trading costs $50 per transaction
No automatic investing or Robo-advisor
Lackluster trading tools
Limited customer service
E*TRADE
Must be an active trader (10 trades per month) to use desktop software
IRA fees when making an early withdrawal or recharacterization
High margin interest rates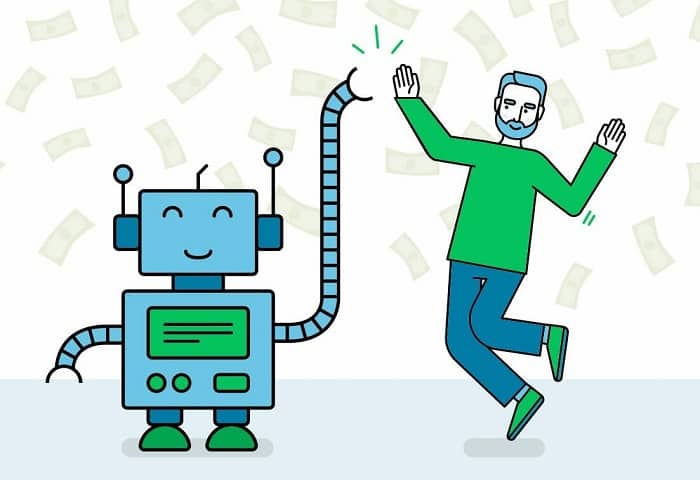 FAQ
Can I transfer Robinhood to Etrade?
Robinhood supports partial and full outbound transfers. If you prefer to transfer your account in full, Robinhood can also close your account after the transfer is complete.

To transfer Robinhood to E*TRADE, you will need to contact E*TRADE to initiate the transfer. The transfer must be an ACATS (Automated Customer Account Transfer Service) to be approved. Once initiated, E*TRADE will provide transfer instructions to transfer your account.

Please note that Robinhood charges a $75 fee for transferring stocks or cash to another brokerage.
Can you lose money on Robinhood?
Funds can go missing on Robinhood for a few reasons: an issue with the link between your Robinhood account and bank account, a reverse split stock, a one-time system error, or a duplicate account was created by mistake.

If you join Robinhood Gold and trade on margin, you can also lose money. You are borrowing money from the broker to trade. If your trades go south, your account will have a negative balance and you will owe Robinhood money.
Is there an annual fee for eTrade?
No. E*TRADE does not charge annual fees or inactivity fees for individual brokerage or joint taxable accounts. E*TRADE also does not charge any inactivity fees on IRA accounts
Alternatives
MetaTrader
A free trading platform for forex, CFDs, commodities, futures, indices, and crypto. Available through over 750 brokers and banks.
Pros:
Easy to use for beginner investors
Variety of data for educated trading
Compatible with all platforms (Linus, Mac, Windows, Android, and iOS)
Cons:
No automated trading
The platform can be slow for day traders
Webull
A Robo-investment platform that offers commission-free stock and ETF trades. Use Webull's stock screener and trading simulator to hone your craft.
Pros:
24-hour account verification
No account minimum
$0 commission stock and ETF trades
Cons:
No mutual funds
Limited customer support
Must use a mobile app to add funds
M1 Finance
Easily build a custom portfolio with retirement, socially responsible, hedge fund-based investing. You can also have the best of both worlds with M1 Finance. Your account is a combination of Robo-investing and self-managed funds.
Pros:
Option to have a pre-selected portfolio
Automatic portfolio rebalancing
M1 Spend (checking account and debit card options)
Cons:
No mutual funds
Minimum investment of $100 (brokerage) and $500 (retirement)
Only available in the U.S.
Final Thoughts
What Robinhood lacks in trade options and customer service, E*TRADE picks up the slack. While E*TRADE may have higher fees on advanced trades, it still offers commission-free trades and thousands of investment opportunities.
If Crypto is your jam and you prefer a no-fuss interface, Robinhood is worth a look. Its future offerings are promising and if it adds powerful investment research tools, the online brokerage could start to edge out more competitors.
Need a stable online brokerage that can link to traditional checking and savings accounts? E*TRADE does not disappoint. With high-interest savings and loan options, you could complete the majority of your banking needs all in one place. We also appreciate E*TRADE's generous mutual funds and futures trading options, along with multiple apps that make frequent trades a breeze.
Plus, if you have any questions along the way, E*TRADE can provide the answers 24/7 via online chat, phone, or email. Need to talk one-on-one, E*TRADE has over 30 physical branches for that too.