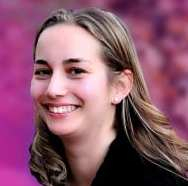 Latest posts by Julie Thompson
(see all)
Robinhood and Ally Invest may look similar on the surface, but these two low-fee brokers have a fair number of differences between them. Robo-investment platforms are shaking up the investment brokerage space and giving a greater number of investors access to popular features such as fractional shares, forex, and crypto.
If you are new to investing or just looking to lower your portfolio fees, check out our in-depth, comparison as we dive into the current features, pros, and cons, and alternatives of Robinhood and Ally Invest.
The Main Differences Between Robinhood vs Ally Invest
The main differences between Robinhood vs Ally Invest are:
Robinhood allows fractional shares trading, whereas Ally Invest only offers full share trading
Robinhood has cryptocurrency trade support, whereas Ally Invest does not
Robinhood has a slower response time by phone and email. whereas Ally Invest has 24/7 customer service (online chat, phone, and email)
Robinhood focuses on its investment platform, whereas Ally Invest has a full range of integrated banking services
Robinhood does not offer advisory services, whereas Ally Invest has a Robo-advisor option for managed portfolios
Robinhood does not offer forex trading, whereas Ally does.
What is Robinhood?
Robinhood is a Robo-investment platform that is most revered by mobile users. The app offers $0 commission trades on stocks, options, ETFs, and cryptocurrency. There is no account minimum. A paid upgrade is available for advanced trading options such as instant funds, extended trading periods, and investing on margin.
Current Promotion
As of February 2020, Robinhood is offering one free stock when you join. While the popular stocks advertised are Apple, Ford, and Sprint, Robinhood states that stock is chosen randomly from their inventory of settled shares. The value of that share can vary greatly from $2.50 to $200.
You must sign up through the promotional page to qualify and you can keep the stock or sell it once it is been in your account for 2 trading days.
Brief History
Robinhood was founded in 2013 by Co-Founders Vladimir Tenev and Baiju Bhatt. It is headquartered in California. The mobile app changed the industry by being one of the first to offer commission-free trades. After its quick popularity, most large brokerage firms were forced to follow suit.
It currently has over 10 million users and a $7.6 billion valuation. Robinhood is climbing the ranks to be one of the largest brokerages. In 2020, Robinhood has plans to expand its app offerings to the UK.
Robinhood is FINRA-approved, registered with the SEC and a member of SIPC. The company makes money from interest on customers' cash balances and margin loans.
Robinhood Gold
Once you get the hang of Robinhood, you may be interested in upgrading to Robinhood Gold. The charge for upgrading to Robinhood Gold is $5 per month. Three main features make Robinhood Gold appealing to active investors.
Invest on margin ($2,000 account minimum (required by Federal regulation)
Early and late trading (trade 30 minutes before the market opens and two hours after it closes)
No waiting for ACH transfers or reinvestments. Get instant access to your money so you can trade faster and more efficiently.
Robinhood Crypto
One of the biggest advantages of Robinhood is the ability to invest in crypto. This is a feature that many of its competitors have yet to copy. Buy crypto by loading funds into your investing account by using the balance from sold shares.
Robinhood Crypto is available in 46 states and Washington D.C. (as of 4th quarter 2019)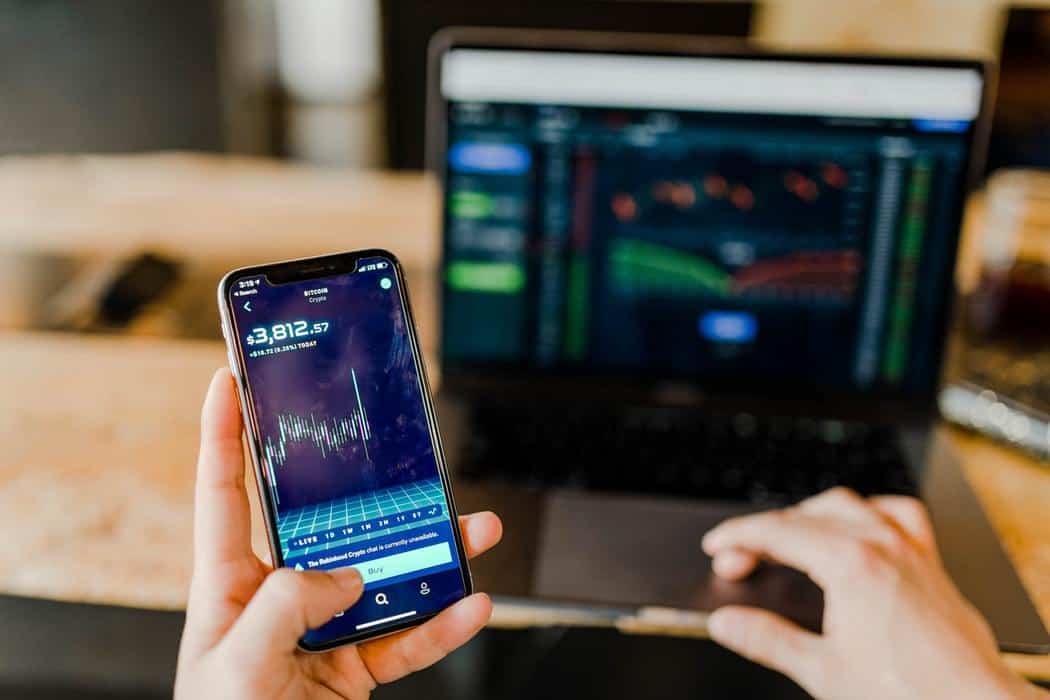 The following cryptocurrency options are available
Bitcoin (BTC)
Bitcoin Cash (BCH)
Dogecoin (DOGE)
Bitcoin SV (BSV)
Ethereum (ETH)
Ethereum Classic (ETC)
Litecoin (LTC
Worth noting: cryptocurrency is not supported via FINRA or SIPC. However, the value of crypto is on the rise. Robinhood is a safe place to gather research on crypto and get your feet wet in this virtual market.
Cash Management
Robinhood announced in late 2019 that they were adding banking to the mix to compete with digital-only competitors. The cash management account boasts a 1.80% APY, a debit card, and a free ATM withdrawal network of over 75,000 ATMs. The cash management option is also FDIC insured due to Robinhood's partnership with notable banks.
As of February 2020, you can only provide your email to join a virtual waitlist. The cash management account will be accessible through your Robinhood investing account.
Security
Robinhood encrypts your account password (never stored in plaintext), your social security number, and other sensitive information before they are stored. Once banking credentials are verified, they are never accessed again. As a digital-only brokerage, Robinhood is full of security features that mobile users can appreciate.
Bonus security features include mobile app access using TouchID, FaceID, or custom pin code. Plus, two-factor authentication via an external authenticator app or SMS.
Customer Support
Robinhood offers phone and email support, but if you have a quick question about your trade, don't expect to get ahold of them quickly. You may also have a tough time getting started with trades if your bank account does not link correctly. If 24/7 customer support is important to you, you should look elsewhere for hand holding, (i.e. Ally Invest, Fidelity, and E*TRADE all have 24/7 customer support).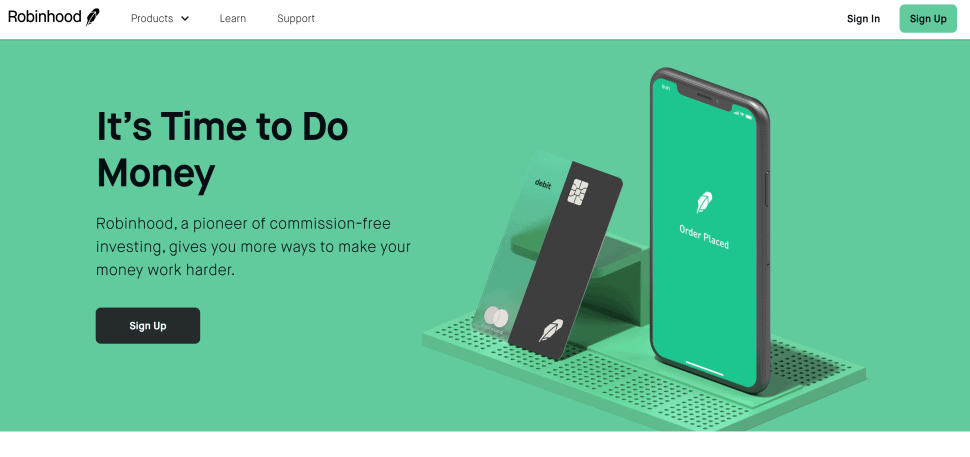 Robinhood Snacks
Robinhood Snacks provides daily and weekly financial trends newsletters. The 3-minute e-mail newsletter will keep you updated on finance topics and give you a plethora of conversation starters.
They also produce a daily podcast called "Snacks Daily". A blog post in mid-January boasted that the Snacks Daily podcast had reached over 10 million downloads. You can also get the 3-minute version podcast called Snacks Minute which consistently ranks in Spotify's top 10 podcasts.
The newsletter is available for free (even if you are not a Robinhood user). Just provide your email address to sign-up.
Robinhood Referral Program
Refer friends to Robinhood and you both will be rewarded with free stock. Robinhood awards its referral members with up to $500 in free stock every year. Quickly build a strong portfolio just by getting your friends and family to sign up for Robinhood. Only one Robinhood account is allowed per person.
Invite your friends from the mobile app in 3 easy steps:
Locate the account icon in the bottom right corner, tap
Then tap the invite friends, get free stock
And finally, tap invite friends
What is Ally Invest?
Ally Invest offers a wide array of investment options including stocks, options, ETFs, mutual funds, and forex. You will also receive free robust financial tools and enjoy free trading and a $0 account minimum.
With Ally Invest you can choose between two investment approaches, self-directed trading, and managed portfolios. With self-directed trading, you can start trading stocks and ETFs with no account minimum. By signing up for a managed portfolio, you will gain access to a team of investment specialists. It only takes a $100 to start and there are no advisory fees, annual fees, or rebalancing fees.
Current Promotion
Ally Invest is currently offering up to a $3,500 cash bonus when opening an investment account. You must deposit at least $10,000 to quality. Accounts are verified 60 days after opening and bonus and qualifying deposit is not available for withdrawing for 300 days.
$3,500 Bonus ($2MM+ Deposit or Transfer)
$2,500 Bonus ($1MM – $1.99MM Deposit or Transfer)
$1,200 Bonus ($500k – $999.9k Deposit or Transfer)
$600 Bonus ($250k – $499.9k Deposit or Transfer)
$300 Bonus ($100k – $249.9k Deposit or Transfer)
$200 Bonus ($25k – $99.9k Deposit or Transfer)
$50 Bonus ($10k – $24.9k Deposit or Transfer)
You can also transfer your current brokerage account to Ally and Ally Invest will cover any transfer charges up to $150. You must invest at least $2,500 and the transfer charge will show up as an account credit within 30 days of the charge. Please note: the credit does not apply to Termination or Maintenance Fees.
Ally Forex
Ally offers a separate app for Forex trading. Forex is the most traded market globally with a daily turnover of over $3 trillion. Trade-in over 50 currency pairs including gold and silver, all in real-time.
While the minimum to invest is $250, Ally Forex suggests starting with $2,500 for best trading. If you have questions, Ally Forex offers customer service around the clock starting Sunday at 10 am ET to Friday at 5 pm ET.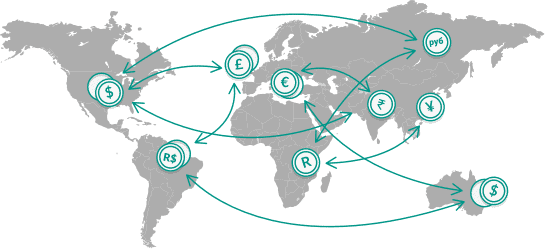 Customer Support
Ally Invest offers 24/7 customer service via online chat, phone (855-880-2559) and email ([email protected]). Talk with real brokers who can answer all of your investment questions.
Security
Since Ally is also a bank, they offer bank-level security for your investment accounts. Ally uses SSL encryption, 2-step authentication, automatic log-out, and account monitoring for potential fraud.
Social Impact
For the last few years, Ally Invest has focused on making a social impact in the communities it resides in. According to the 2018 report, Ally focused on affordable housing, workforce preparedness and digital job training, and financial education.
Ally employees donated 21,000 volunteer hours during 2018. Since 2011, over 117,000 people participated in Ally Wallet Wise classes.
Shared Features
$0 account minimum
$0 commission stocks, ETFs, and options+
Strong mobile app
No physical branches
No demo account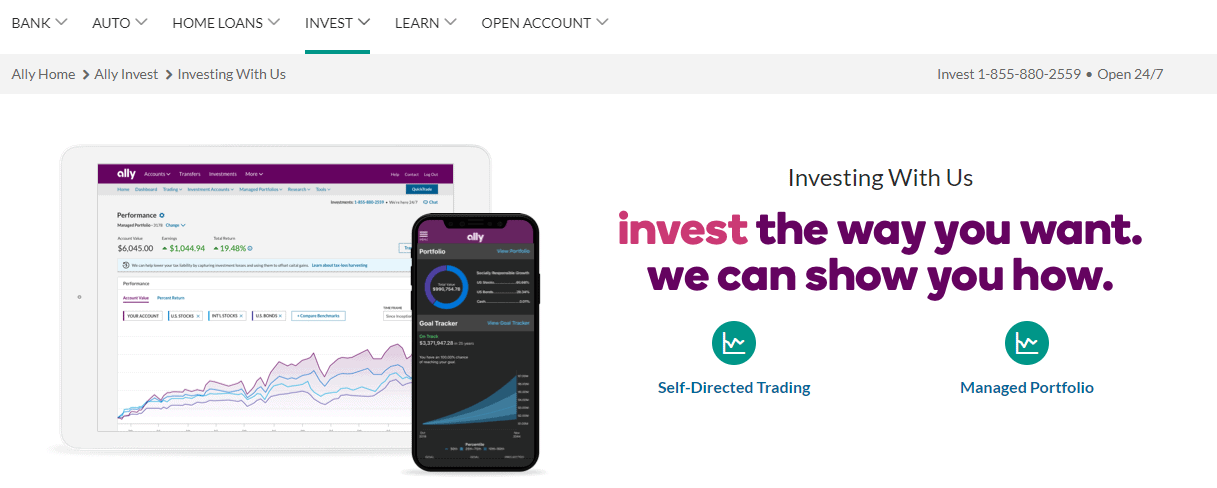 What are the Fees?
Robinhood and Ally Invest have commission-free stocks, options, and ETFs trading. Both platforms also offer a $0 account minimum.
Pros
Robinhood
No account minimum
$0 commission stocks, ETFs, and options
Cryptocurrencies (Bitcoin) trade support
Fast and reliable mobile app
Ally Invest
No account minimum
$0 commission on stock, options, and ETF trading
An abundance of investment research
Powerful tools
Intuitive website
Chat, email, and phone available 24/7
Connect your investment account to comprehensive Ally banking services
Cons
Robinhood
Could use more financial education tools
Not available nationwide
No mutual funds
No retirement accounts
Spotty customer service
Difficult to print statements and tax documents from app
Ally Invest
Mutual funds all require a transaction fee ($9.95 for each no-load fund, funds with a sales load can have variable fees)
No physical branches
Trading is only available on US markets
High margin rates
FAQ
Is Ally Invest good for beginners?
Ally Invest offers an intuitive trading platform and low fees. However, it may not be the best choice for newbie traders since it lacks financial education and a trading simulator.
Is Ally Invest legit?
Yes. Ally Invest offers free trades and no required account minimum. You can also take advantage of Ally's online banking services. The platform is easy to use for both beginners and advanced traders.
Does Robinhood affect your credit score?
No. Robinhood does not report to any credit bureaus. Since there is no reporting, your credit score will not change. Robinhood is an investing platform that helps you make money.

However, if your balance became negative and you needed to pay back Robinhood, you should do so as soon as possible. If Robinhood does not receive repayment, they have the right to turn the debt over to a collection agency which would decrease your credit score.
Alternatives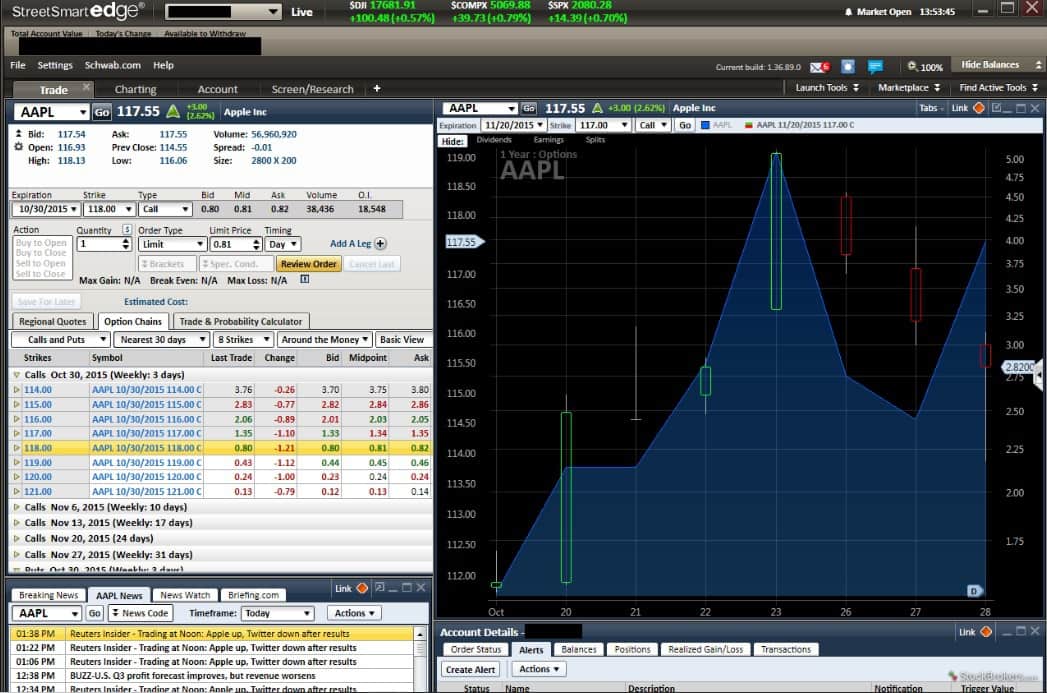 E*TRADE
E*TRADE is a top online broker with $0 commissions. Active traders will appreciate a powerful trading platform, while beginners can take advantage of E*TRADE's financial education resources.
Pros:
A large variety of investment choices
High-rated customer support (phone, email, and chat 24/7 + 30 local branches)
Industry-leading mobile app
Cons:
The website navigation needs to be updated to make it easier to find basic information
$75 full transfer out fee
Charles Schwab
Charles Schwab is a great choice if you are looking for $0 commissions on a large selection of stocks and ETFs. The platform also offers no-transaction-fee mutual funds. You will also appreciate top-notch research and an updated mobile app.
Pros:
No minimum account requirement
A large variety of mutual funds
Charles Schwab is acquiring TD Ameritrade for a better overall experience
Cons:
Your uninvested cash defaults to an account that pays less than 0.5%. (This can be changed to increase your return but you have to proactively switch).
Mutual funds not in the no-fee program have steep commissions ($49.95 to purchase these funds)
Interactive Brokers
Advanced traders love Interactive Brokers for its strong trading platform and low fees. In 2019, Interactive Brokers introduced IBKR Lite for beginner investors. The platform offers unlimited free stock and ETF trades (on U.S. exchanges).
Pros:
Over 4,000 fee-free mutual funds
Fractional shares
Robo-advisor option
Cons:
Hard to navigate website
IBKR Pro users are subject to inactivity fees
Customer support only available 6 days a week
Crypto or Managed Portfolio?
Both Robinhood and Ally Invest are geared toward younger generations who prefer the convenience of mobile investing. Both are suitable for a beginner investor or even seasoned investors who want to take advantage of lower fees. While Ally Invest is built upon its traditional banking principles, Robinhood is paving its own path in the investment sector.
If you are looking for an investment platform that springboards you into the future, Robinhood will not disappoint. With its sleek mobile app, VIP Gold club, and crypto support, Robinhood is fintech at its finest.
However, if you are interested in linking your banking and investment accounts, Ally Invest is a good option. It offers superior customer service, forex trading, and even a Robo-advisor option that won't break the bank.
Further Research: