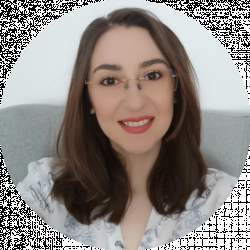 Latest posts by Alexandra Gavrilescu
(see all)
Today, I'll talk about M1 Finance, which is a popular online investment tool that combines a high customization level with automated investing options. Therefore, clients can easily create tailored portfolios that meet their specific expectations. With M1 Finance, potential clients will benefit from low-cost yet effective services. Moreover, they will always be in control of their portfolio.
In the following sections, you will find out more interesting and useful details regarding this investment manager hybrid, like its pros, cons, features, and more.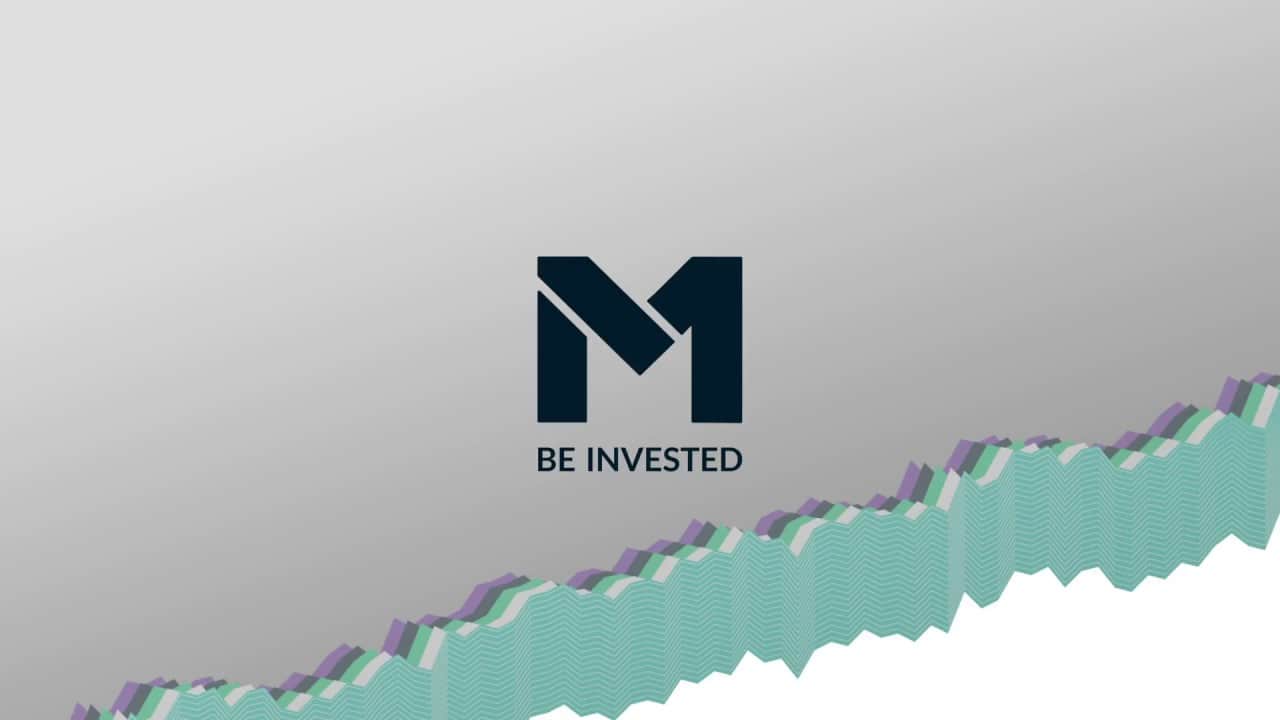 What Is M1 Finance?
The M1 Finance service is an investment management platform or, simply put, a financial Robo-advisor. They are entirely new on the market. This company was founded in 2015, and the headquarter is located in Chicago. Brian Barnes is the one who established M1 Finance. Since it was launched, this Robo-advisor has managed to attract a large number of investors.
As we speak, M1 Finance is proud to have over 25,000 accounts. In terms of client assets, they hold more than $100 million. On average, an active user holds around $4,000 in his or her account. The company differentiates itself from other similar services by mixing and providing useful Robo-investor online tools with aspects that can be seen in traditional online brokerage.
To get started, you will have to answer a few questions regarding your investment goals as well as your risk tolerance. Based on your answers, M1 Finance will then recommend a certain portfolio that has a pretty wide variety of investments. This can be seen as both an advantage and a disadvantage, depending on the way you look at it.
On the one hand, it's great for newcomers who don't have a lot of experience in financial investments. On the other hand, it can limit more experienced investors who will select their portfolio-related suggestions from certain ETF indices.
Pros and Cons
Advantages
You will be completely invested due to the fact that you'll be able to trade fractional shares;
Clients won't have to cover any fees that are usually related to either asset management or trading;
Building your portfolio is a flexible process that includes over 80 different portfolio alternatives. You can follow either one of these available portfolios which are made by experts;
On the dashboard page, you will see your current portfolio composition;
If you want to, you can place ETF orders or individual stock;
Since M1 Finance doesn't charge any management fee, there is a high level of transparency when it comes to the way the company generates revenue;
There's no minimum investment requirement.
Disadvantages
The timing of the transactions are out of the client's control because of the way the company places the trades;
Those who open an account which has a deposit of less than $20 and zero trading activity for three consecutive months will be charged a fee;
The company doesn't have an online chat where clients can contact service experts;
M1 Finance doesn't work with financial advisors which can be perceived as a serious drawback;
You won't find many details on how to establish wise financial goals on the company's online platform;
Clients aren't allowed to consolidate external accounts in order to serve planning purposes;
There's no tax-loss harvesting;
There are limited investment options.
M1 Finance Review – Getting Started and Setting Up an Account
Creating a new account on the M1 Finance platform isn't hard. In fact, it resembles the same process displayed by other similar companies. What I mean is that opening a new account is both straightforward and simple. You must first type in your email address and then create a password. Secondly, the platform will take you to a pie-building feature.
Here, you can select your portfolio preferences by either creating your own customized pie or choose an alternative already made by the tool that comprises individual stocks or ETFs. You will find these expert selections featured on the bottom part of the screen. Users must pick three items to customize the pie's slices that will appear on the following screen.
What you should know is that this first pie is more of a tutorial through which you can get accustomed to the way the tool works. Nevertheless, you can save it and use it later on for investment purposes. Once you practiced enough with your personalized pie slices, you must insert your personal details as well as a link to a bank account. With M1 Finance, you will be able to choose from IRAs, individual joint accounts, and trust accounts.
What's great about the way this platform operates is the fact that new users don't have to cover a minimum account deposit. In other words, you can start with zero funds. The pie's slices represent your holdings and assets. They feature different investment categories, all of which play their role in balancing your portfolio. M1 Finance platform displays characteristics such as price history, security performance, expense ratios, etc.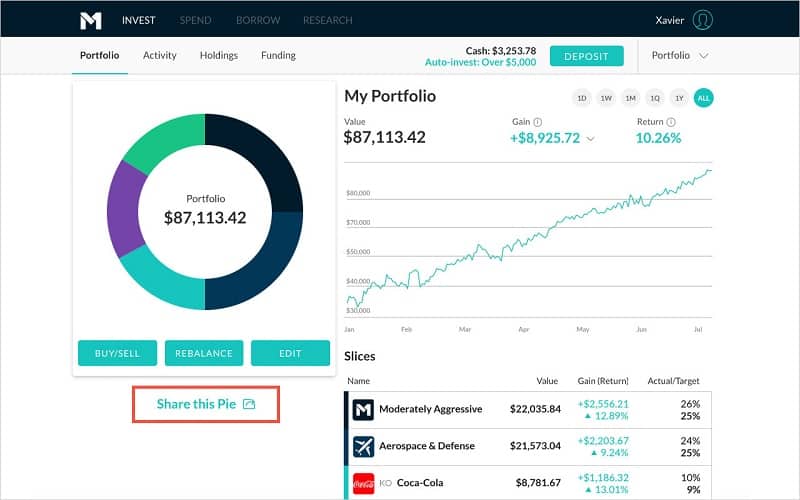 M1 Finance Review – Service Features
M1 Finance isn't your average brokerage service. While other similar online investment tools can be confusing or cumbersome, the Robo-advisor I am reviewing today has a modern and straightforward approach. According to them, their company has reinvented the entire investing experience. M1 users can easily create their portfolio while also maximizing their returns.
Characteristics like free, automatic, intuitive, sleek, flexible, low-cost, and user-friendly are some of the things that are representative of this service. While you're getting started with your new account, you can also discover useful descriptions of numerous investment categories. All that information will guide and support you when you build the investment pie. Here are the available investment categories that you can choose from:
General investing;
Sector-specific investing;
Stocks;
Bonds;
Socially responsible investing;
Hedge fund investing;
Retirement investing.
In terms of available account options, users can pick one of the following alternatives:
Traditional accounts;
SEP;
Joint accounts;
Roth accounts;
Trusts;
Rollover IRAs.
This online brokerage tool enables the function of automatic portfolio rebalancing, which is a great and popular feature. What is does is allocating funds from every deposit to make sure a user's portfolio remains on track. Other useful features are fractional shares, automatic deposits, and socially-conscious investment opportunities.
M1 Finance is a mobile-friendly platform that can be accessed directly from your iPhone or Android device through its dedicated app. This provides you with a lot of flexibility because you can check your investments on the go, from wherever you are.
If and when users deal with issues using the tool, they can contact one of the company's representatives from their customer service department by either email or phone.
Account Services
Within the brokerage, the company's account services are pretty solid. M1 Finance is committed to developing these services over time. The initial account setup includes creating your automatic deposits which can further be edited whenever you want. Both the app and the website now feature a newly-added tab, called Transfer, which provides a place where the users can move cash from or to several external accounts.
M1 Finance allows margin loans. The company lets users borrow up to more than 30% of their account value. In this situation, there's a minimum account size of $10,000. For non-investing purposes, there's a 4% interest. In order to avoid issues such as margin calls, the company follows a more conservative path. For the time being, M1 Finance can't consolidate external accounts.
However, they are developing as we speak because their purpose is to also provide integrated digital banking services that will go hand in hand with their investment service. The banking options will be called M1 Spend and will sweep a user's excess cash and place it into an account. Users will receive a debit card. The premium offering created by this online Robo-advisor is the one that comes with lower interest rates, additional trading opportunities, and several other benefits.
Portfolio Contents
Like I mentioned before, the entire portfolio display is featured as a pie. These circular charts have several slices and each of those portions represents an asset. Users can choose from a wide range of available pies that the company already created. They can even mix things up and develop pies of pies to help rebalance their accounts. For instance, let's say that someone plans to make retirement investments. He or she could also put some money into a portfolio of ETFs.
Other pies, made of passive investment opportunities, are created with a focus on being socially responsible. Last but not least, M1 Finance allows users to choose individual stocks to adjust their portfolio any way they want, taking the customization approach to a whole new level.
Portfolio Management
The company monitors and rebalances all portfolios on a regular basis, if not constantly. They do this to decrease portfolio drift that can appear when funds are either withdrawn or added. The online brokerage company has even branded this action. They call it "dynamic rebalancing." The name comes from the way this process is operated. Instead of reallocating the funds that already are deployed, they address this issue with cash flow.
Each pie slice in your portfolio is an ETF or an individual stock. On the edge of each slice, you will see the behavior of that asset or item in connection to your wanted portfolio allocation. Once an asset shrinks, you will see that because the slice will also shrink. In the same way, when the item has a greater performance compared to the rest of the pie's assets, then the slice becomes visibly larger.
The company's trading window starts at 9 in the morning and it lasts until all orders have ended. If you make changes to your current portfolio before the aforementioned hour, then they will be executed the very same day. Each order enters the system in dollar amounts instead of shares. Those who're members of the M1 Plus program can place orders two times per day.
Investing with M1 Finance – Main Benefits and Drawbacks
| | |
| --- | --- |
| Benefits | Drawbacks |
| No annual fee | U.S only platform |
| Low entry barrier | No tax-loss harvesting |
| Many risk profiles | No outside holdings |
| No trade fees | Investment vehicle restrictions |
| Automatic rebalancing |   |
| Fractional shares |   |
| Automated investing |   |
| More liquidity |   |

User Experience
a. Mobile Experience
The app that M1 Finance developed for its users is well-designed and features all the online platform's functionalities. From your mobile device, you can do all sorts of things and actions like starting a new account, funding that account, or even changing the allocation of your pies. What I personally like about the app's design is the layout which is easy to follow because it isn't crowded.
b. Desktop Experience
On the company's website, you will be guided from one step to another without getting too confused or overwhelmed with details. It will be very easy for you to view your pie(s)' performance once you define and fund your portfolio. In terms of ease of use, M1 Finance is a great option.
Frequently Asked Questions
Does M1 offer tax loss harvesting?
No. M1 does not offer Tax Loss Harvesting, however, they do offer other tax minimization features that reduce the amount of taxes owed.
Can you withdraw money from M1 Finance?
Yes. With M1 Finance, you can make a single withdrawal at a time and you cannot make another one if you already have a pending withdrawal request.
Are there any fees associated with M1 Finance?
M1 Finance does not have any fees and charges for any of the above-mentioned features. It's a free trading platform that's free for individual stock investors. However, they make their money by charging interest on the loans it offers to its account holders.
M1 Finance Review – Main Alternatives
a. Robinhood
Pros
Robinhood has greater brand recognition;
It's easier to use than M1 Finance;
There are after-hours trading options;
The app is downloadable on both iOS and Android devices.
Cons
When it comes to promo codes, M1 Finance offers better support;
Regarding low trading fees, Robinhood performs worse than M1 Finance.
b. Acorns
Pros
Acorns is a very popular brand;
It has an easier to use interface;
The platform supports free to use;
You can trade after hours;
There's a pretty wide variety of stocks.
Cons
In terms of stock variety, M1 Finance provides a better offer;
The trading fees of M1 Finance are lower than the ones of Acorns.
c. E*TRADE
Pros
E*TRADE has pre-market trading options;
It is very easy to use;
Provides after-hours trading;
It is compatible with both Android and iOS devices;
Has excellent brand recognition.
Cons
Doesn't have very good support for their promo codes –  you receive only one active code per day;
The trading fees are lower at M1 Finance.
M1 Finance Review – Is This Service Suitable for You?
All in all, M1 Finance represents a great and trustworthy option for those of you who're looking for an online investment tool. The tool can be suitable for many types of people who want to establish their investment portfolios. However, it works better for newcomers who don't have plenty of experience in online brokerage. The pie of asset categories can be modified to suit your goals and preferences.
With M1 Finance, you will achieve optimal balance level between personally-controlled or customized portfolios and automated investment tools. If you're into a more complex way of trading or you're experienced in this industry, then this robot-advisor may not satisfy all your needs because the company promotes a passive investment strategy. The bottom line, I believe M1 Finance is worth a try.
Recommended Reads