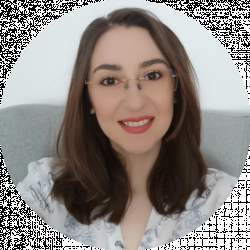 Latest posts by Alexandra Gavrilescu
(see all)
If you want to save money on bag fees or if you simply want to earn free miles, owning a Delta credit card might help you accomplish your travel goals. The company, Delta Airlines, has flights to more than 300 destinations, both domestic and international. Here are some of the best Delta credit card options you should consider.
Top 5 Best Delta Credit Card Options
1. Platinum Delta SkyMiles®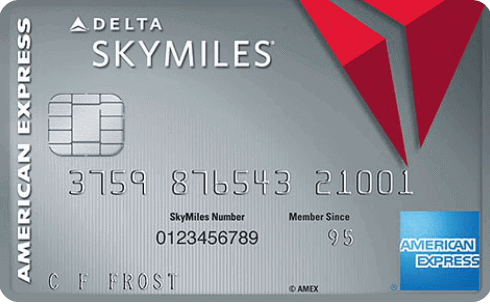 From all my picks, this is my favorite one because it is the best Delta credit card in every possible aspect. It provides a very good blend of travel benefits, an intro bonus, and other airline perks. Some of the loyalty advantages of this credit card are free checked bags and early boarding. Moreover, once you renew your card, you will also get an annual companion pass.
On the other hand, you must cover an annual maintenance fee but that's the case with all Delta credit cards. As long as you use all or most of the card's benefits, you'll be able to recover the cost of that annual fee.
What I like most about it is the fact that new cardholders can easily earn their bonus which sums up to approximately $675. This is one of the highest sums when it comes to bonuses that a Delta credit card provides.
The annual fee amounts to $195. If your application was received on the 30th of January, 2020 or sometime after that date, then the annual fee is higher ($250). With this card, you can earn 2 free miles for every dollar you've spent directly on Delta services. Other purchases will bring you one mile for every spend dollar.
Pros
Decent Welcome Offer
For a Delta credit card, the welcome offer is very generous, especially when you consider that SkyMiles feature a lower value compared to plenty of other airline miles. Overall, this is a solid deal while the spending requirements are pretty much the same as those of any other typical airline.
Reaching Elite Flying Status Quicker
With the Platinum SkyMiles credit card, you will be able to achieve the elite flying status a lot quicker than with other card options. As long as you meet specific spending requirements, you can earn the silver Medallion status.
Cons
Miles Have a Lower Value
Competing credit cards that collaborate with United Airlines and American Airlines offer miles that are worth more than the ones you receive from Delta Airlines.
High Annual Fee
The annual fee you're required to pay is either $195 or $250 both of which are pretty high. In fact, these amounts are usually applied by companies that issue airline credit cards which provide better benefits for the cardholders. So, if this can be an issue for you or a deal-breaker, you should really think about it and consider the pros and cons as well as your personal needs.
Unpredictable Redemption Rates
As many of you already know, the program created by Delta SkyMiles has pretty fluctuating redemption values. The company takes the liberty of changing those rates even from one day to another. It isn't easy to gather your needed miles to use for your next travel if Delta says a flight equals 50,000 miles but the next day they change that information to 30,000 miles.
Light Regular Spending Rewards
The Platinum SkyMiles card might be a great one but it only provides bonus miles if cardholders make Delta purchases. Meanwhile, many other alternatives on the market also offer free miles for several other spending categories such as dining out, gas, accommodation, and groceries.
2. Gold Delta SkyMiles®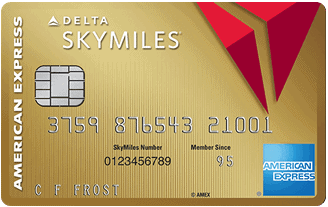 If you're an occasional traveler who doesn't use Delta Airlines that often, then the Gold SkyMiles credit card might be the appropriate choice for you. So, this card is suitable for those individuals who don't travel a lot but they do prefer Delta rather than flying with other companies. Also, if you don't like to spend a lot of money during your trip, this card is also suitable for you.
There's an annual fee that you must cover but you can compensate that expense by using a company perk several times per year: the free-checked bag advantage.
Moreover, as a cardholder, you will enjoy preferential prices every time you visit the company's Sky Club lounge, not to mention you will benefit from early boarding. New cardholders won't have to pay anything for the first year but after that, the fee is $95 per year.
Pros
Competitive Welcome Offer Value
Because of the company's lower redemption value, it will take you a long time to compensate for the value difference. On the other hand, the Gold Delta credit card has a welcome offer is a pretty good one. Moreover, it comes with a spending requirement that's quite reasonable.
Free Checked Bag
Although this is a commonly-met advantage if you're a flight cardholder, Delta allows more people that travel together with the main cardholder to check their bags for free without paying the $30 fee. Up to nine people can benefit from this perk if you own a Gold Delta card and you decide not to travel alone.
Cons
Lower Rewards Miles
The worth of this card's rewards miles is significantly lower compared to the miles offered by Delta's competitors. For example, you will need more points to achieve a free flight using the Gold Delta card than you would need if you were a United or American Airlines cardholder.
Unpredictable Redemption Rates
With Delta, you won't receive an award chart to keep track of your redemption rates. Therefore, you won't be able to tell exactly how many miles you require for those specific flights that you want. Simply put, it is harder to plan ahead as a Gold Delta cardholder.
Low Rewards-Earning Rate
When it comes to regular spending, Delta doesn't provide good rewards-earning rates. With other companies, clients receive free miles when they use the card to cover everyday expenses like groceries. For the time being, this credit card only allows you to get bonus miles when you make direct Delta purchases.
3. Blue Delta SkyMiles® Credit Card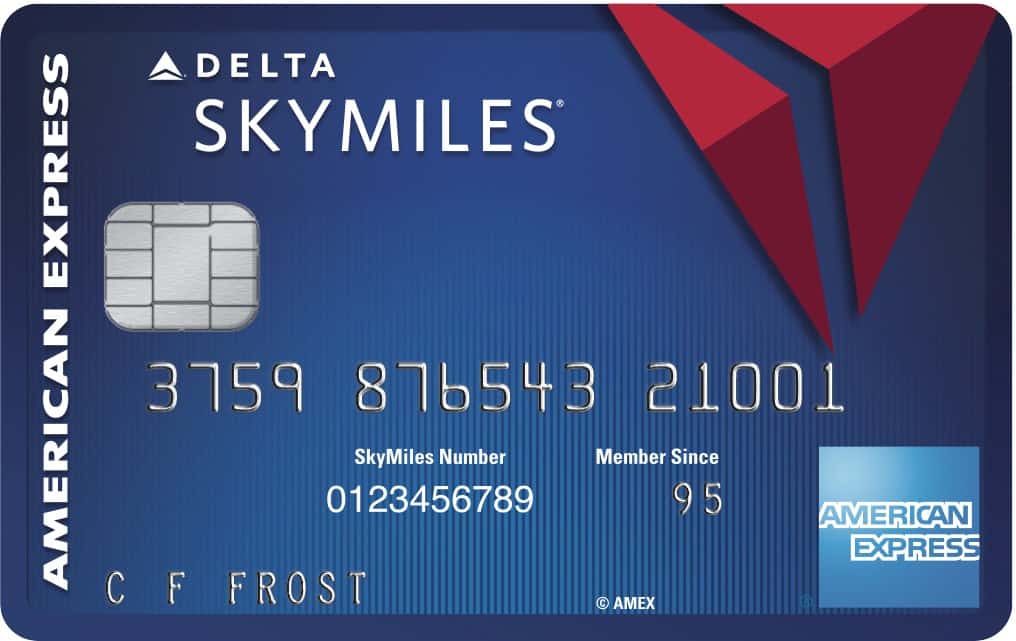 If you want to avoid an annual fee altogether, you should choose to own the Blue credit card. So, in other words, if you want to gather free miles without paying any fees, this option might be the right one for you.
For every dollar you spend on both restaurant and Delta expenses, you will get 2 free miles. However, don't expect to receive amazing perks like you would get with the other cards from Delta.
The Blue SkyMiles card doesn't offer free checked bags, companion passes, or access to the company's airport lounge. Nevertheless, with this card, you can earn free miles quicker and easier than with other similar cards. Finally, the Blue card is a low-risk one.
Pros
No Annual Fee
Unlike other Delta cards, the Blue card doesn't have any annual fees. This is definitely an important element that truly sets this option apart from plenty of other similar products.
Restaurant Miles
For every dollar you spend on eating out at any restaurant in the United States, you will receive 2 bonus miles. This is a great perk because restaurant miles aren't something that these kinds of credit cards offer. So, even if you're not a regular traveler but you tend to dine out quite often, you will still gather free miles.
Cons
Wimpy Welcome Offer
The card's spending requirements are pretty easy to achieve. Still, the welcome bonus for newcomers is represented by 10,000 free miles (this bonus is a tad low). In fact, it is so low that all those miles can be used in less than one single flight.
Foreign Transaction Fee
Other cards won't charge cardholders for things or services they buy abroad. Well, this card does it and the fee is 2.7% of the value of your spending. Unfortunately, this can make your earned rewards irrelevant and useless, especially if you travel abroad on a regular basis.
Few Travel Perks
With other travel cards, you will receive plenty of perks but the Blue credit card doesn't provide priority boarding or free checked bags. In terms of travel perks, this option is a poor one.
4. Delta Reserve® Credit Card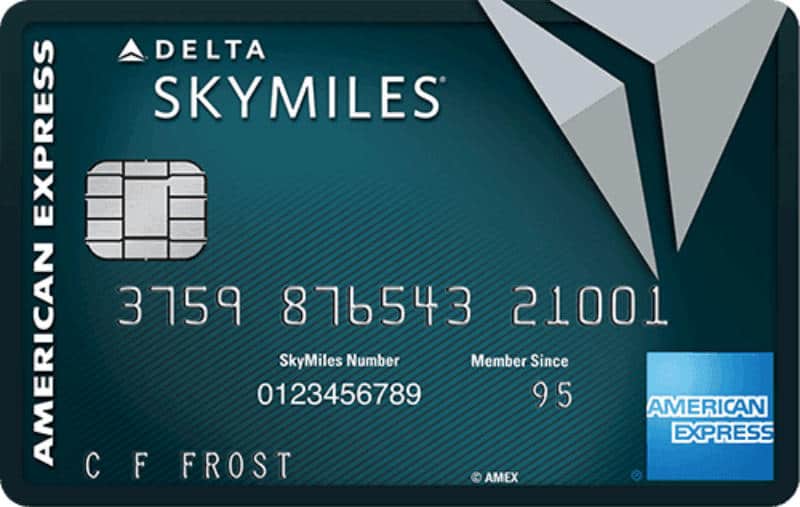 Heavy Delta Airlines users who need and want full access to all the perks the company has to offer, including becoming a member of the Delta Sky Club, should choose the Reserve credit card option. Its advantages are suitable for frequent flyers. Cardholders will receive free checked bags, companion certificates, and an expedited security line access.
But here's the thing: this card comes with a high annual fee of $450. Unless you sent your application on the 30th of January, 2020 or after that date, in which case the fee is $550. However, the complete access to the airport lounge which is worth $545 every year, compensating that high annual fee.
Pros
Airport Lounge Access
With this card, you will enjoy all the benefits that come with a full Delta Sky Club membership which otherwise might seem expensive. Therefore, during long layovers, you will relax and unwind, sipping a cocktail at the bar, waiting for your next flight.
Earning Quick Elite Travel Status
Having and using this card makes it easier for you to achieve the elite travel status a lot quicker than with other cards. Delta's most wanted flying status is the Medallion and, as a Reserve card owner, you can win that title even before boarding your first Delta flight.
As long as you meet the spending requirements, you can earn the aforementioned status right from the first year and you will benefit from complimentary first-class upgrades.
Cons
Steep Annual Fee
The annual fee is either $450 or $550, based on the date on which you made the application. This, in my opinion, represents a pretty serious investment, although other cards that offer premium services have similar fees. If you're committed to luxury travel, then this card suits you well. Otherwise, you may consider a less expensive alternative.
Guests Aren't Allowed
Airport lounge may be free for the cardholder but it sure isn't free for the primary card holder's guests. That can be an issue if you travel accompanied by your friends or family members.
Up to two guests and one child who is less than 21 years old can enter the lounge with you but they will have to pay a $30-$40 entrance fee per person. This is a disadvantage because other premium travel credit cards allow guests to enjoy lounges without charging any fees.
FAQ's
How Does a Delta Credit Card Work?
All the cards mentioned above are airline credit cards. What I mean is they are created and marketed as a result of a collaboration or co-creation that happens between the airline and a certain card issuer. All of the above options are issued by American Express. Most card options help owners gain free miles based on the value of the purchases they make using the card.

Some of the most common perks are early boarding, lounge access, free checked luggage, and an easier path towards receiving the status of elite frequent flyers. Some of the cards are very basic like the Blue SkyMiles card which doesn't have an annual fee. Others, such as the Reserve credit card provide premium services but their annual fees are steep.

Regardless of your chosen card, as a newcomer, you will get a welcome bonus which is normally worth several hundred dollars. SkyMiles is Delta's program through which you can earn bonus miles.
 
What Kind of Travelers Should Have a Delta Credit Card?
Usually, Delta travel credit cards work great for the following travelers:

•Those near an airport that operates a lot of Delta Airlines flights;
•People who travel by plane and choose to fly with Delta more than 2 or 3 times per year;
•Those who want access to the airport's lounge;
•Travelers who desire to achieve elite status quicker;
•People who have good credit.
 
How to Choose This Kind of Credit Card?
•Consider the SkyMiles value – opt for those that are worth a minimum of one cent per point;
•Think about the welcome offer – unfortunately, the miles provided by Delta are worthless compared to many other miles offered by similar companies;
•Don't forget about the annual fees – this depends a lot on your preferences and budget. If you are willing to spend more in order to receive premium services, then expect a higher annual fee;
•Take into consideration travel perks and benefits – each Delta card has its own specific mix of travel advantages. They aren't the same. So, pay closer attention to things like travel insurance, early boarding, and many other perks before you decide which card to choose.
Pros and Cons of Credit Cards from Delta
Advantages
There are plenty of credit card options;
If you're a frequent traveler, you will benefit a lot from having a Delta credit card by earning miles easily;
Through the premium credit card from Delta, travelers will receive benefits related to travel insurance and other great perks.
Disadvantages
Some people are put off by the low points-earnings rate;
Most Delta credit cards come with annual fees;
Other airline companies offer better perks in terms of miles;
The company has high APRs.
The Best Delta Credit Card Options – Final Thoughts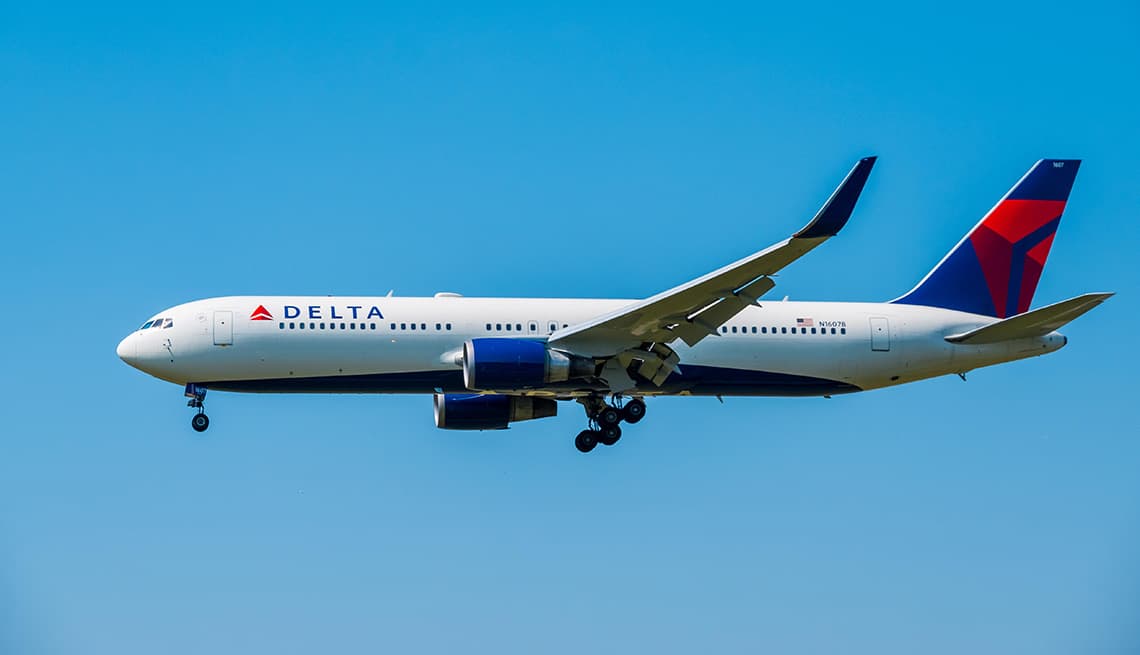 There's no such thing as the perfect travel credit card. Out of the four ones listed in today's article, I couldn't really say which is the best because it is all up to you, your needs and preferences as well as your budget and how much you're willing to spend on annual fees. The best decision is to choose the card that meets your requirements. If you want something simple then go for the basic alternative. If you're more into luxury travel, then, perhaps, you should consider a premium card.
Recommended Reads: