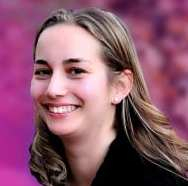 Latest posts by Julie Thompson
(see all)
Millennials are changing the way they do banking and shaking up the financial institution industry in the process. Millennials (18-34 years old) have little attachment to a big, traditional bank. Only 17% of American Millennials were 100% happy with their current brick and mortar bank. And 49% were open to switching to a digital-only bank.
Due to this surge of younger adults seeking advanced financial technology (fin-tech), online banking, new startups are competing for their business.
One of those new banking options is called Simple. Simple does what its name suggests and simplifies the banking process. A feature that millennials are flocking to.
However, online-only banking isn't just for Millenials. In fact, the more money you can dedicate to these platforms, the more interest and benefits you can receive.
If you are interested in diversifying your accounts, read on to see if Simple Bank is right for you.
What is Simple Bank?
Simple Bank was created in 2009 by friends, Josh Reich and Shamir Karkal. It started commercial operations in 2012 and was acquired by the Spanish bank BBVA in 2014. The partnership with BBVA Compass offers 100% mobile banking. Simple Bank is FDIC insured and transparent about all fees and funding sources.
By opening a Simple bank account, you can pay bills, find pertinent budgeting tools, and fully understand your day to day transactions and account.
Benefits
Free checking
Online bill pay
Paper checks for traditional bill-paying (received in about one week)
Write your own checks (book of 25 checks for $5, arrives in 5-7 business days)
High interest (long-term savings accounts)
Mobile alerts
Budgeting tools
Add photos and hashtags to transactions for memory or tax purposes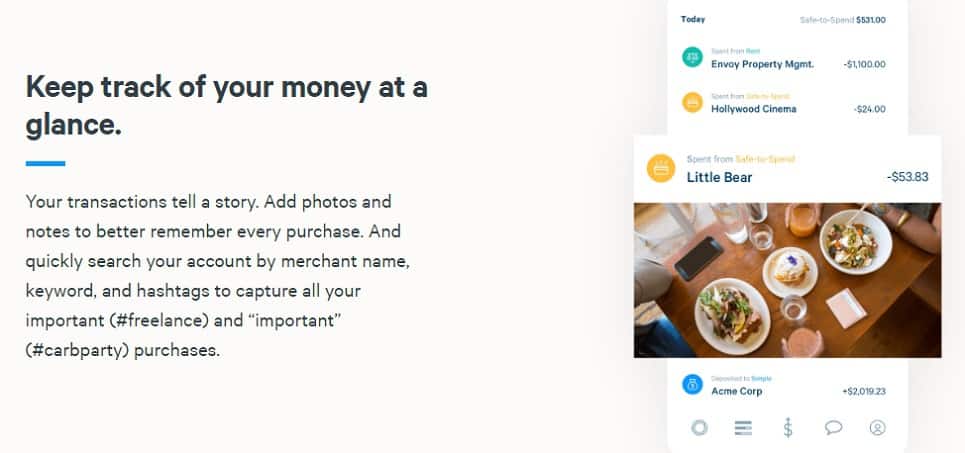 Goal tracking
No unnecessary fees
Instant alerts for all debit card charges
Easy to use mobile app
Access to third-party app likes PayPal, Square, and Venmo
Real human customer service representatives
Two Main Account Options
Simple Bank offers two account options, the Simple Account and Simple Protected Goals Account.
Simple Account
Free debit card
Free online bill payment
Mobile banking app check deposits
Transfer money to five external account
No overdraft fees
No fees for money transfers
No fee for debit card replacement
No account maintenance fees
Use of over 40,000 free ATMs
An online checking account that makes banking easy. Your Simple Bank Account automatically accounts for your expenses once you identify your monthly bills.
It places any extra money towards specific goals that you can set-up through your account (for example, vacations and debt paydown). You can also use the extra cash for discretionary income.
If you spend more than normal, Simple will remove money from your goals so you can see the consequences and stay on budget. Great for a virtual budgeting system that you can see in real-time.
When you are ready to withdraw your money, use online bill pay, transfer money to a linked bank account, or use your debit card to shop or get cash out at a participating free ATM.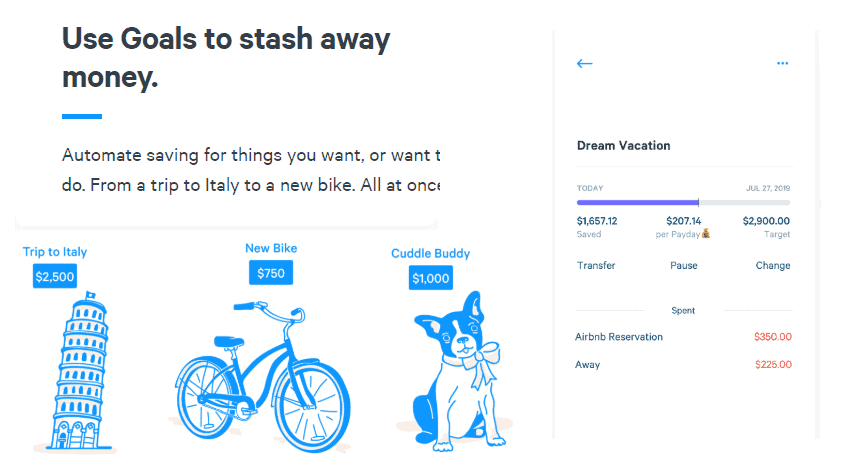 Protected Goals Account
Similar to a traditional savings account, Simple Protected Goals Account allows you to reach your savings goal while storing your money in a safe place.
2.02% APY for balances under $10,000 / 2.15% APY for balances of $10,000 or more
Move money out of the primary account, so you don't spend it
Move money back when you need to use the money in your account
For short term goals that you need to reach monthly, Simple will automatically allocate those funds for utilities, rent, gas, groceries, etc. It is like a virtual envelope system that allocates funds based on your needs and lifestyle.
For long term goals such as a vacation or debt that you would like to pay off faster, you can set the amount you want automatically put towards that goal, the frequency of the withdraw, and a future date you want to meet your goal.
The goal can be anything you can dream up. Simple will help you meet the goal by automatically putting money away, so you don't have a chance to spend the money on something else. This is great for people who have a specific goal in mind but have trouble saving. Set it up once and watch your financial goals come to light.
Simple even provides educational information on an Emergency Fund. Choose the Emergency Fund Goal option to find out how much you should have in your emergency fund. Once you get the number, Simple will make a small withdraw daily until you reach your savings goal (whether it is in a month or a year).
Tip: If you spend too much, you always have a second chance with Simple. Just adjust your amount or target date if you don't have enough money to fund your current goal. You can also create more goals if you find yourself being diligent with meeting them.
Simple Shared Accounts
Although Simple doesn't offer a joint account, they do offer a shared account feature. For example, if two people are living together, and they both have Simple individual accounts, they can open a shared account through Simple.
The shared account is funded by the two (or more) individual accounts. It can be used to split rent payments, a vacation, etc. Whatever mutual goal you have, Simple will help you split the cost so you can reach your goal faster.
Simple Instant
If your partner or friends and family use Simple, you can instantly transfer money to them for free.
To send money to another Simple user:
Add the Simple user to your Instant contacts
Send money to them instantly using their email address or phone number
If the person you would like to pay doesn't have a simple account, you can still send them money via PayPal, Venmo, or Square. However, since these are third-party applications, you may be subject to an instant transfer free.
How do I join?
If you are interested in opening an account with Simple, you can do so through their app, through their website Simple.com, or by calling 888-248-0632.
As with traditional banks, you will need to provide personal information to set up your account. This helps secure your account and make sure that your money is safe.
You will need to provide the following:
Your name
Social Security Number (SSN) or Tax ID Number (TIN)
Occupation
Current address
E-mail address
Phone number
Linked bank account information
How to add money to your Simple account
Paycheck direct deposit
Linked bank account electronic transfer
Wire transfer
Mobile check deposit through banking app
Third-party integration (PayPal, Venmo)
Deposit by mail through check and money order
Instant transfer between Simple customers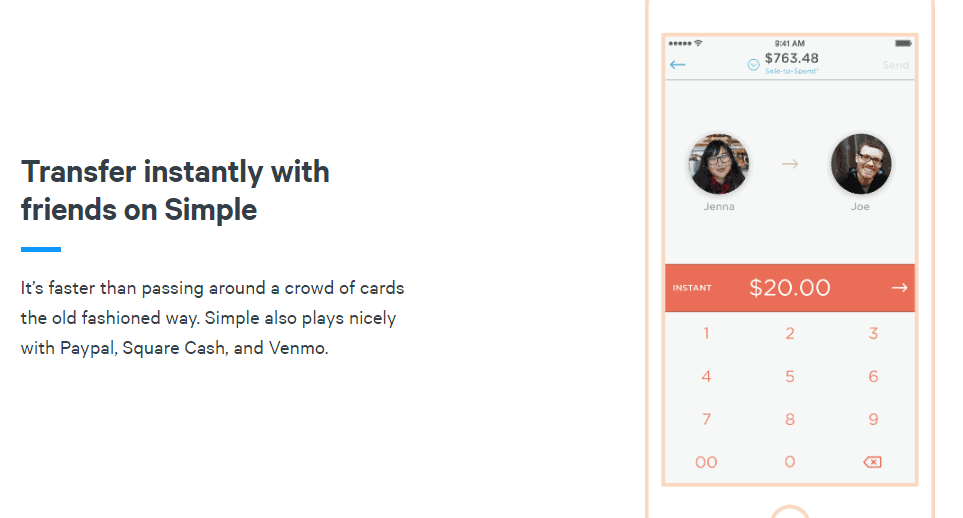 Pros

No minimum balance to open and maintain an account

Competitive interest rate

Push notifications for purchases

Mails checks for you

Paper check available

No monthly fees

No overdraft charges

Advanced budgeting tools

Encourages saving

Cons

No option for CDs or high-yield savings accounts

No brick and mortar bank locations

Out of network ATM fee

No cash deposit

No rewards

1% international transaction fee (when using your debit card outside the U.S.)

No credit card offerings

Limited to checking accounts

Only in the United States
Safe-to-Spend®
If math isn't your thing, but you still like to have an outgoing lifestyle and treat yourself, Simple's Safe-to-Spend® feature will help you make the right financial decision on the spot.
Need to know if you can eat out tonight or have enough for a new pair of shoes? Simple can make smart spending decisions on the spot for you. Quickly see how much money you have leftover after Simple accounts for your monthly bill and long-term goals.
This is great for financial newbies who tend to overspend or have a hard time sticking to a budget. It also works great for professionals who receive a varied income each month, like salespeople and freelancers.
Interest
As of October 2019, Simple is choosing to keep our Protected Goals Account deposit rates at a high 2.02% Annual Percentage Yield (APY) for balances below $10,000 and to increase deposit rates to 2.15% APY for balances of $10,000 or more.
Security
The move to digital-only banking requires a lot of trust in the online website and mobile banking app that Simple provides. Fortunately, Simple puts a strong emphasis on keeping your account safe by utilizing the following technology:
FDIC-insured checking accounts
Visa debit is protected by Visa's Zero Liability policy
The debit card includes chip technology
Fingerprint unlock for mobile app
Two-factor authentication
Photo check deposit
Money transfer capability (instant for Simple customer to Simple customer transactions)
Tap to freeze and unfreeze your account
Instant spend notifications
The dedicated customer service team
Customer Service
Simple provides real human customer service representatives to answer your questions and concerns. Customer service is available six days a week via phone, 9 am – 7 pm Eastern Monday through Friday, and 7 am – 2 pm on Saturdays.
Please note: you will not be able to reach a customer service representative on Sundays or holidays.
FAQ
Is Simple Bank FDIC insured?
Yes. Your money is FDIC insured through BBVA USA (certificate number 19048). Rest assured that all money, up to $250,000 per depositor, is recoverable.
Is Simple Bank a real bank?
Yes. You can sign-up for checking and savings accounts. The money is FDIC insured, and there are no monthly maintenance fee or overdraft fees. You will receive a Visa debit card and advanced budgeting tools. All banking can be completed through Simple's banking app.
What bank is Simple with?
A simple bank is based in Portland, Oregon. It is FDIC insured through its partnership with The Bancorp and BBVA USA. It is also a part of the STAR network for access to over 40,000 fee-free ATMs.
How do I deposit cash into Simple?
You can deposit cash into your Simple account in one of two ways.

•Purchase a money order and deposit it like a check using the photo check deposit or by mailing a check to Simple.
•Deposit cash into one of your other bank accounts and then online transfer the cash amount into your Simple account.
How does Simple Bank make money?
Simple makes money in two main ways. They make money the way traditional banks do. Simple and a partner bank split the interest margin. They also make money every time you swipe your debit card. They split the merchant's service fee with the issuing bank.
 
Alternatives
Chime
Chime provides you with a bank account and a coordinating app. You will get three things when you sign up with Chime, a Spending Account, Savings Account, and the Chime Visa Debit Card.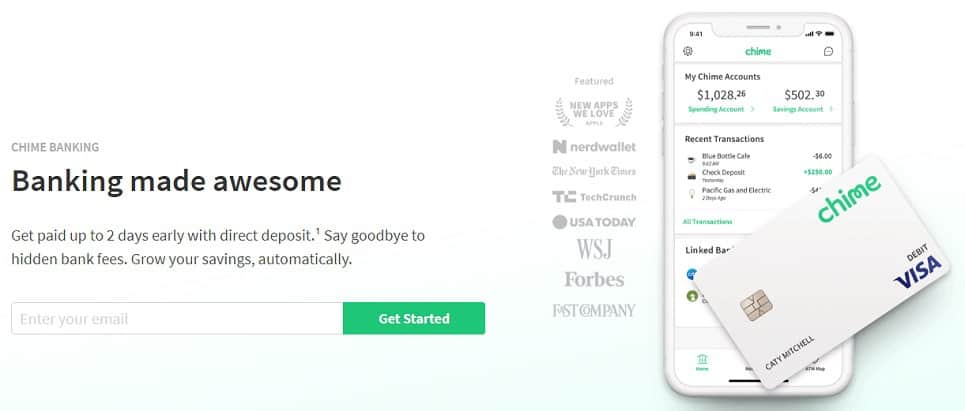 Chime is FDIC-insured. Plus, they appeal to Millennials by offering a fee-free experience, including no monthly balance minimums, no overdraft fee, and a large network of fee-free ATMs.
The main benefits that Chime offers is an auto-savings plan and a powerful app.
Automatically boost your savings account
An auto-savings plan that is similar to the investing app Acorns. Chime will automatically round up your transactions and put that extra change into your savings account. You have to enroll in their automatic savings program to get started, but it's quick, and the savings add up.
Unlike apps like Acorns that invest your spare change (which means you could potentially lose it), Chime funnels it directly to your savings account where it can be easily accessed. Plus, this service is free, with no monthly subscription costs or transaction fees.
You can also use the Chime app to automatically move 10% of your paycheck to your Chime savings account. Perfect for out of sight, out of mind, and saving for a larger goal.
Powerful app
Chime app can be downloaded via Android and iOS. It has many powerful features, including the following:
Receive notifications on all transactions
Instant notification each morning with account balance update
Find fee-free ATMs near you
Contact customer service
Freeze account if you can't find your card
Pay bills, send e-checks, transfer funds
Send paper checks from your account
Cashback rewards using Chime Visa Debit Card
Drawbacks:
No photo check depositing within the app
No free places to deposit cash
No joint accounts
Moven
Moven is also FDIC-insured. It provides a digital-only online checking account combined with a prepaid debit card. It features spend tracking and budgeting tools and a companion savings account called "Moven Stash."
With Moven, you can even pay a friend using email or text, even if they don't have a Moven account.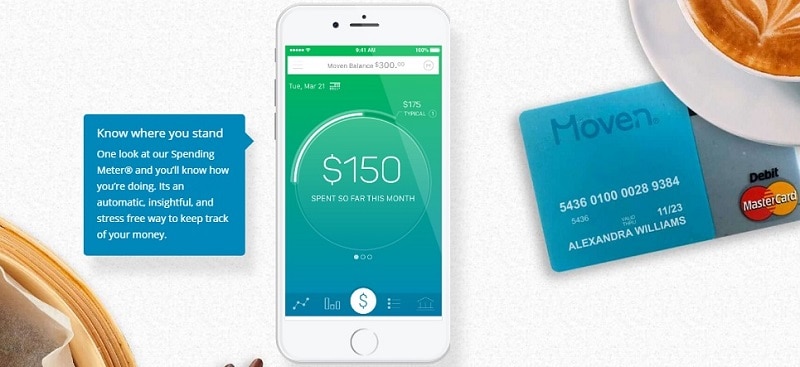 Moven Stash
For those who don't like traditional checking and saving accounts, you will appreciate Moven Stash. The savings tool is automatically triggered when you sign up with a Moven checking account.
You can transfer money instantly between your Moven checking account and Moven Stash up to 10 times per day each way. Since its instant, you can easily pay bills the same day using the mobile app. Keep in mind that Moven doesn't support overdrafts, so if your balance dips below zero, any withdraw attempt will be rejected.
Budgeting Tool
Moven also has spending insights built into the app, similar to those from Mint. Moven will categorize and track your purchases and compare that month to month. You can also link your other credit cards or bank accounts to get a better picture of your spending habits.
Moven card
Use your debit card to make purchases in-store or online and load the card into a virtual wallet to easily use Apple Pay, Samsung Pay, or Android Pay.
Drawbacks:
No photo check depositing within the app
No free places to deposit cash
No interest
No overdraft protection
Other alternatives include Finn by Chase, Beam, and Aspiration Summit account.
Final Thoughts
Simple is great for people who desire an online banking experience and those who are getting their first bank account. The budgeting tool alone makes Simple a contender in the digital banking space. You will also appreciate Simple's 2.02% APY with no balance requirement.
Safe-to-Spend® not only helps you see what discretionary income you have but encourages you to save more. And while most major banks make you pay a monthly fee to use their budget trackers, Simple's are free.
Speaking of free things, Simple also does away with monthly fees and overdraft charges. Another benefit for new account owners who are getting their feet wet in banking.
You can now write your own checks with Simple. A book of 25 checks is only $5 and is delivered within 5-7 business days upon request. Simple can also send a paper check, but it needs a week to do so. Having enough money in your account and remembering to request a paper check that far in advance may be difficult for bank account newbies.
Keep in mind that you may grow out of Simple. Once you get a handle on your budget and general finances, you will want things like a credit card or cashback rewards. Currently, Simple doesn't offer either.
I recommend starting with Simple Bank for your first bank account. Soak in the financial education of goal setting and income to debt ratios. Take advantage of no fees and encourage friends to join so you can easily share money back and forth without the use of credit cards.
Once you have some extra money and a handle on checking and savings, consider branching out to a brick and mortar bank or credit union. These institutions are still important when you need a mortgage, car, or personal loan. You can also look into a cashback credit card to reward yourself for wise money management.