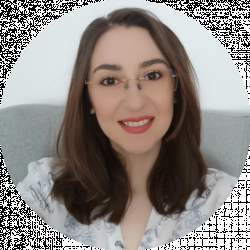 Latest posts by Alexandra Gavrilescu
(see all)
Enjoying banking services is essential nowadays. Luckily, we live in a digital era so we can enjoy plenty of useful innovations which help us save time and be more productive or efficient. The internet brought changes to the banking system, as well. Processing your transactions on your mobile phone provides a lot of advantages. It is cheap, fast, and convenient.
Today's review talks about Chime Bank, which has become one of the best online banks out there due to its modern and user-friendly approach. Below, you will discover the way this service works, its pros and cons, and many other exciting details.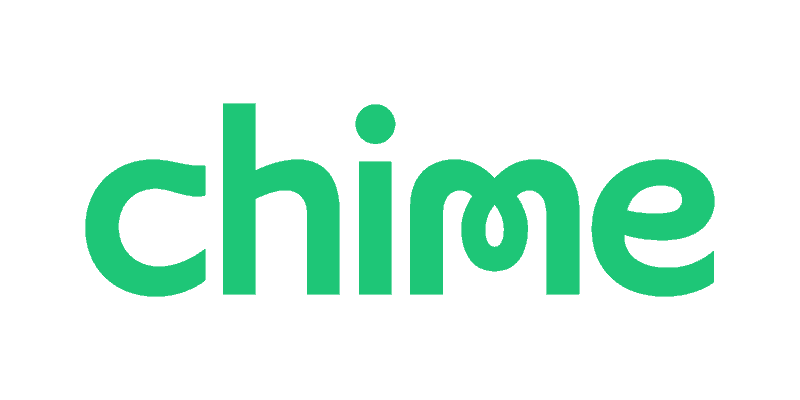 What Is Chime?
Most of us are used to traditional banks, but we're starting to get sick and tired with the way they operate. Banking is indeed an essential service that we need in our lives, but all the fees combined with many other nuisances that come with it aren't that desirable. Therefore, people have been trying to create more effective and stress-free banking alternatives that feature a customer-friendly approach. One of those alternatives is Chime Bank.
Chime's financial and banking services are offered through a digital platform that's also available on mobile devices. Basically, you have the chance to try something different than traditional banking methods. Also, you will get rid of all kinds of annoying fees as well as overdrafts. With Chime, things get convenient, and their well-organized service is straightforward to understand.
How Does Chime Bank Work?
Chime Bank's layout is pretty simple. You must create a new account by signing up on the platform. Then, you will receive access to three things: a spending account, a debit card, and a savings account. First, all the money goes to the checking account. Then, you can start spending that money on usual purchases by using the debit card. You can also send money online to another account or utilize the company's checkbook app to write paper checks.
If you want to save money on a monthly or regular basis, you can opt for a unique Chime feature that sends a certain sum from your spending account directly into your savings account. Another benefit is the fact that every time you want to transfer cash, you won't have to cover any charge or fee.
Primarily, Chime resembles a traditional bank is plenty of ways. The difference is that this company works online only without having physical branches. So, you will have to operate all your transactions from your computer, tablet, or smartphone. You will be able to make both withdrawals and deposits without a lot of effort.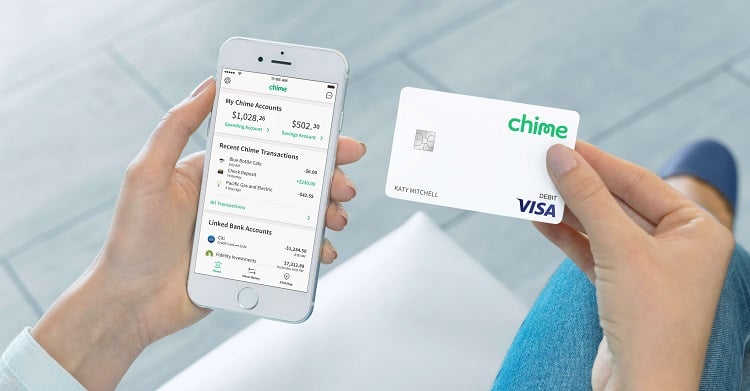 Spending Account Features
If you open a spending account at this bank, you won't have to support any monthly fees. Meanwhile, most other banks require their clients to cover all kinds of fees, such as annual ones, closing fees, or maintenance costs. Also, you won't have to set up a minimum level of the account balance. For all these reasons which can be easily translated into client benefits, Chime is a fantastic option if you want to avoid a fee checking account.
Moreover, you will receive cash rewards if you use your Chime bank account to pay bills or make certain purchases. The bank's dedicated mobile app features these rewards on a regular basis. Some of Chime's partners are Warby Parker, Hotel Tonight, and many other brands and companies who operate as digital shops. You can expect a wide range of reward types, from only 5 dollars in cash to up to 10% off of your future purchase.
When your paycheck is deposited directly into your account, the bank will enable you to see your salary a couple of days earlier than usual. According to the bank's representatives, your employer's check will be instantly processed. In other words, you can get your paycheck sooner than the average, typical payday.
Finally, when it comes to Chime's spending account characteristics, you won't deal with any foreign transaction fees. Other financial institutions are known to charge even 3% as commission when you withdraw money or shop with your card while being overseas.
Savings Account Features
One of the most essential advantages that are linked with Chime's savings account is represented by the bank's platform, which comes with a built-in function that helps you save money. The account estimates the value of your every purchase. All small differences are being deposited into the client's savings account.
For instance, let's say that you buy a cup of coffee for which you pay $1.70. The bank will then deposit what's left until $2 (in this case, we're talking about $0.30) into your savings account. This happens automatically.
Another useful yet optional feature is to make your account transfer up to 10% of every paycheck into the savings account. Once you set up this feature, the entire process will happen automatically.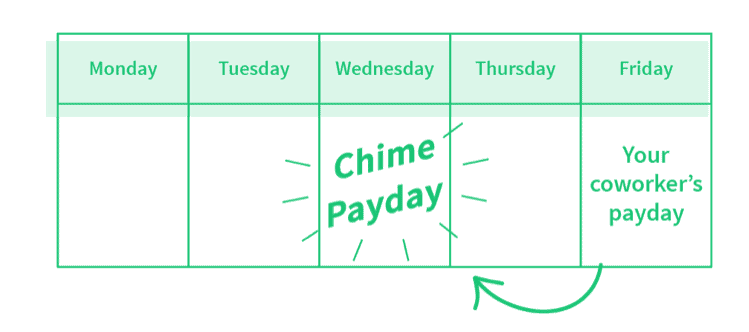 Does Chime Card Have Overdraft?
One extra advantage of becoming a client at Chime is the lack of overdraft fees. If a client doesn't have enough money on his or her account in order to cover a certain purchase entirely, then the whole transaction gets declined. This bank also provides a very nice feature that's called "split the bill" for when you need to split the value of your bill with another person.
Pros and Cons
Advantages
No fees – as a client, you won't have to cover any overdraft or monthly fees;
Quicker pay – according to the bank, clients can receive access to their salaries a couple of days earlier;
Split-the-bill function – you can split your bills with your friends or family members, when you go out together or at a restaurant;
Automatic savings – as I mentioned previously, Chime is a special kind of bank when you think about its benefits. It offers a lot of solutions linked to automate savings;
No overdraft charge – with Chime, you can say goodbye to overdraft fees for your line of credit. In fact, at Chime, you won't even be able to overdraft your bank account with means you will be able to control your expenses a lot better;
Great mobile app – the mobile app was created for both Android and iOS devices, and it has gained a lot of popularity among users;
Free ATMs – this financial institution offers more than 38,000 ATMs, all of which are free of withdrawal fees;
FDIC insurance – Chime is insured by the Federal Deposit Insurance Corporation.
Disadvantages
No joint accounts – if you want to open a joint account, Chime might not be the ideal solution for your needs. You won't find this option available at Chime;
No personal checks – you can send checks, but the bank will send one in your name. Also, you cannot send a value that exceeds $5,000 per payment. Moreover, you must have had an account for a minimum of one month before you're allowed to use this feature;
Low-interest rates – opening a saving account at Chime comes with benefits but also some downsides. One of them is represented by low-interest rates. Actually, the current rate is situated at only 0.01%;
Tricky cash deposit process – making cash deposits takes time and work because this company is an only bank without brick-and-mortar locations. So, to make a deposit, you are required to go to one of your local Green Dot points;
"Hidden" ATM fees – if you decide to withdraw money from an ATM that's out of network, the bank will require you to cover a fee of $2.50 per transaction. Furthermore, every time you load the account using your debit card instead of direct transfers, you will have to pay an additional fee of 3%.
Chime Mobile App
This is a very interesting app because it enables you to do plenty of things related to your Chime account. For starters, you can transfer money among multiple accounts, set up a direct deposit, review your transaction history, and even locate a nearby ATM. Furthermore, the app's version that can be downloaded on iOS gadgets has received a rating of 4.8 out of a total of 5 stars. At the same time, the app that goes with all Android devices has 4.3 out of a total of 5 stars.
With this app, you can easily turn off the debit card, almost instantly. You will receive all sorts of useful information and notifications every time the bank processes your account's transactions. However, I was able to find a disadvantage as well; one that has to do with its customer service option, which can only be reached via chat. Still, you can contact them by email or by phone, but those messages won't be sent directly from the application.
Finally, there's one other thing that kind of bugs me: it takes a couple of days (sometimes, even one whole week) for you to receive a reply from the bank via Chime's mobile app.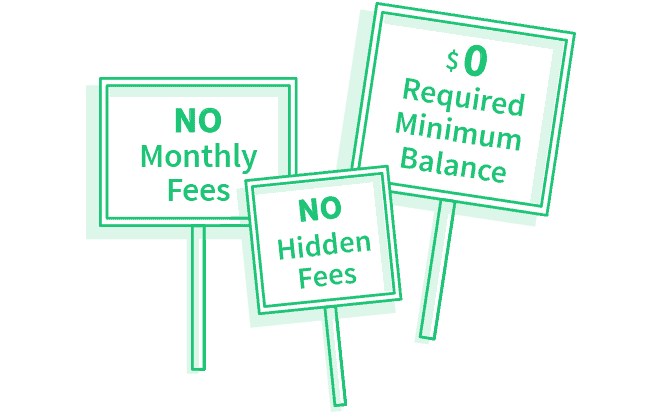 Chime Customer Support
Customer support staff might not be as present as one of the traditional banks. Chime is mobile-only so that can be seen as a disadvantage from the point of view of the user who needs help from the client service department. To start with, you will never be able to discuss your banking-related problems with a Chime representative, face to face. You will have to sort out any issue you may have via phone or chat.
Being a smaller and digital institution, Chime won't provide the same support as a regular bank. Simply put, they don't have a robust customer support platform. So, don't expect miracles. However, the operations are credible, and the firm has some essential partnerships.
Does Chime Bank Really Work?
Chime Bank provides pretty much the same services people can get when they open a new account at a traditional bank: a mobile app, checking, savings, etc. Chime Bank works, and it is a decent alternative. However, certain things are different here compared to regular financial institutions. At Chime, your checking account goes by the name of spending account. Also, all the services can be accessed online only. Long story short, Chime Bank works excellent if you don't use a lot of cash. So, it might not be suitable for those of you who prefer payments using cash.
Is Chime Bank Legitimate?
This is a mobile or online-only bank. So, don't expect a service that's similar to the one you receive at your standard neighborhood branch. Still, Chime offers all the things that a regular bank provides. With FDIC insurance, we can say that Chime is a safe solution for keeping your money. Both cash and checks are a tad difficult to deposit but look at the bright side: there aren't any monthly fees.
Chime Bank Review – My Personal Rating
| | |
| --- | --- |
| Ease of Use | 8.5 |
| Mobile Accessibility | 10 |
| Fees | 9.5 |
| Interest Rate | 6 |
| Customer Support | 7.5 |
| Overall | 8.3 |
Chime Bank Alternatives
1. BBVA Compass Bank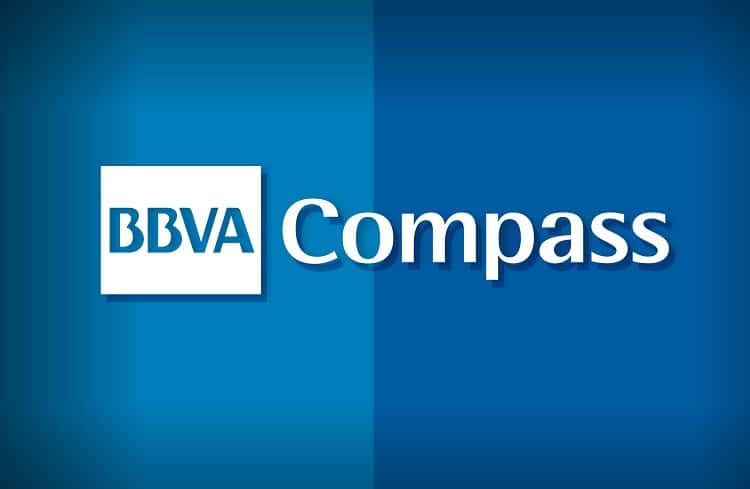 This is another popular personal banking service that uses PayPal and offers gift cards once in a while. Unlike Chime, BBVA Compass Bank accepts PayPal support and, when it comes to promo codes, you will receive more perks. The service's strong points are:
Gift cards;
PayPal support;
Contact information;
Affiliate programs;
Specialty programs;
Additional services: insurance, investment, wealth solutions;
Promo codes.
2. Extra Value Checks

With Extra Value Checks, you can send several check types such as discount, personalized, and high-quality designer checks. The service's advantages are:
Plenty of privacy and a secure website;
Affiliate programs;
Promo codes;
Debit and prepaid cards;
Easy to use and easy to understand processes;
Fast service;
Free returns and exchanges.
3. RushCard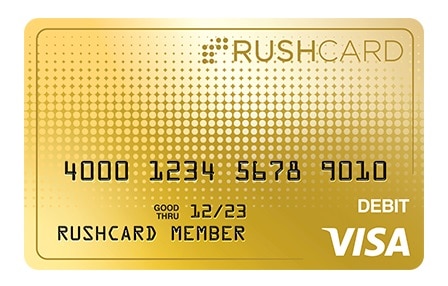 RushCard is another personal banking service. It is a well-known and well-performing brand. This provider focuses on ethical practices and provides both loyalty and affiliate programs. Here are some of its perks:
Privacy and security;
Promo codes;
Loyalty programs;
Contact information;
Affiliate programs;
Fraud protection;
24/7 customer support;
Free withdrawal.
FAQs About Chime Bank
Is Chime Bank a real bank?
Chime Bank is not a traditional bank, but it's an online bank that partners with two other banks to offer saving accounts and have FDIC insurance, so this is a great place to keep your money safe.
How can I add money on my Chime card?
There are over 60.000 retail locations with GreenDot that offer money depositing. You can deposit up to $1000 per day, and $10.000 per month.
Is it easy to create a Chime account?
Yes, it is. You are providing your name and last name, social security number, email and password, and then you will get a confirmation and you are ready to make deposits.
Chime Bank Review – Final Verdict – Is This Provider Right for You?
If you want to benefit from a debit card and a checking account that are free of fees, then Chime Bank could be your ideal choice. It has plenty of perks to offer, despite the lack of face-to-face communication with its clients.
This bank is great for routine purchases, and most users are satisfied with the way it works. You can send cost-free paper checks, which is a major plus. Finally, your savings are safe with Chime, and the firm's operations are fast, precise, and convenient.