Latest posts by Rosie Greaves
(see all)
Bank of America and Wells Fargo, to any American, are very well known brands. When you live in the United States, it's practically impossible to drive a few kilometers down the road without encountering one of the two. They're dispersed all over the country. 
Although these banks are very similar, each of the two has similarities and differences that distinguish them. 
That's not to say one's explicitly better than the other. Still, there are pros and cons to each of them, and I intend to unravel precisely that in this article.
Let's dive in.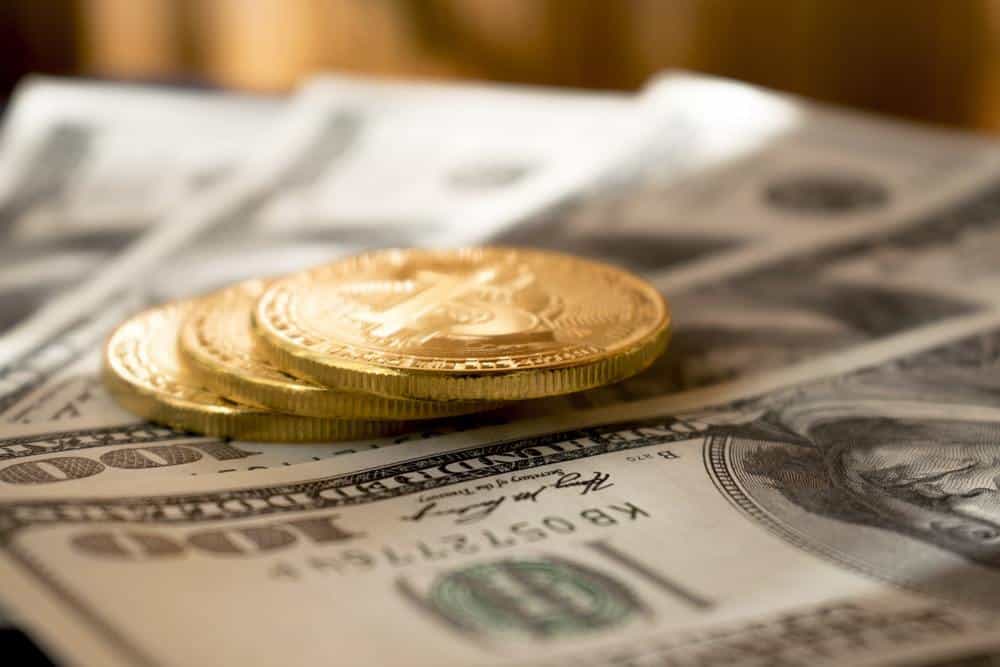 The Main Differences Between Wells Fargo vs Bank of America
The Main Differences Between Wells Fargo vs Bank of America are:
Wells Fargo has considerably more branches, whereas The Bank of America has offices in 36 different locations. 

Wells Fargo has three C.D. types in differing lengths, five checking accounts, and numerous IRA's, whereas Bank of America gives you the option of choosing between three business checking accounts, four IRAs, two C.D.s, and a savings account.

Wells Fargo has a 0.01% APY rate, whereas Bank of America has a slightly higher APY rate at 0.03%.

Wells Fargo spans from $5 to $30 in bank account fees, whereas Bank of America has a range from $4.95 to $25.
Wells Fargo: A Little Bit of Background  
It's evident that to become a big bank, in fact, one of the biggest banks in contemporary America; Wells Fargo didn't just have an overnight uprising. 
They've been around for a very long time
Henry Wells established the bank back in 1852, (hence where the name came from). Back then, banks weren't run how they are today. It wasn't just about loaning cash and making a deposit. Instead, what made Wells Fargo particularly popular was its ability to distribute gold and many other valuable items. They were able to do this for their customers as quickly and effectively as possible. 
The Wells Fargo business began at the port of San Francisco, where they opened many offices in various cities around the world. Even when the U.S. economy was struggling in the 1850s (which is what is now referred to as the 'bust and boom period'), Fargo still thrived. His bank gained a reputation for being trustworthy and reliable. 
In addition to this, roughly ten years later, Fargo Bank became even more advanced with getting people's goods to them on time. They introduced the stagecoach, which back then, was one of the most effective ways to physically deliver products. 
They weren't playing games
In addition to railways, they used every other possible system to deliver their goodies to customers as quickly as possible, including ponies!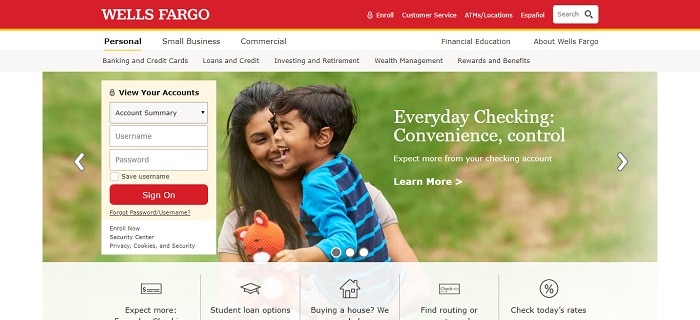 Bank of America: A Little Bit of Background 
Similarly, to Fargo, BofA is one of the oldest banks in the States, and more impressively, the world. Between 1850 and 1900, Bank of America started to flourish and has been flying onwards and upwards ever since. 
Even though there are traces of Bank of America dating back to the 1800s, they only became an official company in 1998.
Before it became Bank of America, it was established in Italy in 1904. At the time, their motto was inspiring; it was their mission to look out for "the little fellows." Their beginnings were indeed humble. They first operated out of a former tavern and over the years, grew to the giant they are today. 
But, with the rise of deregulation, its initial emphasis on the general consumer eventually created problems for the bank.
The founder of Bank America, Amadeo Peter Giannini, soon became one of the most influential figures in 20th-century banking.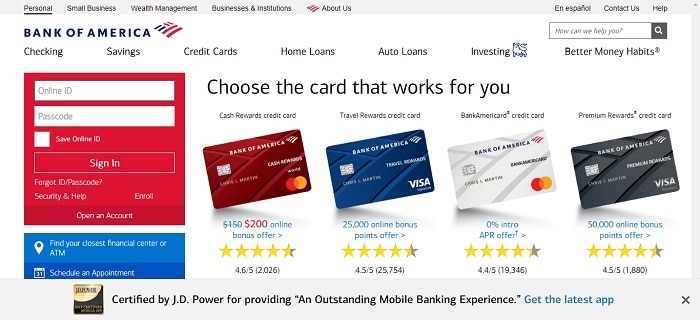 The Pros and Cons of Wells Fargo: Through the Course of History SXZA
Although there are a lot of positives, it's important not to negate Wells Fargo's less savory aspects.
For example, some people take issue with the fact that initially, Wells Fargo wasn't a conventional bank. To those critics out there, we say, this doesn't matter. After all, that was about a zillion years ago! You only have to look at the wealth of experience and success they have under their belt to understand this point is moot. 
For instance, even when it wasn't a bank, it became so prosperous during the California Gold Rush that it was able to acquire plenty of stagecoaches. That's in addition to other modes of transport to ferry goods across the country — and fast! 
Not only that, but it showed significant success with the pony express for a good 18 months. Reliability! That's precisely what's required from a desirable bank. It's safe to say that Wells Fargo has withstood different eras and trends.
Aside from that, Wells Fargo dons a privileged nickname, The Fat Cat of Montgomery Street. How did this come about? They earned it from their consistent high profits and rich dividends. 
One of the struggles Wells Fargo had to overcome was the drought of 1855. This affected transport generally but was a particularly grave hindrance to Wells Fargo, making it challenging to transport gold and other goods for their clients.
This period was known as the Panic of 1855. More than 200 large enterprises in the USA (particularly in San Francisco) suffered huge losses, some even to the point of shutting down. In fact, in this period, Wells Fargo's most significant competitor was Adams Express Company. They weren't successful during this period and were also put out of business.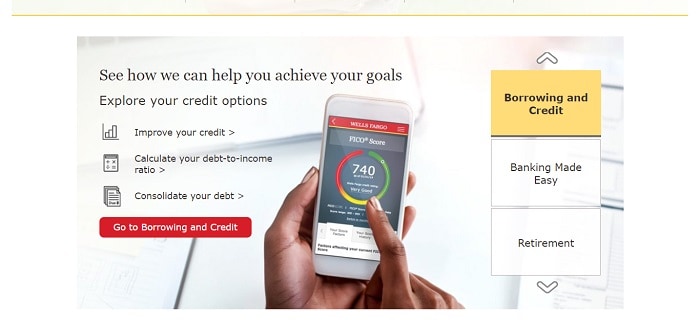 This worked in Wells Fargo's favor
As soon as this period of affliction came to an end, it looked like it would only be onwards and upwards for Wells Fargo.
Is this not another reason that proves the reliability and sustainability of the company? They have survived hard times. Period.
What was interesting was even during this challenging period, Wells Fargo didn't reduce in terms of dividends that year; it managed to maintain their success. 
Not many years later, Henry Wells faced another threat. In the 1860s, his control of the railroads came under opposition. Wells Fargo's board of directors ordered their leader to sell all the company's stage lines. This gave them a big bank shock.
After this challenging period, they decided to relocate its headquarters from New York to San Francisco for a fresh start. 
Soon after that, they were in the advantageous position of being able to gain total possession of the trains from San Francisco to California.
The fact that no other company had access to these lines made them an almost-impossible competitor. Anybody who needed goods delivering in this region had no choice but to go through Wells Fargo. 
Once again, this demonstrates Wells Fargo's long history of being an excellent bank.
However, it wasn't all good…
Due to no fault of their own, they suffered a period of numerous robbery attacks during the late 1900s, and more specifically, in 1844.
The bank wasn't robbed just once or twice, but a whopping 340 times. .. Massive traumas came as a result, including seven hangings and 16 deaths in total! 
Although these were terrible events and something never to be repeated, it forced Wells Fargo to ground itself. They found a defense mechanism that helped them get back to being the reliable bank they once were. They hired security to make sure such an awful turn of events would never happen again. 
Although these robberies and hold-ups seem shocking, during this era, it wasn't uncommon. Unfortunately, burglaries plagued many major businesses up and down the country. 
Fast forward to the present day, and it's fair to say that Wells Fargo deserves credit in some respects. Not only does it have up to 13,000 ATM machines and almost 6,000 branches, but it also has lots of great deals and offers.
Just like most other banks, customers have the option to open a checking account and a savings account. But, one of the things that make Wells Fargo stand out is the fact that it offers 24/7 Customer Services. Even in this day and age, finding this can be quite tricky. People tend to operate during business hours only. 
In addition to this, customers who want to open an everyday checking account can do so. Customers can also negotiate their initial cash deposits depending on their circumstances or situation. e. 
However, what goes up must come down! In other words, there's always a catch. There's a monthly maintenance fee, which can also vary and might not be quite as favorable. 
Apart from this, Wells Fargo also offers another type of account called a "preferred interest account." This is also a good option, as these accounts provide interest. But, as always, there's a catch.
To be able to have this, customers must meet some specific credentials, such as having the bank's desired minimum balance in a bank account. Again, this can be steep or shallow, depending on the circumstances of the customer. 
But it's not all that bad. Wells Fargo bank can remove this fee altogether if someone decides to take up a mortgage with it. Wells Fargo also offers a Portfolio Account. It offers an excellent interest rate, depending on someone's income. The only problem with this is that you more or less have to be a significant earner to get offered such interest rates. 
Wells Fargo works at attracting the younger investor too. There are accounts for teens aged 13-17, which include spending limits and budgets. 
Bank of America's Pros and Cons Throughout History
The Pros
Like the majority of national banks, Bank of America offers access to 15,900 free ATMs and 4,600 branch offices. It has a well-designed online bank feature, which began in 1983 and a significant mobile banking platform in 2007. 
However, the only downfall is that the easy access and substantial digital experience comes with hefty account fees. These start at a monthly payment of $12, and the savings rates are low.
There are I three business checking account options, with Advantage Plus being the most common choice. This allows you to receive a direct deposit of at least $250 or maintain a daily account balance of at least $1,500 (among other account options). The bank charges all checking customers a small fee for using non-bank of America ATMs, and when doing so abroad.
For customers who frequently enter their overdraft fee, Bank of America offers the Advantage Safe Balance Account. If the account holder doesn't have sufficient funds for a transaction, rather than charging an overdraft fee, the bank will simply decline it. 
However, with this bank account, the customer is unable to write checks, and a monthly maintenance fee is required for non-students.
Their heritage goes back 240 years. Today, they are keen to emphasize that they're there to empower their customers. Indeed their website quotes CEO Brian T. Moynihan is quoted as saying: "What would you like the power to do? Listening to how people answer it is how we find out what matters most to them. This is why we're here. And above all else, it's what people want from us."
Historically, the bank has always generated headlines, good and bad. Here are some headline-generating positives:
In 1921, shortly after the passing of the 19th Amendment to the U.S. Constitution, which granted women the right to vote. A bank of American Heritage Bank, the Bank of Italy, opened the first U.S.'s first bank run by and for women. 
In 1958, Bank of America introduced a general-use credit card, the BankAmericard. It was unique at the time because customers could use it to buy anything at participating stores and restaurants, unlike the already in existence Diner's Card. 
The bank financed Charlie Chaplin's movie The Kid in 1919. Because its London branch survived WWII bombings in London, it helped finance the London film industry. 
The Cons
On the less than positive side historically, along with many other banks, it was severely affected by the agricultural downturn in the 1920s and the Great Depression. During this time, more than 6,000 banks failed between 1930-33. Banking regulators at the time believed the bank was on the verge of collapsing.  
Fast forward to the 1980s, and despite the boom of the 1970s thanks to the U.S. oil industry, countries who owed money to U.S. banks such as Bank of America began to default on their loan. Bank of America posted quarterly loan losses in 1985 for the first time since the Great Depression. By 1986 it had losses over $1 billion. 
They say good and bad things come in threes, and here's number three. The financial crisis hit American in 2008-9, and it hit the Bank of America hard. The bank had acquired MBNA credit card company in 2005 and ended up having to write-off loan losses of $72.7 billion between 2008-10. 
Not just that, but in 2008 the bank bought Countrywide Financial, which was the most significant mortgage originator in the U.S. at the time. We all know how that particular story ended. The company was misselling mortgages and over-valuing properties on such a scale that since acquiring Countrywide, Bank of America has had to pay out billions in compensation to investors and homeowners alike.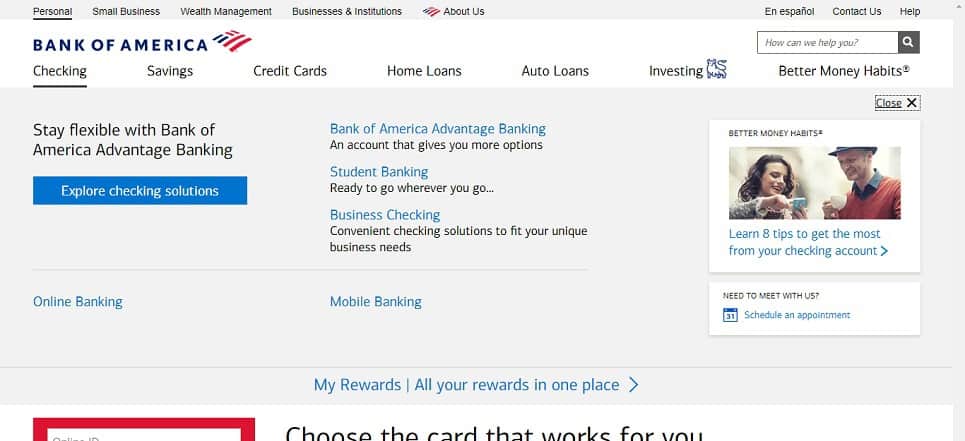 Benefits of Using Bank of America
It's the second-largest bank in the U.S., and one of the ten most prominent in the whole world. It operates in more than 35 countries throughout Europe, the Middle East and Africa, Asia Pacific and the Americas. In the U.S., there are branches in all 50 states. 
User-Friendly
It's easy to find a Bank of America branch. There are thousands of them around the world, and they count on an army of Automated Teller Machines (over 16,000), making it easy for customers to access their accounts. 
Up-to-Date with Technology
There's a reliable mobile banking app, making it more straightforward to bank on the go from either a smartphone or tablet. Plus, their website is user-friendly and full of information about its services and products. 
A Variety of Services
When it comes to savings accounts, Bank of America has three account options
Bank of America Advantage Savings

Custodial Savings for Youth

Minor Savings
Other services such as banking, credit cards, debit card, automobile loan, escrow, retail, business banking, mortgages, and home equity products are also a substantial part of this banking giant. It also provides Global Corporate & Investment Banking.

Neighborhood Builders® Program
Since 2004, the bank has supported non-profit leaders in 49 communities where Bank of America serves, addressing economic mobility and social progress issues. This project has been one of the nation's most substantial philanthropic investments in non-profit leadership development.
Julie Chavez, Chicago Market Manager, says that this program "It's about recognizing high performing non-profits." 
They provide leadership development training for the Executive Directors of the non-profits, and an emerging leader and access to grants to operate in the communities.
Excellent Online Bank Security
As a customer of BofA, customers have several security features when it comes to online banking. A web-based security system called "Site Key" is used and verifies the website and the user to avoid phishing. 
Another security feature is called "safe pass," a six-digit code that customers use to authorize transfer, which they receive the code through your mobile device.
Frequently Asked Questions
Does Wells Fargo offer online enrollment?
Yes. You can Enroll in Wells Fargo Online either from your computer or mobile device. It's a pretty straightforward enrollment process and the only requirements are to have an ATM/Debit, credit card number, or Wells Fargo account; Social Security or Tax Number; and an e-mail address.
Is Wells Fargo savings account free?
Having a Wells Fargo savings account requires a minimum of $25 opening deposit and a $5 monthly fee. However, it's possible to avoid this fee if you have minimum balance requirements or age eligibility.
Does Wells Fargo refund money in case it's stolen or lost?
Yes. Wells Fargo's cards are covered by Zero Liability Protection which means that they will reimburse you for any unauthorized transactions.
Does Bank of America have ATMs fees?
If you are using your BofA card on any of the Bank of America ATMs to deposits, withdrawal, transfer, or payments you won't be paying any fee
So, Which Bank to Go with?
One of the obvious comparisons that must be made is how many branches each bank holds. Wells Fargo seems to take first place on this front. They have more than 5,700 branches and 13,000 Well Fargo ATM machines all around the United States today as opposed to Bank of America who holds only 4,400 branches.
However, does the size of a branch determine its efficiency? Given that most of us bank on the go, it's not necessarily relevant. 
Wells Fargo checking account has a $10 monthly fee compared with Bank of America's $12. Both banks have a minimum opening deposit of $25. Wells Fargo's prices for savings accounts are a little lower than Bank of America's ($5 vs. $8/mo), and their interest rate is almost equally low (0.01% vs. 0.03%).
As far as Certificates of Deposit go, Wells Fargo comes out higher on interest for the first year at 0.15%, but the minimum deposit is $2,500. In contrast, Bank of America's is 0.05% with a $1,000 minimum. Their overdraft fees are mostly the same.
Ultimately, it can be as simple as a personal choice and an attachment to history. However, if you have less money to save and want higher yield with your CD, then Wells Fargo is where you should head. Not to mention, they also provide 24/7 customer service access, including chat and social media. If, however, you have more money to save, i.e., a minimum of $250 a month and a more extensive ATM network, then Bank of America is the way to go.
Their customer service isn't non-existent. However, it's more traditional in its hours, with access Monday-Friday 8 am-11 pm, weekends 8 am-8 pm and chat, email, and social media. Anyone looking for competitive interest rates on savings may fare better with solely online providers.