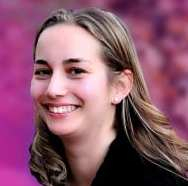 Latest posts by Julie Thompson
(see all)
The Main Differences Between TD Ameritrade vs. Vanguard
The Main Differences Between TD Ameritrade vs Vanguard are:
TD Ameritrade has over 100 locations in 34 states, whereas Vanguard doesn't have physical locations.
TD Ameritrade is superior in customer service and offers 24/7 support by phone, whereas Vanguard is available Monday to Friday from 8 am – 10 pm ET
TD Ameritrade has a $0 commission, whereas Vanguard has higher fees for stock trading (between $2 and $7 depending on your account balance)
TD Ameritrade has a $49.99 fee for no-load mutual funds, whereas Vanguard has a $20 (and under) fee for transaction-fee funds and is the better choice if you prefer mutual funds
If you are currently working with TD Ameritrade or Vanguard brokerages, you are probably wondering which one is the better online broker? While both offer an industry-leading list of free-commission trades, their benefits and features vary greatly.
TD Ameritrade recently acquired Scottrade and bringing along with it over 3.5 million customers. The brokerage firm has placed its focus on website optimization and increasing the substance of its financial education.
TD Ameritrade wants investors to be in the trading game for the long haul, even if they have to start with baby steps. The continued optimization of the website should ensure that even newbie traders are comfortable using the firm's software.

If you are interested in long-term investments like saving for retirement, for example, Vanguard is one of the lowest-cost options. You can trade Vanguard mutual funds, ETFs, and U.S. Treasury securities for free. Plus, once your account reaches $50,000, you'll only pay 0.3% of your assets to have your investments actively managed.
If you are leary about advisors pushing you into new products that could potentially benefit your advisor more than yourself, Vanguard is a wise choice. All of Vanguard's funds are owned by the investors, so there is no need for them to sales pitch the latest fad.
We have taken a look at both TD Ameritrade and Vanguard and provided an in-depth comparison of the two brokerage firms. While both are great choices, one may be better for your particular investment situation. Are you not loving either? Check out our alternatives at the end of the article.
Worth Noting: Charles Schwab is in the process of acquiring TD Ameritrade's online brokerage. The deal is projected to close in late 2020, with a merger of platforms and services within three years.
What is TD Ameritrade?
TD Ameritrade has recently eliminated its fees for the online stock, options, and ETF trades (October 2019), making it a solid investment platform contender. It features robust trading platforms with an industry-leading variety of buy and sell options. Great for professional traders and those who want to take their trading to the next level.
While some popular brokers don't offer brick and mortar locations, TD Ameritrade doesn't disappoint in this category. Physical locations help you talk one-on-one with a human advisor when you need financial advice. They also offer 24/7 customer service by phone and live chat.
TD Ameritrade is built for advanced traders. Newbies might find the platform overwhelming and might not be able to take advantage of all of the platform's benefits.
Brief History
Online stock trading legend Joe Ricketts was the founder of Ameritrade that began in Omaha, Nebraska. The company went public in 1997. Since then, Ameritrade acquired TD Waterhouse and renamed the parent company TD Ameritrade.
Thinkorswim
Thinkorswim is a great trading platform for advanced traders available for free to all TD Ameritrade users. It offers real-time data streaming and 400 technical studies. Plus, you will also enjoy powerful charting tools. Investors can use Thinkorswim to trade options, forex, and futures. You can even trade select securities 24 hours a day (M-F, except holidays).
There is no risk or charge to sign up for a TD Ameritrade account, so if you are interested in using Thinkorswim, you have nothing to lose. You can also take advantage of paper money, a virtual trading simulator. Test your investment strategies before using real money to help perfect your craft.
Thinkorswim is available on both desktop or mobile app (iOS and Android).
What is Vanguard?
Vanguard has its own mutual funds and EFTs. Unique to Vanguard, you can trade Vanguard mutual funds and EFTs with other brokerage companies. The platform is best for long-term investors who are looking for help in managing Roth IRAs, traditional IRAs, etc. You can also short term invest with Vanguard, but you will see increased benefits and gain by staying with them long-term.
Vanguard offers an impressive offering of $0 fee funds. If you are interested in mutual funds, the minimum account balance is $1,000. Vanguard fees can also get expensive in the stock and options arena.
Brief History
Vanguard's vintage ship logo icon was chosen to reference the 19th-century vessel. Vanguard means "in the forefront" and continues to be the company mission as an industry leader in the investment space.
Founded by John C. Bogle in 1975, he wanted Vanguard to be the first mutual fund company that wasn't governed by outside owners. This belief has increasingly grown its client base and kept costs low.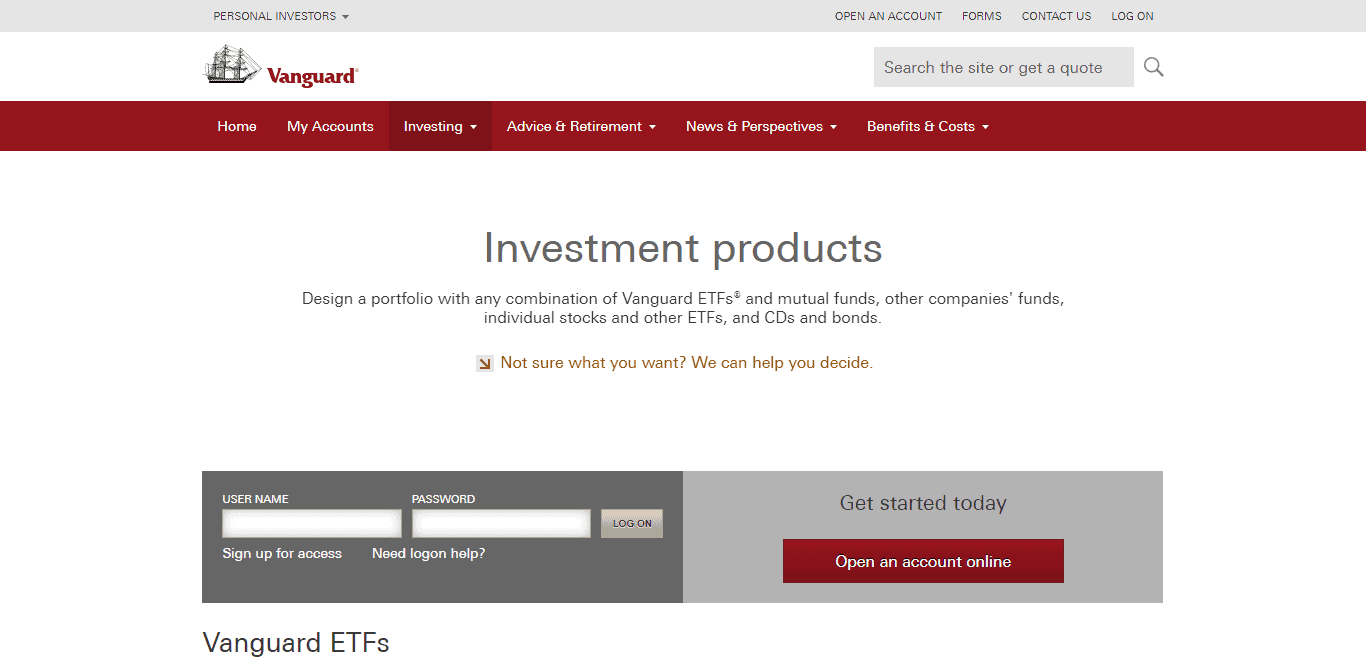 Shared Features
No minimum deposit
$0 for no-transaction-fee funds
Generous amount of commission-free ETFs to choose from
$25 fee for bank assisted trades
There is no inactivity fee
No maintenance fee (Vanguard: must sign up for e-delivery or have at least $10,000 in Vanguard ETFs and mutual funds to qualify. No requirements for TD Ameritrade.)
Mobile app
Desktop app
Forex trading
Online financial education
SIPC coverage (covers broker failure)
Banking
TD Ameritrade
Checking account
Free Visa debit card
Free checks
No monthly account fees
Reimbursement of ATM fees
Vanguard
Cash management account ($500,000 in Vanguard ETF's and mutual funds to qualify)
Fees for checks and debit card (for investors with less than $1,000,000 in Vanguard assets)
Security
Vanguard
Notification by email and physical letter for every transaction
Extended Validation SSL
Advanced log-in, security questions, etc.
TD Ameritrade
Powerful firewalls
128-bit encryption
Fraud protection – reimbursement for any securities or cash lost
Anomaly and intrusion detection
What are the Fees?
TD Ameritrade
$0 Commissions
Doesn't have platform fees
No data fees
No trade minimums
Stocks

Online $0.00

Interactive Voice Response (IVR) Phone System $5.00

Broker-assisted $25.00

ETFs

Commission-free ETFs $0.00

Online $0.00

Interactive Voice Response (IVR) Phone System $5.00

Broker-assisted $25.00

Mutual Funds

No-Transaction-Fee (NTF) No commission

No-Load $49.99

Load No commission

Options

Online $0.00

$0.65 fee per contract

Select Index Options will be subject to an Exchange fee. Learn more.

Options exercises and assignments $0.00

Interactive Voice Response (IVR) Phone System $5.00 + $0.65

fee per contract

Broker-assisted $25.00 + $0.65

fee per contract
Plus Fixed Income, Futures, and Forex Currency options.
Vanguard
$0 trading commissions on stocks, ETFs, and thousands of no-transaction-fee mutual funds in your Vanguard Brokerage Account
$20 annual fee applies to each of your brokerage and mutual-fund-only accounts
An annual fee is 0.30% of assets under management
Minimum investment of $3,000 for most Vanguard mutual funds. However, you can invest in any Vanguard Target Retirement Fund or in Vanguard STAR® Fund with as little as $1,000.
Minimum investment of one share for investment products, including ETFs, stocks, bonds, and CDs.
TD Ameritrade

Pros

Access to live-streaming CNBC

Financial education from articles to videos to in-person events

Up to date research from Morningstar®, CFRA (formerly S&P Capital IQ), and TheStreet

Licensed customer support available 24/7

No account minimum

Cons

High fees for broker-assisted trades

Short-term ETF trading fees are higher than competitors

Vanguard

Pros

No outside owners so the fees are lower (average expense ratio for mutual funds and ETFs is 83% less than industry average)

Proven track record of fund performance

Large mutual fund selection

No account fees for $50,000+ investment

Team of investment professional that monitor your account with a $500,000+ investment

Cons

The platform could use more resources

Lacking in overall data

Commission penalties for frequent traders
FAQ
Can I buy Vanguard through TD Ameritrade?
No. Investors cannot directly buy and sell funds from Vanguard. Vanguard has agreements to purchase through firms such as TD Ameritrade, Capital One Investing, OptionsHouse, and Interactive Brokers.
Is a TD Ameritrade account free?
TD Ameritrade offers over 550 commission-free ETFs that are non-proprietary.
Is TD Bank and TD Ameritrade the same thing?
No. TD Bank and TD Ameritrade are both under TD; they are two separate entities. For example, TD Bank can be used to operate personal and business accounts, whereas TD Ameritrade is an investment option and not accessible by tdbank.com or the bank's companion app.
Alternatives
Ally Invest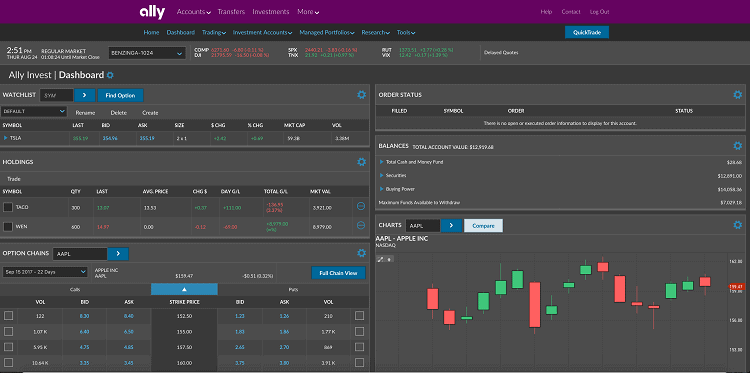 If you value an all-in-one option, Ally Invest has excellent banking options as well as a decent spread of no-fee ETFs and mutual funds. This platform is best for people who have an interest and basic knowledge of investing. Use Ally Invest if you don't mind DIY investing, and you appreciate one log-in for both banking and investing.
Pros:
$0 commissions (ETFs from Vanguard, GlobalX, iShares, and more)
No account minimum
Research the market 24/7
Cons:
$9.95 per trade mutual funds
$4.95 fee + $0.01 per share on stocks priced less than $2.00
Merrill Edge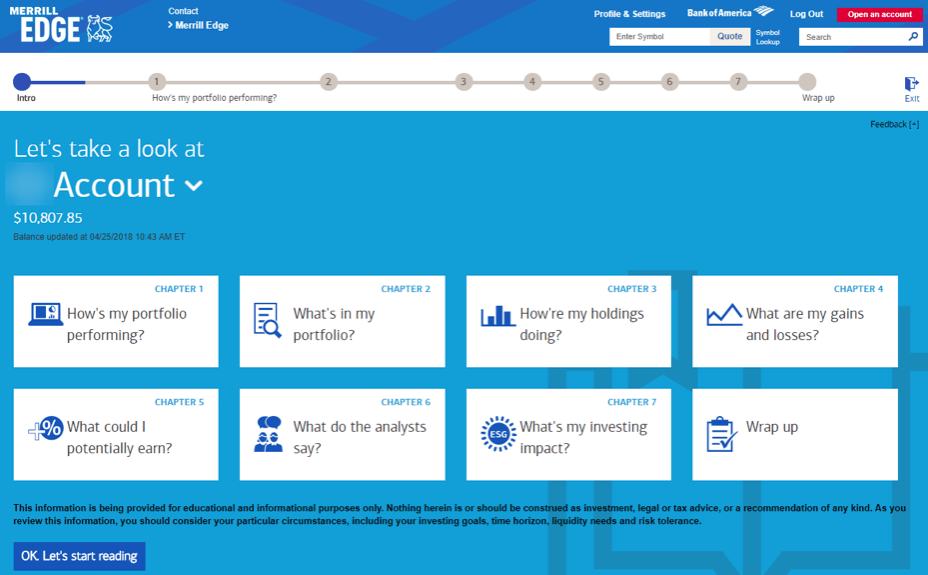 If you are already a Bank of America customer or plan to be, Merrill Edge is worth looking into. The platform offers in-depth research to help you succeed and unlimited $0 fee stock and ETF trades. Plus, you can take advantage of Bank of America's customer support system available at over 2,500 locations.
Pros:
$0 fees on stock, EFT, and options trades
$0 account minimum
Part of Bank of America (Bank of America acquired Merrill Lynch)
Rewards program for combined balances of $20,000+ in Bank of America Accounts, Merrill Edge or Merrill Lynch accounts
Research from Morningstar, CFRA, Trefis, Recognia, and more
Cons:
Best for Bank of America customers
Advanced trader platform, MarketPro is only available to traders with a combined balance of $50,000 or more or who complete 15 trades every quarter
E-Trade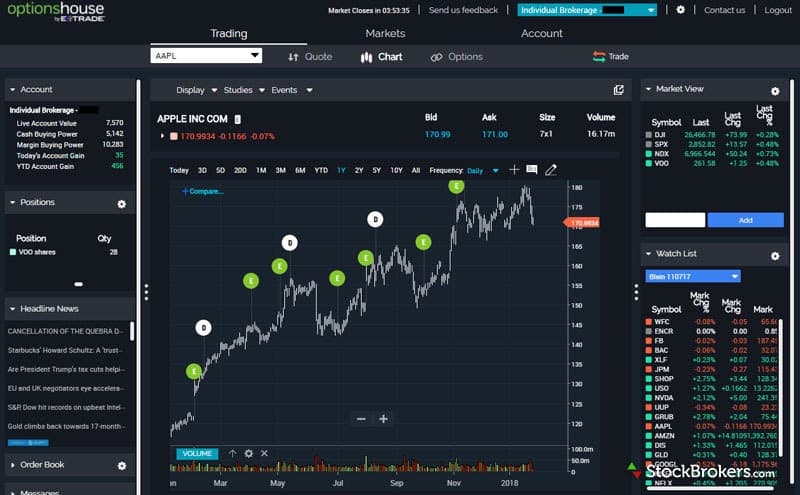 Beginner investors rejoice. E-Trade provides an intuitive platform with $0 commissions and financial education for days. You will appreciate the generous mutual fund selection and trading platform choices.
E-Trade offers three trading platforms, E-Trade Web, Power E-Trade, and E-Trade Pro. The various trading platforms allow you to grow as your needs and expertise increase.
Pros:
$0 Commission on stocks, options, and ETF
Intuitive interface
A large variety of investments available
Research for new to advanced traders
Powerful mobile app
Cons:
Website needs updating
$500 deposit to open an account
Requires ten trades per month to use its desktop software
TD Ameritrade Edges Out Vanguard
If you mainly trade in ETFs, both TD Ameritrade and Vanguard are great options. They have an industry-leading list of commission-free trades. High-dollar portfolio traders will also benefit from both the company's low fees.
If getting investment advice from an actual human is important to you, we suggest going with TD Ameritrade. Although their online and mobile app use Robo advisors, TD Ameritrade offers several branch locations that can provide a face to face experience. Sure, Vanguard has human advisors, but without any branch locations, you'll be forced to keep the relationship to an online chat or phone status.
TD Ameritrade is also our pick for casual traders with a starter investment portfolio. You will appreciate TD Ameritrade's helpful software and 24/7 customer service.
Further Research